Liberal Studies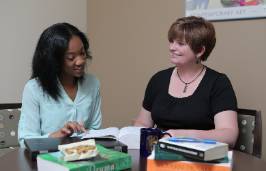 The Liberal Studies Degree program is designed for working adults. The program gives you the advantage of integrating your real-world experiences with your college education to meet your personal learning goals and gain rewards that come with academic achievement.
Students enrolled in the Liberal Studies degree program benefit from taking a wide scope of subjects; attending seminar-formatted, student-driven classes that focus on a specific topic; and exploring events and attitudes through critical thinking and interaction with other adult students.
With a Liberal Studies Degree:
Students pick a concentration related to an area that meets their professional or personal goals. Students take an active role in determining the direction and content of their learning. This program also can serve as a degree completion option for those with existing college credit.
Students enrolled in the Liberal Studies program have an opportunity to enroll in up to nine semester-hours of graduate course work in the Master of Liberal Studies Program and apply those courses to both their BA and MLS degree requirements.
A Liberal Studies Degree allows you to use your broad education to find employment opportunities in business, industry and services areas. Your degree can be a pathway to graduate school or your own personal fulfillment.
Admission into Liberal Studies Degree:
To be admitted to the liberal studies program, you must:
Be 24 years of age or older
Have a minimum 2.0 cumulative GPA
(You may transfer up to 81 semester hours toward your degree)
Earning a Bachelors Degree in Liberal Studies:
To earn a Bachelors Degree in liberal studies, you must:
Earn a minimum of 30 semester hours in your program
Complete a total of 124 semester hours
Complete the Senior Capstone requirement
Liberal studies students also may earn credit through College Level Examination Program testing in general education areas.
You can also complete your degree 100% online depending on your focus.
Senior Capstone:
The senior capstone is the capstone requirement of the program. It is a four credit hour project undertaken with a faculty member as the thesis adviser.

Students are expected to integrate their thesis theme with their concentration courses.
Additional Information: