Carlson Library Information Commons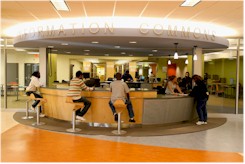 The Information Commons in Carlson Library is a collaboration between the University Libraries and Information Technology which brings together a variety of services for student success.  The Information Commons features:



100 general workstations for student use (UTAD login, Windows 7, Microsoft Office) connected to 4 Print Stations (3 printers at each station)
70 laptops for checkout and use within the Library's wireless environment (UTAD Login, Microsoft Office, Windows 7, etc.)
2 Mac labs equipped with 16 iMac computers (UTAD Login, Mac OS, Microsoft Office for Macs, etc.)
2 Accessibility workstations with hardware and software for patrons with mobility or vision impairments
Wireless network for personal devices is available for students.  It is called Secured Public and you can authenticate using your UTAD account.

Library services, including

Reference Librarians that can help you find material for your research and
3 Information Literacy classrooms (two 32 seat and one 20 seat capacity) to learn about how to find, evaluate, and organize information.

An IT Help Desk, for troubleshooting and training on computer software applications and hardware.
Other services located in Carlson Library near the Information Commons include
The Tutoring Center to get individual additional instruction for your classes from the Learning Enhancement Center.  (Located on the Lower Level)
The Writing Center, for assistance in the writing process at all levels of learning. (Located on the lower level next to the LEC.)