/library/
Quick Links
Featured LibGuides:

/library/

General Information
Library Services
Public Services
Technical Services
Services for...
Carlson Library Information Commons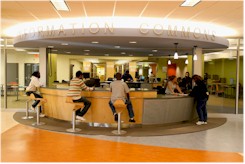 The Information Commons in Carlson Library is a collaboration between the University Libraries and Information Technology which brings together a variety of services for student success.  The Information Commons is
open 24/5
and features:
current technology in a relaxing environment, including

100 general workstations for student use (UTAD login, Windows Vista, Microsoft Office)

a full list of software available on these 'Virtual Lab' machines is available in the VLab FAQ

10 laser printers
50 laptops for checkout and use within the Library's wireless environment (UTAD Login, Microsoft Office, Vista or Windows XP)
6 public-access workstations (public login, Windows Vista, no Microsoft Office)
2 Media labs equipped with 20 dual-boot Macintosh computers and 2 scanners to produce and edit multimedia, audio, and video
2 Accessibility workstations with hardware and software for patrons with mobility or vision impairments
Wireless network using secure PEAP or LEAP authentication (not currently compatible with Windows Vista Home Premium)

Library services, including

Reference Librarians that can help you find material for your research and
3 Information Literacy classrooms (two 32 seat and one 20 seat capacity) to learn about how to find, evaluate, and organize information.
An 8,000 volume reference book collection 

An IT Help Desk, for troubleshooting and training on computer software applications and hardware.
3 Group study rooms.
Other services located in Carlson Library near the Information Commons include
The Tutoring Center to get individual additional instruction for your classes from the Learning Enhancement Center.  (Located on the Lower Level)
The Writing Center, for assistance in the writing process at all levels of learning. (Located across the hallway from the Info Commons)
In order to ensure an environment conducive to learning for all of the Information Commons patrons, we ask that you adhere to these policies.