The University of Toledo's University College is home to over 2,500 undergraduate students. Whether you are in high school looking to take college level courses, working towards your degree, or just interested in taking a few courses, University College has a full set of services ready to meet your needs.

Not sure which degree program is right for you? It's ok to be undecided. Choosing a major takes time and University College advisors have the guidance and tools to help undecided students, just like you, in exploring degree options to help you determine the perfect fit!

Returning to college after time away? Adult learners can choose from an array of flexible online programs and degree completion options for customized plans of study that fit busy lives.

Through our specialized services and programs we also assist military veterans enrolling at the University, help prepare students for military service through the Army ROTC Rocket Battalion, administer UToledo testing services, connect off-campus workforce locations with on-campus education, and much more!

Contact us to learn how we can work together to meet your educational goals.
We have degrees
Transfer or get started
University College offers several unique degree programs for you to earn or complete your associate's degree or bachelor's degree from The University of Toledo. We help you get a step closer to your degree with opportunities to transfer up to 90 credits and receive credit for relevant work, volunteer and life experiences.
Learn More
Apply Now
Scholarships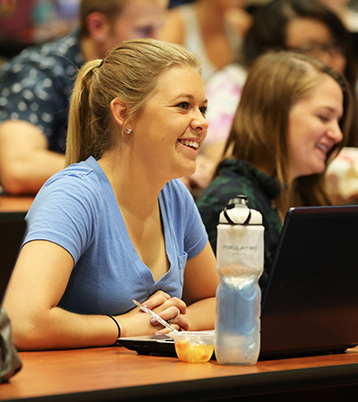 Undecided? That's Okay.
We have Exploratory Studies
Undecided is the second-most popular major in the U.S. Direct-from-high-school students who don't know what they want to major in or who get accepted to UToledo with a below-average GPA can make the Department of Exploratory Studies their temporary home for up to three semesters. In Exploratory Studies, you'll receive personal attention from a specialized, exploratory studies academic advisor, who will help you identify options, select classes and choose a major. Once you figure out your strengths and interests, Exploratory Studies will help you enroll in an academic college and undergraduate degree program to set you up for success in earning your degree.
Learn More
Get Started
Meet With Your Advisor!
SCHEDULE AN ADVISING APPOINTMENT
Call us during office hours at 419.530.3142 to make an appointment Monday-Friday between 8:15 a.m. - 5 p.m. or continuing students can
Schedule an Advising Appointment Online.
*Students looking to return to UT
must call
419.530.3142 to determine eligibilty.
WALK-IN WEDNESDAY ADVISING
20 minute advising appointments are offered from 9 a.m. - 4 p.m. during spring and fall semesters. University College is located in Rocket Hall, Suite 1300.


We have specialized services and programs
Interested in online learning? Looking for additional services and programs? University College directs and manages additional programs and services – for more choices – available to all UT students.