Gifted junior high and high school teachers are in high demand. UToledo education majors graduate with the skills to hit the ground running. Our students spend four semesters in local classrooms, learning from and working with experienced teachers.
The market for talented middle and high school educators is strong. It is expected to grow through the next decade as teachers retire and the student population increases.
The University of Toledo's accredited program in adolescent and young adult education prepares students to teach language arts, mathematics, science or social studies in grades 7 to 12.
UToledo undergraduates focus on core education classes in their content areas during their first two years. As juniors, they begin their professional education sequences — courses in teaching methods and two year-long experiences in local classrooms.
Concentrations
Chemistry
Earth and Space Science
Integrated Language Arts
Integrated Mathematics
Integrated Science
Integrated Social Studies
Life Science
Physics
Top Reasons to Study Adolescent and Young Adult Education at UToledo
UToledo offers more time in the field than other education programs.

We require education majors to spend four semesters in local schools. Our students work with outstanding teachers and gain real-world experience.

Focus on STEM education.

Demand is high in Ohio and other states for STEM teachers (science, technology, engineering and mathematics). UToledo is a leader in preparing teachers in science and math, thanks to our partnerships, grants and faculty research.

Experience in urban and diverse settings.

UToledo is located in the city and partners with Toledo-area schools. Our students work and observe in a variety of classrooms. They take course work centered around the unique needs of today's students.

The latest educational technology.

The on-campus 

Carver Center

 is a unique, valuable resource for education majors. Staff teaches students how to use classroom technology and provides equipment and services students can use in the field.

Master's, education specialist and PhD programs.

These upper-level programs draw high-caliber faculty and resources to UToledo.

Accreditation.

The Judith Herb College of Education is accredited by the Council for the Accreditation of Educator Preparation (CAEP). Licensure programs in each concentration also are nationally accredited.
Meet Terri Draper
'22, Dual degree in Bachelor of Education in Adolescent and Young Adult Education and BA in English
"I want to bring Spanish language and literature to classes I teach in the future, so my students are exposed to other cultures and perspectives. I remember learning so much about American and white European literature in school. I think it would be better for students to hear about Latin American, African and other cultures earlier in their education."
Read More
Meet Chelsey Neff
'21, Dual degree in Bachelor of Education in Adolescent and Young Adult Education and BA in English Literature
"When choosing a career path, I knew I wanted to be an educator because my teachers impacted my life in a positive way, and I'm determined to give back to the future generations. If I can impact at least one student, hopefully many students, in a positive way, that would be my ultimate goal."
Read More
What jobs can I get with an Adolescent and Young Adult Education degree?
UToledo education majors are sought by employers who know our students get more practical experience in the field than students from other universities. Schools come to UToledo each year to interview students at our annual UTeach Job Fair.
Graduates are prepared to teach in junior high or high schools from day one. They are skilled in classroom management, inquiry-based learning, integrated technology and evidence-based strategies.
Almost all UToledo education majors pass the licensure exam to teach in Ohio. Most states have reciprocity agreements with Ohio.
Hands-On Learning Opportunities
At UToledo, we take you beyond the textbooks and the four walls of a classroom. These real-world experiences are what help our graduates gain professional skills and land jobs.
Internships
Research
Study Abroad
Rocket Kids Semester
On-campus and Part-time Jobs
Student Organizations
Tuition and Scholarships
Most new students don't pay full price. 94% of new UToledo students receive scholarships or other state and federal aid.
Keep in mind: Your cost will vary by college, program and a host of other options. This is the average amount full-time students pay per year.
---
How to pay for collegeInternational Student - How to Pay for College
Choose Ohio First scholarship
Ohio residents who have been accepted into this STEM program are eligible for the Choose Ohio First scholarship — a four-year, renewable scholarship.

Honors College
The Jesup Scott Honors College at The University of Toledo offer our best and brightest the resources and opportunities needed to unlock your fullest potential. Whether you aspire following graduation to cure disease, innovate technology, advance statecraft, redefine markets, or express creatively, together we can fuel vibrant and promising tomorrows.
Honors students come from a variety of countries, backgrounds and cultures. While we may bond over a tough class, our differences make us blossom.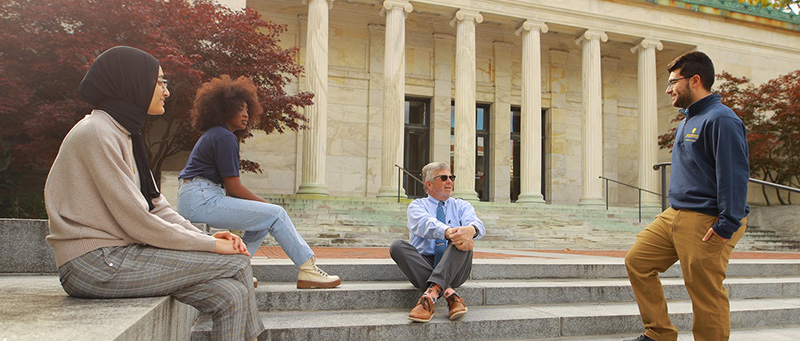 Benefits of Honors
The Honors College is a community of academically gifted students from all majors on campus. Students take unique Honors classes taught by dedicated Honors faculty and complete an Honors thesis or capstone project in their major, earning the Honors medallion at graduation within their normal program of study. Honors students are challenged to think more deeply and broadly about what they learn. With special academic, cultural, and professional development opportunities, their education extends beyond the classroom.
Honors students can also choose exclusive housing in the Honors Academic Village or the historic McKinnon, Scott and Tucker Halls.
Explore more about what the Honors College can offer you as a budding professional, inquisitive scholar, and engaged person.
Visit Campus
A campus visit is the best way to figure out if UToledo is a great fit for you.
Learn More and Register