The Edward H. Schmidt School of Professional Sales (ESSPS) at The University of Toledo has been named one of the best university sales programs in the world. UToledo is one of just five schools to offer an accredited Professional Sales program that includes a major, minor, concentration and MBA concentration.
UToledo's John B. and Lillian E. Neff College of Business and Innovation offers a world-class sales curriculum, professional certifications and multiple corporate, university and international, elite partnerships.
Sales is the backbone of any business and how companies generate revenue. Businesses want a properly trained sales force that can build successful relationships and think strategically.
UToledo's Professional Sales students learn best practices and graduate with the knowledge and field experience to hit the ground running and produce results quickly.
Top Reasons to Study professional sales at UToledo
National reputation.

The University of Toledo was recently named one of the top universities for Professional Sales education by the Sales Education Foundation.
UToledo's Professional Sales undergraduate program and the John B. and Lillian E. Neff College of Business and Innovation are accredited by the Association to Advance Collegiate Business Schools.
UToledo is a founding member of the

 

University Sales Center Alliance

 

and the

 

Global Sales Science Institute.

High job placement rate.

Nearly all graduates of The University of Toledo's bachelor's degree program in ProfessionalSales find jobs prior to graduation. Average, total financial compensation in the first year starts around $55,000, with most positions offering a base salary around $44,000.

Professional skills development.

Required internships
Networking and recruiting events each fall and spring    
Career development classes
Guest speakers who work in professional sales

State-of-the-art interactive learning.

UToledo Professional Sales undergraduates have access to the Huntington Sales Lab and other, current technology. Students use these tools to role play, create elevator speeches, have virtual coaching sessions and interviews, and more.

Understand sales from all sides.

UToledo students take courses in sales, purchasing and sales leadership to understand sales as a seller, buyer and manager. UToledo is the only university in the country to require professional sales majors to take a purchasing class to better grasp the customer's perspective.

Options.

UToledo has one of the few Professional Sales undergraduate programs in the country to offer a major, minor, concentration and MBA concentration in professional sales.

Be more marketable with a double major.

 

UToledo has one of the best business colleges in the country.

 

Double-major

 

in professional sales and another area of business by taking just two extra classes.
Enhance a non-business degree

 

such as

 

pharmacy or engineering

 

with a minor in professional sales.
Add a concentration

 

in professional sales to your

 

marketing

 

major.

Flexibility.

Many of our courses are offered online or face-to-face.
What jobs can I get with a professional sales degree?
Every business needs salespeople —  manufacturing, technology, construction, sports, entertainment, service or any other industry.
Nearly all of our graduates find jobs prior to graduation as:
Account manager or executive

Area sales manager

Associate product manager

Business development manager

District representative

Inside or outside sales representative

Marketing analyst

Mortgage banker

Recovery specialist

Sales consultant

Sales engineer

Senior product marketing manager

Territory manager 
Hands-On Learning Opportunities
At UToledo, we take you beyond the textbooks and the four walls of a classroom. These real-world experiences are what help our graduates gain professional skills and land jobs.
Internships
Research
Study Abroad
Rocket Kids Semester
On-campus and Part-time Jobs
Student Organizations
Tuition and Scholarships
Most new students don't pay full price. 94% of new UToledo students receive scholarships or other state and federal aid.
Keep in mind: Your cost will vary by college, program and a host of other options. This is the average amount full-time students pay per year.
---
How to pay for collegeInternational Student - How to Pay for College
Choose Ohio First scholarship
Ohio residents who have been accepted into this STEM program are eligible for the Choose Ohio First scholarship — a four-year, renewable scholarship.

Honors College
The Jesup Scott Honors College at The University of Toledo offer our best and brightest the resources and opportunities needed to unlock your fullest potential. Whether you aspire following graduation to cure disease, innovate technology, advance statecraft, redefine markets, or express creatively, together we can fuel vibrant and promising tomorrows.
Honors students come from a variety of countries, backgrounds and cultures. While we may bond over a tough class, our differences make us blossom.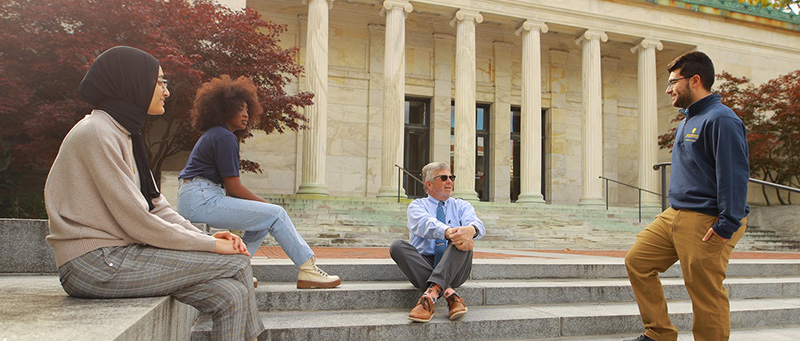 Benefits of Honors
The Honors College is a community of academically gifted students from all majors on campus. Students take unique Honors classes taught by dedicated Honors faculty and complete an Honors thesis or capstone project in their major, earning the Honors medallion at graduation within their normal program of study. Honors students are challenged to think more deeply and broadly about what they learn. With special academic, cultural, and professional development opportunities, their education extends beyond the classroom.
Honors students can also choose exclusive housing in the Honors Academic Village or the historic McKinnon, Scott and Tucker Halls.
Explore more about what the Honors College can offer you as a budding professional, inquisitive scholar, and engaged person.
Visit Campus
A campus visit is the best way to figure out if UToledo is a great fit for you.
Learn More and Register