The profession of social work is booming. The US Bureau of Labor Statistics indicates that the employment of social workers is expected to grow 9% from 2021 to 2031, which is a faster than average growth rate than all other occupations. 
If you are looking for a meaningful career that includes helping people meet complex needs with a particular focus on those who may be oppressed, living in poverty, or who are vulnerable, then social work may be the right profession for you. People who are drawn to this profession want to make a difference not only in others' lives but in the world. With a bachelor's degree from The University of Toledo, we can help you develop the skills you need to become a change agent to help others.
The University of Toledo's accredited Social Work degree program prepares students to become licensed social work professionals.
UToledo's Social Work students gain knowledge and skills in interviewing, recording, and working with culturally diverse populations. Undergraduates study social policy and human behavior, conduct research, and gain real-world experience through field placements in social service organizations.
Social work and social justice go hand-in-hand. Our program in the College of Health and Human Services is committed to the advancement of human rights and the achievement of social, economic, and environmental justice.
Top Reasons to Study Social work at UToledo
Two mandatory internships.

This field experience gives our students an edge in the job market. They graduate with 508 hours of field training.

University Partnership Program.

This statewide program provides additional training and stipends for undergraduates who plan to serve their communities as Child Protective Services social workers.

Active social justice groups.

The Social Work program is in UToledo's School of Social Justice, home to the

 

Human Trafficking and Social Justice Institute. The institute operates the nation's oldest academic conference on human trafficking. It organizes efforts at the local, state, federal and international levels to advocate for those affected by trafficking.
Fearless Writers

 

is a social justice creative writing and research mentoring program collaborating with Toledo Public Schools and surrounding high schools.

Strong faculty research.

Many UToledo 

Social Work instructors

 have become experts in their research areas and offer related courses, including:

Addiction
Health care
Human trafficking
Immigration
Inter-professional collaboration
Latino community development
LGBT advocacy
Poverty
Therapeutic use of animals
Use of art in social work

Opportunities outside the classroom.

The

 

Student Social Work Organization

 

is an active advocacy group of both BSW and MSW students.
Phi Alpha Honor Society

 

provides a forum for networking and advocacy.
The

 

social work program sponsors speakers and events for students to engage in social justice conversations and public service efforts.

Accreditation.

The University of Toledo BSW program is fully accredited by the Council on Social Work Education (CSWE).

Build on your degree.

UToledo offers many minors that complement a Social Work degree: Criminal Justice, Women's and Gender Studies, Disability Studies, and Business.
What jobs can I get with a social work degree?
Social workers help people cope with life challenges and can intervene at the individual, family, group, organization, and community levels. Social workers with a clinical specification can diagnose and treat mental, behavioral, and emotional problems. However, the social worker role falls into a variety of categories. These can include:
Child and family
School social work
Mental health and substance use
Gerontology
Healthcare
Child welfare
Forensic/criminal justice
Political advocacy
Non-profit organization
UToledo's Social Work majors learn the professional skills to be change agents in the community to work in these settings.
They are prepared to:
Document their services in multiple formats

Facilitate group processes 

Lead advocacy efforts on behalf of their clients

Provide professional services at all levels of care

Work directly with clients in the field
Hands-On Learning Opportunities
At UToledo, we take you beyond the textbooks and the four walls of a classroom. These real-world experiences are what help our graduates gain professional skills and land jobs.
Internships
Research
Study Abroad
Rocket Kids Semester
On-campus and Part-time Jobs
Student Organizations
Tuition and Scholarships
Most new students don't pay full price. 94% of new UToledo students receive scholarships or other state and federal aid.
Keep in mind: Your cost will vary by college, program and a host of other options. This is the average amount full-time students pay per year.
---
How to pay for collegeInternational Student - How to Pay for College
Choose Ohio First scholarship
Ohio residents who have been accepted into this STEM program are eligible for the Choose Ohio First scholarship — a four-year, renewable scholarship.
Honors College
The Jesup Scott Honors College at The University of Toledo offer our best and brightest the resources and opportunities needed to unlock your fullest potential. Whether you aspire following graduation to cure disease, innovate technology, advance statecraft, redefine markets, or express creatively, together we can fuel vibrant and promising tomorrows.
Honors students come from a variety of countries, backgrounds and cultures. While we may bond over a tough class, our differences make us blossom.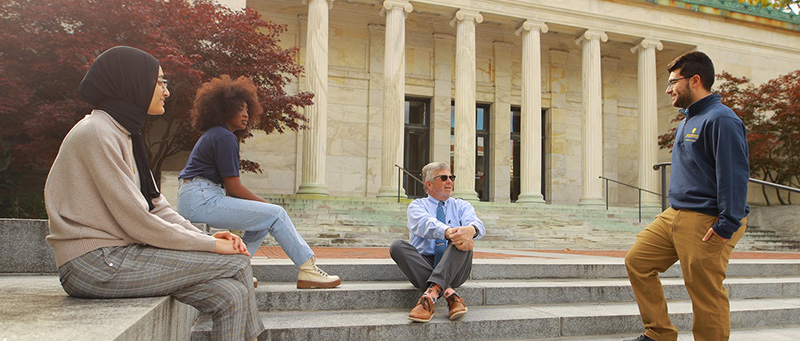 Benefits of Honors
The Honors College is a community of academically gifted students from all majors on campus. Students take unique Honors classes taught by dedicated Honors faculty and complete an Honors thesis or capstone project in their major, earning the Honors medallion at graduation within their normal program of study. Honors students are challenged to think more deeply and broadly about what they learn. With special academic, cultural, and professional development opportunities, their education extends beyond the classroom.
Honors students can also choose exclusive housing in the Honors Academic Village or the historic McKinnon, Scott and Tucker Halls.
Explore more about what the Honors College can offer you as a budding professional, inquisitive scholar, and engaged person.