Undergraduate
We offer an ABET-accredited Bachelor of Science in Bioengineering degree program that features more than 45 hours of Bioengineering courses taught by award-winning faculty, an integrated co-operative education experience and a combined Bacc2MD Pathway program offered in conjunction with the University of Toledo College of Medicine. Please see the Undergraduate Program page for more details.
Bioengineering Undergraduate Enrollment/Graduation 
Enrollment (BIOE is a 5 year program, so this includes 5 years of students)
Fall 2014 - 315
Fall 2015 - 305
Fall 2016 - 317
Fall 2017 - 332
Fall 2018 - 344


Graduation (The majority of BIOE students graduate in Spring.  Winter graduation numbers slightly less.)
Spring 2014 - 57
Spring 2015 - 46
Spring 2016 - 43
Spring 2017 - 47
Spring 2018 - 45


Graduate
We offer various graduate programs, including coursework- and thesis-based MS programs, a Ph.D. in Engineering and our new Biomedical Engineering Ph.D. program offered jointly by the University of Toledo College of Engineering and College of Medicine. Please see the Graduate Programs page for more details.
April 1, 2019
Congratulations to the 2019 Bioengineering Undergraduate Summer Research and Creative Activities Program (USR&CAP) Awardees. 
Cat Meyers, "Creation and Characterization of Cross-Linked Collagen Scaffold Bundles for Tendon-Like Applications," Advisor - Dr. Eda Yildirim-Ayan
Ahmed Alyousif, "Advanced Wearable Analytics: Design, Development, and Implementation of Electrocardiograph and Photoplethysmograph Signal Processing Algorithms for Derived Respiratory Measures," Advisor - Dr. Brent Cameron
Hanan Ali
, "Biomechanical Analysis of Some Common Lunges and Step-ups with Respect to their Effectiveness in Post-ACL Reconstruction Surgery Rehabilitation," Advisor – Dr. Samir Hefzy
March 25, 2019
The American Institute for Medical and Biological Engineering (AIMBE) has announced the induction of Brent D. Cameron, Ph.D., Professor and Chair, Department of Bioengineering, University of Toledo to its College of Fellows for his "outstanding contributions to the field of biomedical optics and sensing, particularly in the area of noninvasive physiological glucose monitoring."  Details on the induction can be found is this press release. 
AIMBE Fellows are among the most distinguished medical and biological engineers including 2 Nobel Prize laureates, 17 Fellows having received the Presidential Medal of Science and/or Technology and Innovation, and 158 also inducted to the National Academy of Engineering, 72 inducted to the National Academy of Medicine and 31 inducted to the National Academy of Sciences.
March 20, 2019
Congratulations to the four University of Toledo Bioengineering Senior Design Teams that have placed as finalists in the College of Business Innovation (COBI) Competition.  The projects and teams are:
C-See Technologies
- Kizito Akunna, Deric Anthony, Alexander Gibson, Shayla Glynn
CLLK - Lauren Bakaitis, Clare Byrne, Kathryn Gilson, Leah Walchanowicz
Forefront Prosthetics
- Taryn Carmody, Emily Merris, Luke Schimmoeller, Derek Sutter, Devin Toelke
MAPbrace - Sherin Aburidi, Lameece Bdeiri, Taylor Betz, Ashley Kalies
The finalist will be giving an oral presentation about their business using the business model canvas on Friday, April 12, 2019 and the winners will be announced on April 19th.
November 26, 2018
Dr. Vijay Goel, Professor and Endowed Chair in Bioengineering, has been selected to receive the Hamdan Award for Medical Research Excellence for his work in Orthopedic Mechanics which will be awarded on December 14th, 2018 in Dubai, UAE.  This award has been established to honor and recognize the contributions of distinguished researchers whose works have positively affected thousands of lives globally.  Recipients of this award are individuals that have demonstrated innovative methods and research that has resulted in novel discoveries and inventions which have made an enormous impact in their respective fields.  Please join us in congratulating Dr. Goel on this prestigious achievement!  More information can be found here: https://www.prnewswire.com/news-releases/us-scientists-win-the-three-highest-medical-awards-by-hamdan-medical-award-842472566.html
October 12, 2018
Congratulations to Dr. Vijay Goel as the recipient of the 2018 Ohio Faculty Council Technology Commercialization Award.  Dr. Goel is a Distinguished University Professor, Endowed Chair, and McMaster-Gardner Professor of Orthopaedic Bioengineering.  He is also serves as a co-director for the Engineering Center for Orthopaedic Research Excellence (E-CORE).
The photo below was taken in Columbus, Ohio on Friday, October 12th during the award ceremony.
Left to Right: Chancellor John Carey (Ohio Department of Higher Education), Vijay Goel, Shashi Goel, and Representative Mike Duffey (Ohio District 21)
August 10, 2018
Congratulations to Alida Ramdén, an undergraduate in Bioengineering, for being named to the College Swimming & Diving Coaches Association of America Scholar All-America Team!  This award recognizes students who have achieved a GPA of 3.50 or higher and competed at their respective National Collegiate Athletic Association, National Association of Intercollegiate Athletics, and National Junior Athletic Association Swimming and Diving Championships.
August 2, 2018
Congratulations to five of our Bioengineering graduates who received their white coats from the University of Toledo College of Medicine.  The ceremony symbolizes their entry into the medical profession to be trained as physicians and is part of the admissions process to the College of Medicine.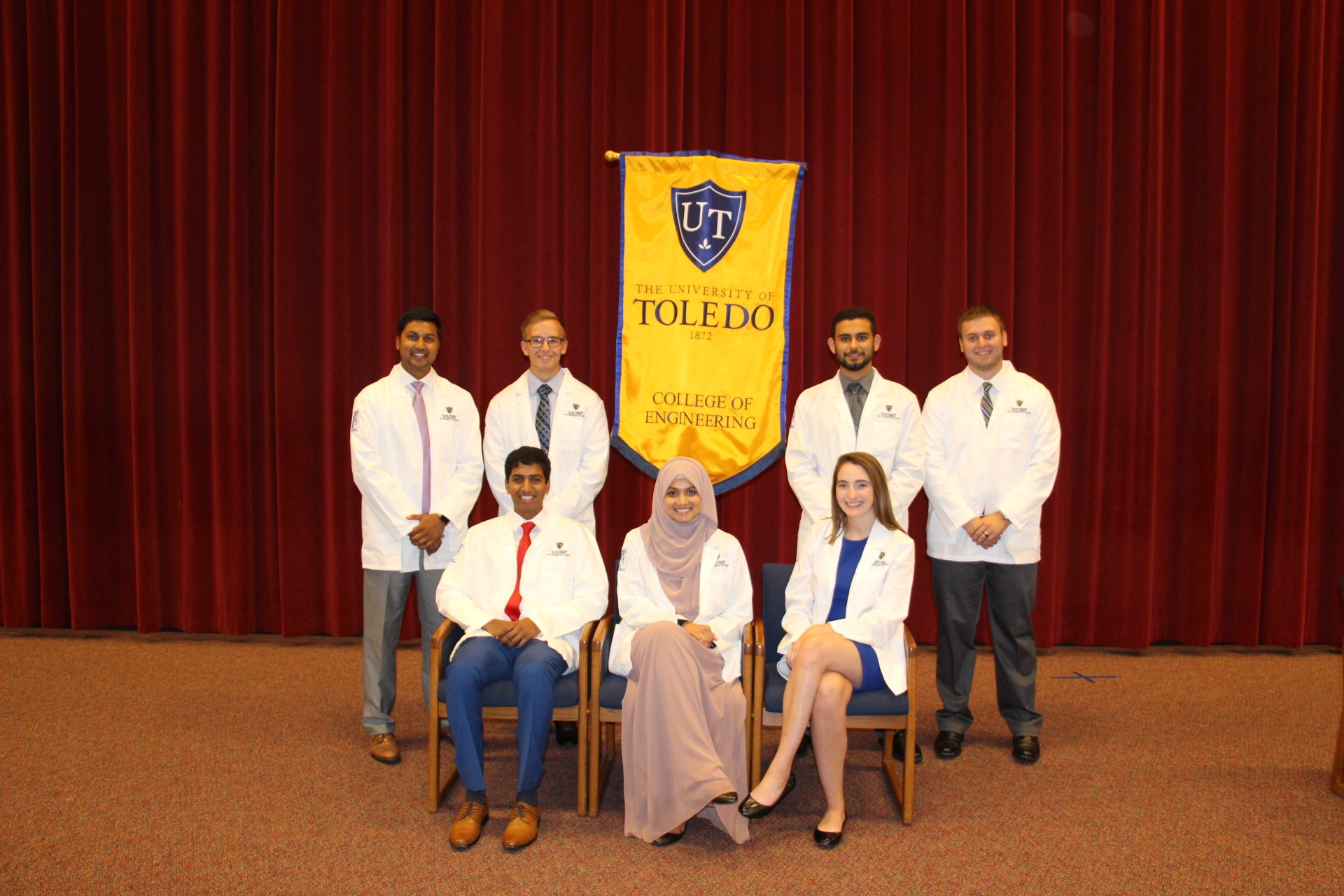 Back Row: Shailen Shah(BIOE), Christopher Alexander (CHME), Mazzin Elsamaloty (BIOE), Zachary Holtzapple (CHME)
Front Row: Palguna Thalla (BIOE), Tazkia Al-Bari (BIOE), Rebecca Potts (BIOE)
July 31, 2018
Bioengineering doctoral graduate Emily Krull received a first-place award for her graphical abstract presentation at the Biomaterials for Medical Devices and Regenerative Medicine workshop held in Bordeaux, France this past June.  The workshop was organized by the Society of Biomaterials (SFB) and the European Society for Biomaterials (ESB) and provides a week-long didactic and practical learning experience addressing biomaterials for medical devices and regenerative materials with an emphasis on promoting an international exchange.  Congratulations to Emily for another outstanding performance!  Her faculty advisor and mentor is Dr. Aisling Coughlan.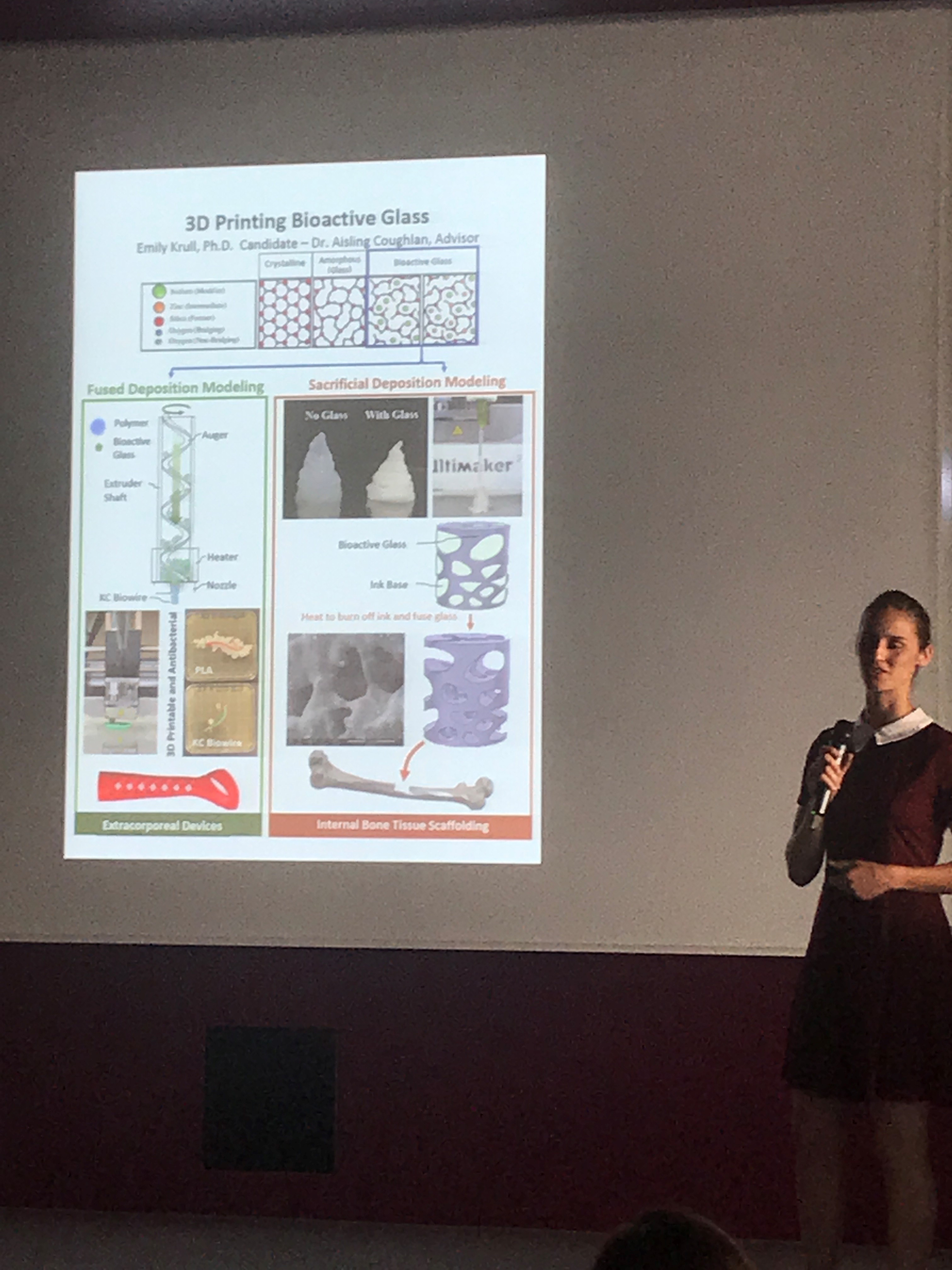 June 24, 2018 
Congratulations to Bioengineering undergraduate, Aaron Lehman, and this team partners, Mohammad Hamza Owais (UT EECS -MS student), Safia Rahmat (UT EECS MS student), & Luke Belinc (Wayne State University, undergraduate).  They participated in the 24 Hour AngelHack Competition (DHACK 2018) in Detroit that took place at Wayne State University on June 23-24. They won 1st place in the Fitbit Challenge and placed 2nd in the Advanced Category for their "Keeping Up" project which focuses on the development of assistance technologies to provide further analysis of data collected from wearable devices to provide users a clearer view of their physiological status which can lead to more mindful health practices.  Their faculty advisor is Dr. Scott Pappada who is an Assistant Professor in the Departments of Bioengineering and Anesthesiology.  The team posed for a photo with their awards while at the event (Left to Right: Mohammad Hamza Owais, Aaron Lehman, Safia Rahmat, & Luke Belinc).