Undergraduate
We offer an ABET-accredited Bachelor of Science in Bioengineering degree program that features more than 45 hours of Bioengineering courses taught by award-winning faculty, an integrated co-operative education experience and a combined Bacc2MD Pathway program offered in conjunction with the University of Toledo College of Medicine. Please see the Undergraduate Program page for more details.
Bioengineering Undergraduate Enrollment/Graduation 
Enrollment (BIOE is a 5 year program, so this includes 5 years of students)
Fall 2015 - 305
Fall 2016 - 317
Fall 2017 - 332
Fall 2018 - 344
Fall 2019 - 322
Graduation (The majority of BIOE students graduate in Spring.  Winter graduation numbers slightly less.)
Spring 2015 - 46
Spring 2016 - 43
Spring 2017 - 47
Spring 2018 - 45
Spring 2019 - 58


 Graduate
We offer various graduate programs, including coursework- and thesis-based MS programs, a Ph.D. in Engineering and our new Biomedical Engineering Ph.D. program offered jointly by the University of Toledo College of Engineering and College of Medicine. Please see the Graduate Programs page for more details.
June 5, 2019
A delegation from Thapar Institute of Engineering and Technology (TIET) in Punjab, India visited our Bioengineering Department on June 3-4, 2019.   The purpose of the visit was to discuss the formation of an undergraduate biomedical engineering program at their institute and to establish a mutually beneficial educational and pedagogical relationship including possible mechanisms to support student and faculty exchanges.  In the upcoming weeks, we look forward to further discussions leading to an execution of a memorandum of agreement between our institutions.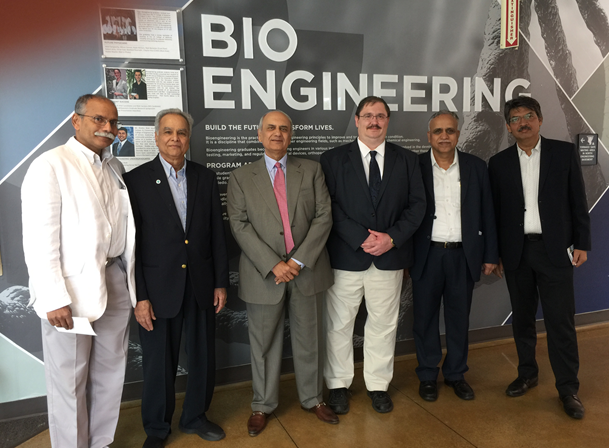 (Left to Right: Dr. Padmakumar Nair-TIET, Dr. Vijay Goel-UT BIOE, Mr. Rajeev Vederah-TIET, Dr. Brent Cameron-UT-BIOE, Dr. Prakash Gopalan-TIET, and Dr. Ajay Batish-TIET)
April 25, 2019
Congratulations to Bioengineering undergraduates, Sherin Aburidi, Timothy Wolf, & Michael Socha, in addition to the other UToledo undergraduates, that have won awards as part of the regional BioDesign Challenge.  These student teams will now move forward to compete at the International BioDesign Summit to be held in New York City this June. 
The overall winning group was btilix who will now be showcasing their disinfectant spray during the upcoming competition in NYC against all 35 other schools from around the globe.
btilix (Tyler Saner, ART; Sarah Mattei, EEES; Courtney Kinzel, EEES, Timothy Wolf, BIOE; Sherin Aburidi, BIOE)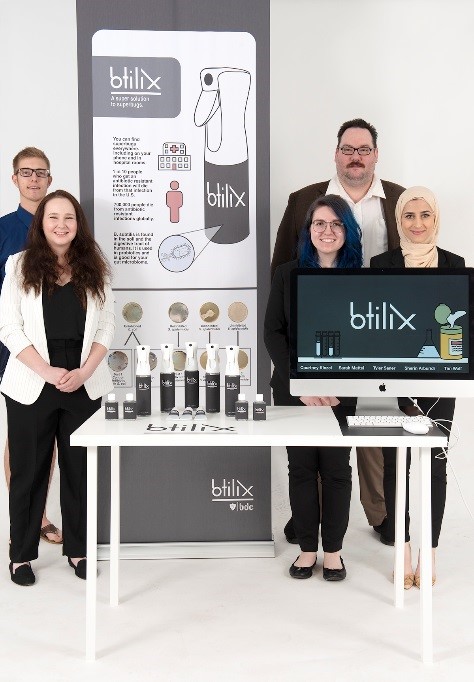 The other winning team that will also now be competing in NYC for the ORTA Sustainability in Textiles Prize is PlastiGrow.  There invention is a biodegradable plastic fiber that can be used in textile manufacturing.
PlastiGrow (McKenzie Dunwald, ART; Michael Socha, BIOE; Colin Chalmers, Art;  Ysabelle Yrad, EEES)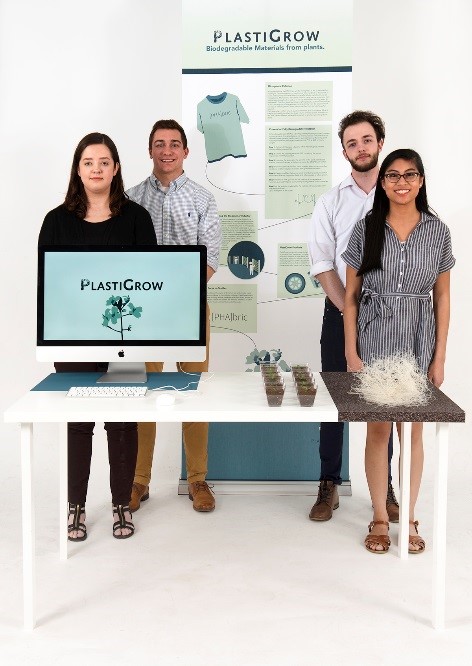 April 19, 2019
Congratulations to the three University of Toledo Bioengineering Senior Design Teams that have won awards in the College of Business Innovation (COBI) Competition.  The teams and members are:
First Place ($10,000) - C-See Technologies - Kizito Akunna, Shayla Glynn, Alexander Gibson, & Deric Anthony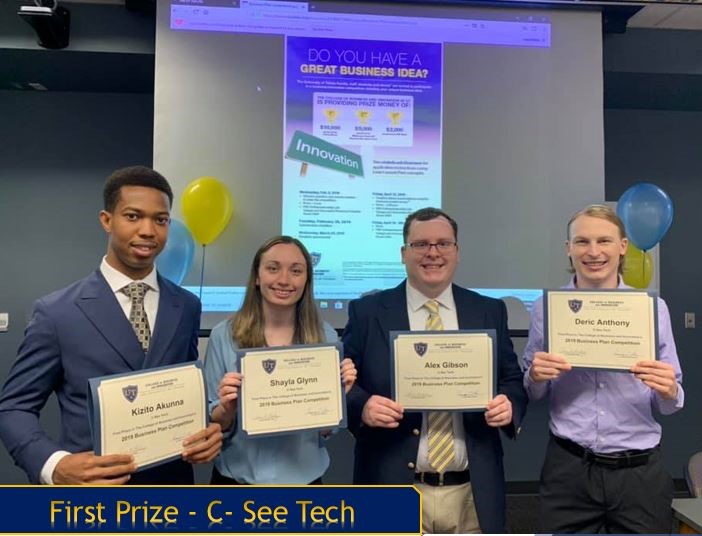 Second Place ($5,000) - Forefront Prosthetics - Devin Toelke, Taryn Carmody, Emily Merris Pollard, Luke Schimmoeller, & Derek Sutter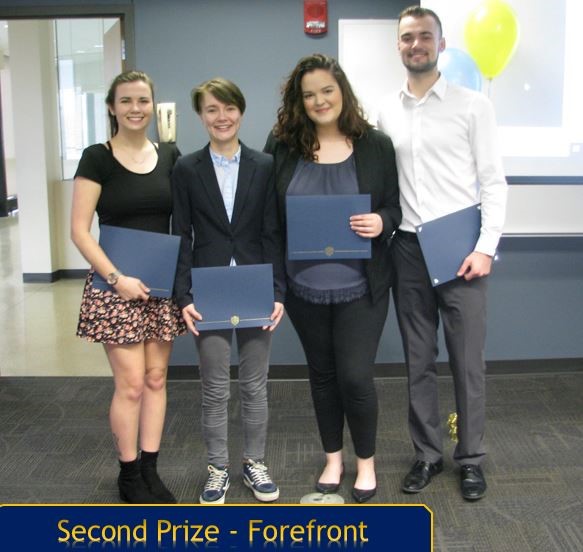 Third Place ($2,000) - CLLK - Leah Walchanowicz, Lauren Bakaitis, Clare Byrne &  Kathryn Gilson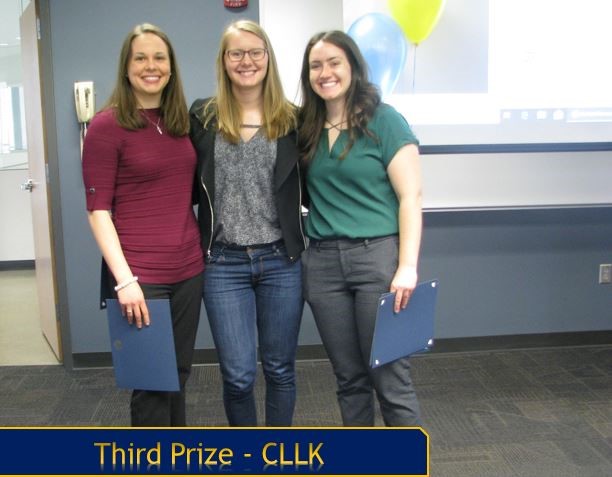 April 1, 2019
Congratulations to the 2019 Bioengineering Undergraduate Summer Research and Creative Activities Program (USR&CAP) Awardees. 
Cat Meyers, "Creation and Characterization of Cross-Linked Collagen Scaffold Bundles for Tendon-Like Applications," Advisor - Dr. Eda Yildirim-Ayan
Ahmed Alyousif, "Advanced Wearable Analytics: Design, Development, and Implementation of Electrocardiograph and Photoplethysmograph Signal Processing Algorithms for Derived Respiratory Measures," Advisor - Dr. Brent Cameron
Hanan Ali
, "Biomechanical Analysis of Some Common Lunges and Step-ups with Respect to their Effectiveness in Post-ACL Reconstruction Surgery Rehabilitation," Advisor – Dr. Samir Hefzy
March 25, 2019
The American Institute for Medical and Biological Engineering (AIMBE) has announced the induction of Brent D. Cameron, Ph.D., Professor and Chair, Department of Bioengineering, University of Toledo to its College of Fellows for his "outstanding contributions to the field of biomedical optics and sensing, particularly in the area of noninvasive physiological glucose monitoring."  Details on the induction can be found is this press release. 
AIMBE Fellows are among the most distinguished medical and biological engineers including 2 Nobel Prize laureates, 17 Fellows having received the Presidential Medal of Science and/or Technology and Innovation, and 158 also inducted to the National Academy of Engineering, 72 inducted to the National Academy of Medicine and 31 inducted to the National Academy of Sciences.
March 22, 2019
Congratulations to Ms. Shelly Smallman-Nielsen.  She has been selected as the 2019 Bioengineering Outstanding Department Alumna. Shelly graduated with her B.S. in Bioengineering at the University of Toledo in 2005 and later returned to graduate with her M.S. in Engineering in 2015. She is employed as an Engineering Supervisor at NAMSA, a leading contract and medical research organization responsible for leveraging their global knowledge and experience to assist clients during any phase of the medical product development life cycle to bring their products to market.  She has been employed with NAMSA for 14 years and previously held positions at Pfizer Global in their research and development division and at Aarhus Kommune Hospital.  In her current role at NAMSA, she is responsible for managing the continuous environmental monitoring system, global equipment management system, process improvement projects, the equipment processes for all of NAMSA's global sites, and managing both the Northwood, OH and Irvine, CA Engineering departments. 
Picture from the March 22 event: left to right - Michael Toole (Dean College of Engineering), Shelly Smallman-Nielsen (Outstanding Alumna), & Brent Cameron (Chair-Bioengineering)
March 20, 2019
Congratulations to the four University of Toledo Bioengineering Senior Design Teams that have placed as finalists in the College of Business Innovation (COBI) Competition.  The projects and teams are:
C-See Technologies
- Kizito Akunna, Deric Anthony, Alexander Gibson, Shayla Glynn
CLLK - Lauren Bakaitis, Clare Byrne, Kathryn Gilson, Leah Walchanowicz
Forefront Prosthetics
- Taryn Carmody, Emily Merris, Luke Schimmoeller, Derek Sutter, Devin Toelke
MAPbrace - Sherin Aburidi, Lameece Bdeiri, Taylor Betz, Ashley Kalies