Master's Programs in Cyber Security
Our master's degree programs in cyber security provide an experiential learning-rich curriculum tailored to your interests and industry's needs. The programs offer personalized capstone options and a large number of elective courses. Flexible course scheduling within our programs enables you to start taking classes during either fall or spring semester. We offer a research-based Master of Science in Cyber Security and a coursework-based Master in Cyber Security. You can pick the degree that best fits with your professional goals and interests.
MASTER OF SCIENCE IN CYBER SECURITY
Our research-intensive degree program offers two capstone options (thesis or project) for you to work on cyber security research projects under the guidance of a faculty research mentor. This program helps you develop skills to investigate cyber security issues, discover new cyber security knowledge and present your research to professionals in the industry or academia. After completing this program, you'll be prepared to continue your research and development in cyber security areas or work in industry, practicing learned professional skills.
MASTER OF CYBER SECURITY
Our program will train you with the latest technology trends in cyber security through a combination of core and elective courses. The capstone course, Experiential Learning in Cyber Security, provides you with opportunities to learn about real-world cyber-attacks and design defense strategies through The University of Toledo's Cyber Range. Guided by UToledo IT security professionals, the capstone course will help you develop the competencies you need to work as a cyber security professional in a rapidly evolving IT world.
Meet Sai Naini
Class of 2021, Master of Science in Cyber Security
"I'm glad to say that UToledo now has a master's program dedicated to Cyber Security. In my experience, I believe this program will have a great impact for students planning a career in security. Dr. Sun has been a good guide in encouraging me to take up projects and tasks which will help me improve in my career going forward."
Meet Omar Sabri
Class of 2022, Master of Cyber Security
"When I first joined this program I wanted to learn everything about cybersecurity. During my first year I have learned about network security, hardware security as well as fundamentals of cybersecurity. That inspired me to keep learning more about cybersecurity so I then completed 3 certifications - CND, EHCS, and CEH. This program really helped me to obtain those certifications. I am glad that I have joined this program."
Meet Asheq Siddiquee Tanmoy
Class of 2022, Master of Science in Cyber Security, President of UToledo Cyber Security Club
"Cyber Security is an integral part of a stable world to help shape the future and the constantly evolving present. The research track of this program has availed me a Department of Energy funded research opportunity on the security aspect of distributed critical energy asset. To advocate a safer cyberspace, I am also engaged in activities beyond the academic perimeter through the University of Toledo Club for Cyber Security (UToledoCCS)."
Course Requirements
Courses are currently offered on campus, but online offerings will be available starting in fall 2020. Both degree programs require 30 cr hr of coursework and/or research in cyber security and related areas.
ENGINEERING CORE (10 Cr. Hr.)
Three required core courses cover the security of the computer system, the network system and the broader cyberspace.
Engineering electives (8-14 Cr. Hr.)
Elective courses from engineering are selected to develop depth in cyber security areas. One of these electives can be taken in a related area to support the specific cyber security research or topic of interest.
Non-Engineering ELECTIVES (3 Cr. Hr.)

The non-engineering elective course options from business or law provide broader societal perspectives to provide breadth in cyber security areas.
Capstone option (3-9 Cr. Hr.)
Thesis, project or experiential learning in cyber security course, depending on the degree program.
---
CURRICULUM FOR MASTERS PROGRAMS IN CYBER SECURITY
Engineering Core (required, all programs)
EECS 5720 - Fundamentals of Cyber Security (3 cr hr, fall)
EECS 5760 - Computer Security (3 cr hr, fall)
EECS 5790 - Network Security (4 cr hr, spring)
Engineering Electives
Master's of Science - 8 cr hr for thesis; 11 cr hr for project
Master's - 14 cr hr
EECS 5640 - Inside Cryptography (3 cr hr, spring)
EECS 5770 - Computer Hacking and Forensic Analysis (3 cr hr, spring)
EECS 6640 - Hardware Oriented Security and Trust (3 cr hr, spring)
EECS 5520 - Advanced Systems Programming (4 cr hr, spring)
CYBR 5930 - Cyber Security Seminar (0 cr hr, fall/spring)
CYBR 6990 - Independent Study in Cyber Security (1-3 cr hr, summer/fall/spring)
Up to 1 of these related courses:
EECS 5500 Programming for the World Wide Web (3 cr hr, spring)
EECS 5740 Artificial Intelligence (3 cr hr, fall)
EECS 5750 Machine Learning (3 cr hr, fall)
EECS 6180 Biology Inspired Computing (3 cr hr, spring)
EECS 6350 Modern Communications Engineering II (3 cr hr, spring)
Non-Engineering Electives (3 cr hr)
INFS 6710 - Management of Information System Security (College of Business and Innovation, spring)
LAWI 6290 - Cyberspace Laws (College of Law, fall)
LAWT 6600 - Privacy and Data Security (College of Law, spring)
Capstone option - depends on degree program
Master's of Science in Cyber Security (research-based) - CYBR 6960 Cyber Security Research and Thesis (9 cr hr, summer/fall/spring) OR CYBR 6920 Cyber Security Project (6 cr hr, summer/fall/spring)
Master's in Cyber Security (coursework) - CYBR 6800 Experiential Learning in Cyber Security (3 cr hr, fall)*
*May be taken as an Engineering Elective in the Master's of Science in Cyber Security program.
---
Admissions Requirements
Prospective students must have a bachelor's degree in a computer science or related field. For other STEM graduates, pre-requisite foundation courses in computer programming, computer networks, data structures, and operating systems are required.
---
Course Pre-Requirements
To be considered for admission, students entering the program will be required to have the following foundational courses in computer science:
Programming Course (1 semester - CSET 1200, EECS 1510)
Data Structures and Algorithms (1 semester - CSET 3150, EECS 2510)
Computer Networks (1 semester - CSET 4750, EECS 3150)
Operating Systems (1 semester - CSET 4350, EECS 3540)
Students lacking one or more of the above courses will need to take those courses before being considered for admission to the program.
---
Application Process
Admissions are made on an individual basis and take into account the applicant's previous educational record and professional experience. Applications accepted at any time. There is no application deadline.
Completed and signed online Online Application Form
Transcripts from each institution attended showing degree obtained (exception: UT graduates)
Three letters of recommendation, at least one must be from a professor or employer
TOEFL or IELTS for applicants whose degree is from a non-US institution
U.S. citizens or U.S. permanent cardholders: $45 non-refundable application fee
International students: $75 non-refundable application fee
---
Questions?
For more information, please contact the Program Director.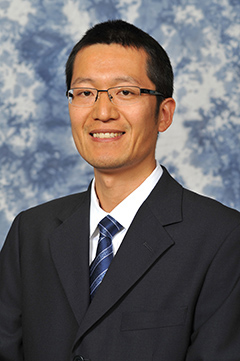 Weiqing Sun, Ph.D.