Degree Completion Requirements - Master's Students
Certain requirements must be satisfied if you are to graduate on schedule. In order to serve the many students applying for graduation each semester, the College of Graduate Studies must strictly enforce all necessary deadlines. It is the student's responsibility to ensure all requirements are fulfilled. Check with your advisor to ensure all department and college degree requirements have been met. If you have any questions about the requirements detailed below, please contact the College of Graduate Studies at GCAcademicSvcs@utoledo.edu.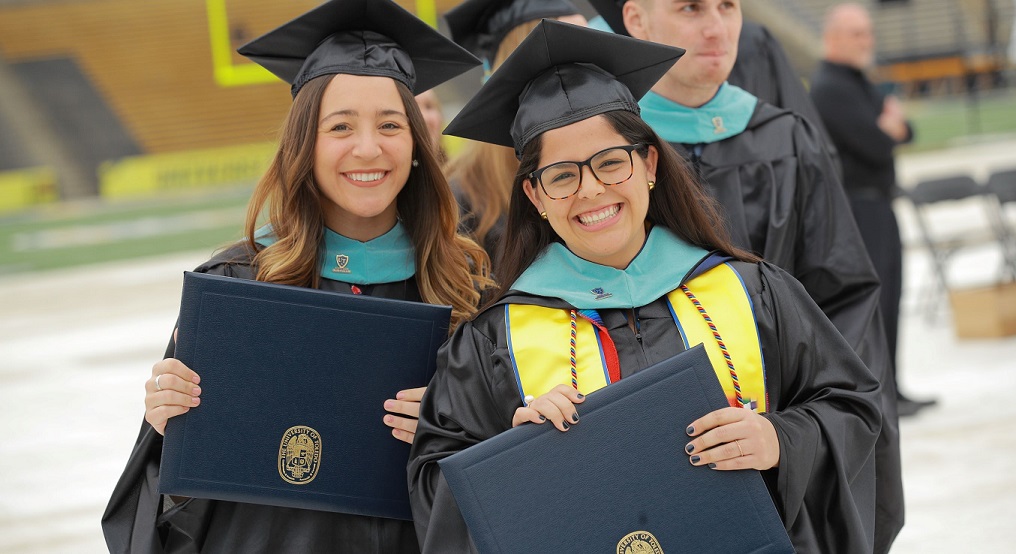 Complete the online Application for Graduation prior to the filing deadline for the semester in which you plan to graduate, whether a formal ceremony is held or not. You can find filing deadlines on the registrar's website for each semester.
Registered for a minimum of one graduate credit hour in the semester you apply to graduate. Please note: Completion of an Incomplete or in Progress grade will note fulfill the registration requirement. If your graduation is postponed for any reason, it will be necessary to register for a minimum of one graduate credit hour during the semester you re-apply for graduation.
Official undergraduate transcripts must be on file in the College of Graduate Studies. If the degree was earned at The University of Toledo, all items will be on file. International students must also provide their diploma. Transcripts and diplomas must be provided in both English and the native language.
Approved Plan of Study must be on file with the College of Graduate Studies. Courses on your Plan of Study must appear on your transcript and have grades of 'C' or higher. Any changes to your approved Plan of Study must be filed with the College of Graduate Studies either by completion of a Course Substitution form or a revised Plan of Study. All coursework must fall within the six year time limitation to complete the master's degree. Any coursework that exceeds this time limit will require revalidation.
Written proof of passing Comprehensive and/or Foreign Language Exams if these are part of the requirements for your degree.
If completing a Project, a completed Approval of Project Form must be submitted to the Graduate College Office no later than the last day of classes for the term. Composition of the committee must meet all University guidelines.
All grades must be posted. Incomplete and In-Progress grades must be removed from your transcript.
Attain a cumulative grade point average of 3.0 or above.
Payment of all outstanding fines and fees. If there are any outstanding fees, a hold will be placed on your account and your diploma and transcript cannot be mailed.
Questions?  Please contact the College of Graduate Studies at GCAcademicSvcs@utoledo.edu.