Fellowship Highlights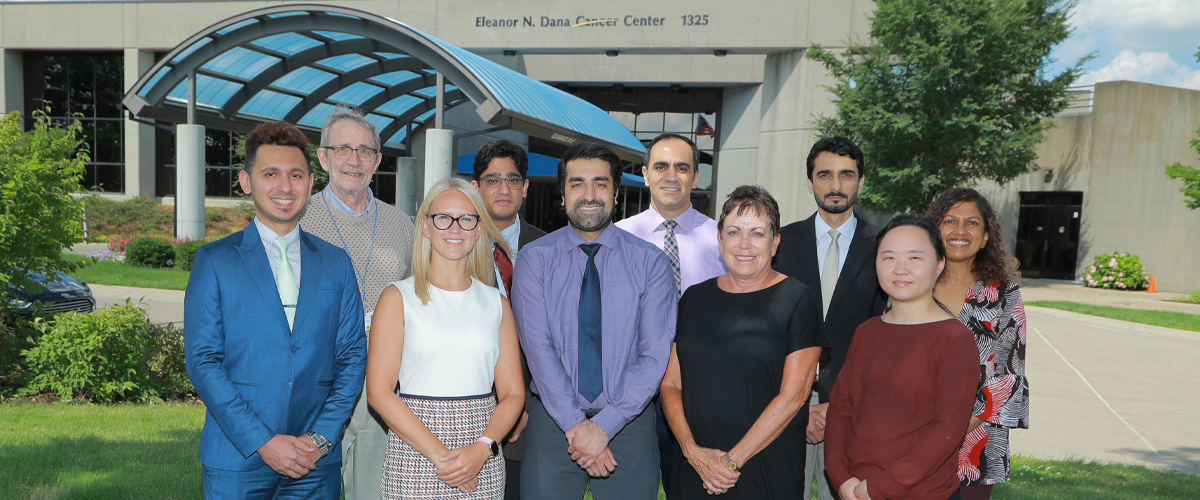 Mission Statement
The mission of the University of Toledo fellowship in Hematology and Medical Oncology is to improve the human condition and to advance knowledge through excellence in training of physicians in the field of Hematology and Medical Oncology. This training includes a significant emphasis on clinical training and community care, as well as ample opportunities for research with involvement in clinical trials and education. The training program at the University of Toledo serves the greater Toledo region, which includes a diverse population including patients from urban, suburban, and rural settings. Our mission is alignment with the larger mission of the University of Toledo which is to improve the human condition; to advance knowledge through excellence in learning, discovery, and engagement; and to serve as a diverse, student-centered public metropolitan research university.
---
History of the Program
In 2009, The University of Toledo accepted its first group of fellows into the Medical Oncology Program. After 10 years (and matriculation of 18 fellows with 100% ABIM board pass rate,  80% joined community practice and 20% joined academia), the 2-year Medical Oncology fellowship program transitioned into a combined 3-year Hematology and Medical Oncology fellowship program with the first graduates of this program entering clinical practice in 2021. 
On July 1, 2018, the program was granted Initial Approval by the ACGME for the 3-year dual Hematology and Medical Oncology fellowship program. In 2021, the initial ACGME site visit led to a Continued Accreditation status, with approval for 6 fellowship positions (2 fellows per year). 
---
Schedule
Our mission is to ensure clinical excellence, scholarship, teaching, and research for our fellows. 
First Year of Fellowship: 6 months inpatient consult service (combined hematology and medical oncology consults in a team-based environment), 5 months of outpatient experiences (including palliative care, hematopathology, outpatient hem/onc, and benign hematology), and 1 month of research.
Second and Third Years of Fellowship: 5-6 months of outpatient experiences, 6-7 months of electives, 6-8 months of research, and 1 month of Blood and Marrow Transplantation (completed during second year, at University Hospitals in Cleveland).
Continuity Clinics: During fellowship, a 1-half day/week continuity clinic will be maintained for each fellow, with attending faculty oversight. 
Fellow Education:


Monday Afternoon Conferences: 1-4 p.m.


General Tumor Board, 12-1
Case Presentation, 1-1:30
Didactic, 1:30-3
Board Review Questions, 3-4

Monthly Journal Clubs
Tumor Boards (general and site-specific)
---
Additional Experiences
Additional experiences by the Fellows will include participation in Multidisciplinary Tumor Boards (including General Tumor Board, Lung Tumor Board, CNS Tumor Board, Urology Tumor Board, and Heme-Onc/Rad-Onc Conferences), at which time he/she may present his/her patients for discussion. 
Fellows will also participate in regularly scheduled Hematology-Oncology Division conferences, including monthly Journal Club, weekly Clinical Review Conference, weekly Didactics, and weekly Board Review.
---
Teaching Role
As an integral part of learning a more sophisticated sub-specialty level of care, the Fellow will be involved in teaching and supervising medicine residents and medical students with regard to the oncologic and related hematologic aspects of each patient's medical care.  This role would be shared with the Attending, with each having different levels of expertise, thus allowing complementary roles in the interactive teaching hierarchy.  The teaching role shared by the Attending and the Hematology-Oncology Fellow enhances the learning environment and interaction for learners at all levels and helps the Fellow to develop into a teaching consultant.  In this setting the Fellow will provide some of the clinical and didactic teaching at the bedside on work rounds, teaching rounds and at team conferences.
While on the Consult Service, the Hematology-Oncology Fellow has a similar role of teaching and educating the house staff, students, as well other specialty Attendings regarding patient care issues germane to the requested Hematology or Oncology consultation.