RESEARCH MAKES A DIFFERENCE
Our faculty researchers in the College of Natural Sciences and Mathematics are renowned in their fields.
Work alongside them in their labs as early as your freshman year. Not many universities offer these opportunities. It sets us apart.
Areas of Research Excellence
The University of Toledo identified three Areas of Research Excellence in which faculty members are recognized nationally for contributions to their fields. All three areas are driven by researchers in the College of Natural Sciences and Mathematics.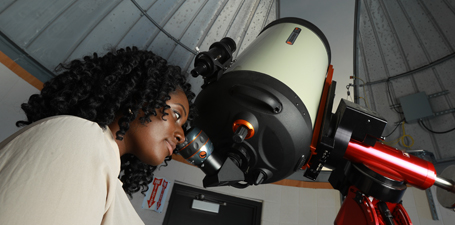 Groundbreaking discoveries in origin of stars
Access to world's best telescopes
Member of Association of Universities for Research in Astronomy, along with many of top programs in U.S.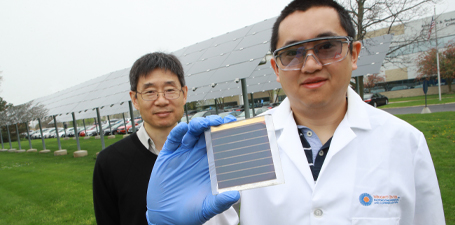 Strong reputation in research, development and commercialization of thin-film photovoltaic technologies
Studies on Lake Erie's harmful algal blooms at our Lake Erie Center that help protect local drinking water
Green chemistry and other sustainability research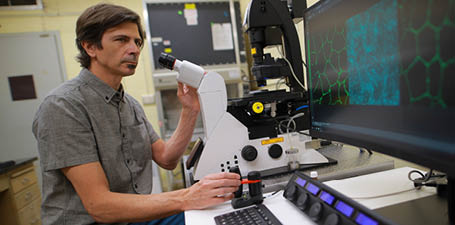 Strong group of interdisciplinary researchers that fosters collaboration within and outside the University
NIH-funded research on migration of cancer cells
Cutting-edge research in cell biology and transitional cell biology
---
FACULTY AND RESEARCH INTERESTS BY DEPARTMENT
Undergraduate and graduate students should contact faculty directly to ask about research opportunities in their labs.
---
UNDERGRADUATE RESEARCH
Office of Undergraduate Research
The Office of Undergraduate Research is your resource for undergraduate research.
Helps you find research opportunities
Funds research and creative activities
Assists you in finding ways to highlight your work and funds travel to conferences
Office of Undergraduate Research
Gracie Siffer
Class of 2022, Biochemistry
"I am a junior Biochemistry student interested in pursuing a Ph.D. in Biochemistry. I have been training in a brand-new biochemistry lab at the University of Toledo since my freshman year. I have had the privilege of seeing how a lab gets established, all the way from chemicals in boxes to working on radioactive experiments. One of the best parts of working in the lab is being able to apply the concepts we learn in class directly to hands-on problems. I love what I do."
Allen Williams
Class of 2020, Mathematics and Computer Science and Engineering (dual degree)
"I have grown as a student, as a researcher and as a person [at UToledo]. I was fortunate to meet many amazing and caring mentors who provided me with opportunities to participate in research in both mathematics and computer science. I worked as a member of a team on exciting and practical projects . My project was selected for presentation in the 2019 Young Mathematicians Conference at Ohio State University. I also have worked in the R1 advanced simulation and gaming studio. I traveled to Argonne National Labs to participate in the Cyber Force Cyber Security Competition along with a few other undergraduate and graduate students, where we attempted to secure a website against professional attackers."
Alexander Bordovalos
Class of 2020, Physics
"My undergraduate research at the Wright Center for Photovoltaics Innovation and Commercialization inspired me to continue my work in the solar industry, and I developed many pragmatic skills that supplemented my theoretical classwork."
Sarah Harmych
Class of 2020, Biology
"My freshman year I took advantage of a summer research grant. It didn't take long for me to fall in love with research. I continued to work in the lab for the remainder of my undergraduate career and was even given the opportunity to contribute to a research paper."