Why UToledo Pharmacy is one of the best pharmacy schools in Ohio
Whether you want to be a pharmacist, an administrator, a professional sales rep or a researcher, UToledo has a program for you.
Our nationally ranked College of Pharmacy and Pharmaceutical Sciences boasts the most comprehensive undergraduate pharmaceutical sciences program in the nation. We are one of 19 schools to offer a bachelor's degree program that covers the science underlying the five major fields of pharmacy.
We have the only undergraduate cosmetic science program in the country.
Graduates from our nationally ranked Pharm.D. program are in high demand in the pharmacy field
Students often tell us that UToledo is just the right size — the resources and opportunities of a large university with the personal attention of a smaller college.
Schedule Your Visit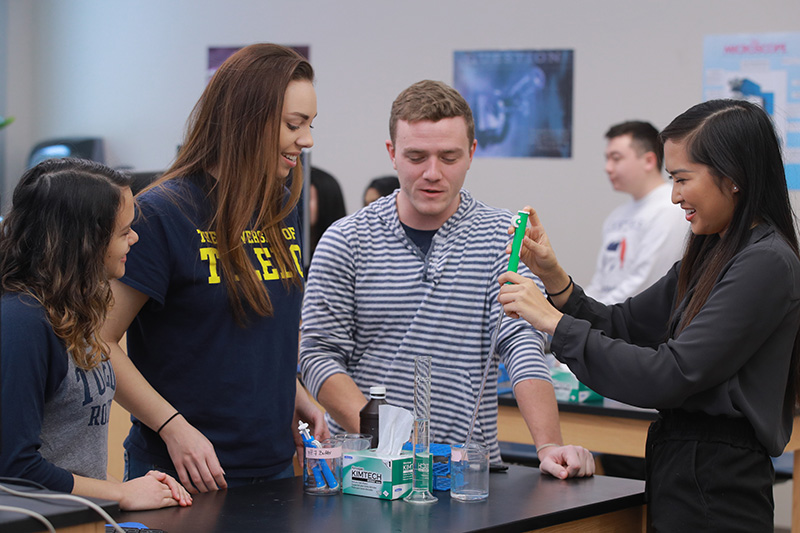 1 of 19
Schools in the U.S.
to offer a B.S. in
Pharmaceutical Sciences
88.6%
Passage rate above the
national average on the
standard pharmacy exam (NAPLEX)
5
Bachelor of Science
in Pharmaceutical Sciences programs
Become a practicing pharmacist in just six years with no prior credit. Our pre-pharmacy track is just two years, compared to three or four years at many other schools. Save time and money.
A degree in pharmaceutical sciences provides course work in pharmacology that medical schools like to see on a transcript.
Enriching
hands-on education
Required internships and clinical rotations at area hospitals, pharmacies, care facilities, laboratories and clinics give you an edge when applying for jobs and professional or graduate schools.
B.S.P.S. majors learn professional skills through The Professional Development Institute — internship and job search information; tips on applying to graduate and professional schools.
Pharmacy programs are rigorous. Our dedicated advisors, success coaches and academic support centers offer you all the resources to be successful.
Students can earn dual degrees in a variety of areas, making them even more employable!
The College of Pharmacy and Pharmaceutical Sciences has academic and research partnerships with many universities around the world.
Our pharmacy program and all of our pharmaceutical sciences programs share the same prerequisite courses, so you have time to decide which major you want to pursue!
Meet Roanne Reyes
'20, Bachelor of Science in Cosmetic Science and Formulation Design
"If you have touched any personal-care product in the past 24 hours, we've probably made it or have had a hand in creating those kinds of products."
Read More
Meet Jared Malott
'22, Doctor of Pharmacy
"UToledo has an incredible campus environment, and I fell in love with the campus when I first toured in 2015. UToledo has provided me with extensive opportunities for leadership development, to serve to the community, and have academic success. The support for student engagement and success was a huge deciding factor in ensuring UToledo was right for me. I wouldn't trade my education or time at UToledo for anything!"
Meet Selena Farmer
'22, BSPS in Medicinal and Biological Chemistry
"I appreciate that all the faculty and professors are always helpful. If they don't know how to help me with something, they direct me to someone who can. I feel like more than a student on a class roster and they want to see me succeed in all aspects and will help in any way they can."
Cutting-edge Research
Unlike many universities, we emphasize lab work from the start of your undergrad career. Strong, active faculty researchers encourage undergrads to join them in the lab. Our students have published research in many scientific journals.
We cultivate research partnerships with academic institutions and private-sector industries. Our centers and labs feature the latest advanced instruments.
Nationally Ranked Pharm.D. Program
Early admittance pathways, including direct admission into the Pharm.D. program for highly qualified high school seniors. Know sooner whether you have a seat in the professional division of the Pharm.D. program.
No PCAT entrance exam required to get into our Pharm.D. program.
Earn a dual degree to enhance your career opportunities. Combine your Pharm.D. with a Master's in Business Administration (M.B.A.) from our renowned business school; a Ph.D. in Medicinal Chemistry; a Ph.D. in Experimental Therapeutics; or a master's degree in Health Outcomes and Socioeconomics.
Rocket Pharmacy Alumni Mentorship Program pairs incoming Pharm.D. students with alumni mentors.
Real-world Learning Environment
The nationally ranked College of Pharmacy and Pharmaceutical Sciences occupies two state-of-the-art facilities with the latest instructional laboratories, classrooms and research laboratories.
Our location on the academic Health Science Campus, where students can learn and practice in real-world healthcare environments, makes us unique among other pharmacy colleges in the region. The UToledo Medical Center hospitals, clinics and renowned Simulation Center are literally next door to the pharmacy school. At the simulation center, students from all the healthcare professions study and practice together. 
LIVING IN TOLEDO, OHIO
— A SAFE, AFFORDABLE CITY
The University of Toledo is located in Toledo, Ohio, on the western shore of Lake Erie. Nicknamed The Glass City, Toledo has the cultural amenities of a big city and the close-knit feel of a small town. We are within hours of most major Midwestern cities.
About UToledo