The University of Toledo's accredited Respiratory Care program has received the Ohio Board of Regent's prestigious Program Excellence Award. In 2017, it received the Distinguished RRT Credentialing Success Award from the national Commission on Accreditation for Respiratory Care.
Respiratory Care is an allied health specialty. Respiratory therapists assist physicians in the diagnosis, treatment and management of patients with lung and heart conditions.
If you like options, this is a great career.
Respiratory therapists see a diverse group of patients, from newborns to the elderly.
They work in diverse settings — hospitals, skilled nursing and rehabilitation facilities, home care and physicians' offices.
They have diverse career opportunities, from therapy and management to sales and education.
UToledo Respiratory Care students take two years of general courses and health science pre-requisites. They then apply to the professional portion of the program, which includes almost 1,000 hours of clinical experience.
Our focus is on competency-based learning as well as outcomes-based training and education. Our students attend several simulations each year in our cutting-edge simulation center to test their critical-thinking and judgment skills.
Registered respiratory therapists with associate's degrees can complete their bachelor's in two years.
Top Reasons to Study respiratory care at UToledo
Top accredited bachelor's degree program.

UToledo received the prestigious

 

Program Excellence Award

 

from the Ohio Board of Regents. Just 14% of the country's 360 Respiratory Care programs grant bachelor's degrees.
The Commission on Accreditation for Respiratory Care has awarded the program the

 

Distinguished RRT Credentialing Success Award

 

for exceeding thresholds for credentialing examination success, attrition and positive job placement.  

Almost 1,000 hours of clinical experience.

Respiratory Care students work under the guidance of clinical instructors at The University of Toledo Medical Center and clinics on our Health Science Campus. Students also rotate to regional health-care systems and community hospitals. They care for all kinds of patients, from the critically ill to premature infants.

An above-average pass rate on national exam.

93% of UToledo Respiratory Care students pass the national credentialing exam each year. That's 30% higher than the national average. Graduates must pass this exam to become licensed and practice respiratory therapy in Ohio and all other states except Alaska.

Degree completion track.

Are you already a registered respiratory therapist with an associate's degree? Earn your bachelor's in two years. Our professional support courses cover many health-care issues relevant to the practicing professional. Choose a specialization to enhance your career.

State-of-the-art simulation center.

UToledo respiratory care undergrads polish their skills in some of the nation's most comprehensive lab facilities.

 

UToledo's cutting-edge 

Interprofessional Immersive Simulation Center

 on the Health Science Campus houses a virtual hospital with an ICU, trauma suite, obstetrics and delivery suite, and operating room equipped with human patient simulators and clinical equipment. There's no better way to prepare to treat real-world patients than to work with simulation manikins that respond to treatment in real time.

Expert faculty.

All faculty members are nationally registered respiratory therapists with advanced degrees and extensive clinical experience.
What jobs can I get with a respiratory care degree?
The job market continues to be strong for respiratory therapists. UToledo has a 100% job placement rate for recent graduates.
Our graduates work almost exclusively in hospitals. They have been hired by all area hospitals and every children's hospital in Ohio and at the University of Michigan.
An increasing number of respiratory therapists are now working in:
Skilled nursing facilities
Physicians' offices
Home-health agencies
Specialized care hospitals
Medical-equipment supply companies
UToledo graduates also have become educators and program directors at institutions throughout the country.
The exams to become certified or registered respiratory therapists are optional, but most states require at least the certification exam. Many employers also insist on at least one of these credentials. 
Hands-On Learning Opportunities
At UToledo, we take you beyond the textbooks and the four walls of a classroom. These real-world experiences are what help our graduates gain professional skills and land jobs.
Internships
Research
Study Abroad
Rocket Kids Semester
On-campus and Part-time Jobs
Student Organizations
Tuition and Scholarships
Most new students don't pay full price. 94% of new UToledo students receive scholarships or other state and federal aid.
Keep in mind: Your cost will vary by college, program and a host of other options. This is the average amount full-time students pay per year.
---
How to pay for collegeInternational Student - How to Pay for College
Choose Ohio First scholarship
Ohio residents who have been accepted into this STEM program are eligible for the Choose Ohio First scholarship — a four-year, renewable scholarship.

Honors College
The Jesup Scott Honors College at The University of Toledo offer our best and brightest the resources and opportunities needed to unlock your fullest potential. Whether you aspire following graduation to cure disease, innovate technology, advance statecraft, redefine markets, or express creatively, together we can fuel vibrant and promising tomorrows.
Honors students come from a variety of countries, backgrounds and cultures. While we may bond over a tough class, our differences make us blossom.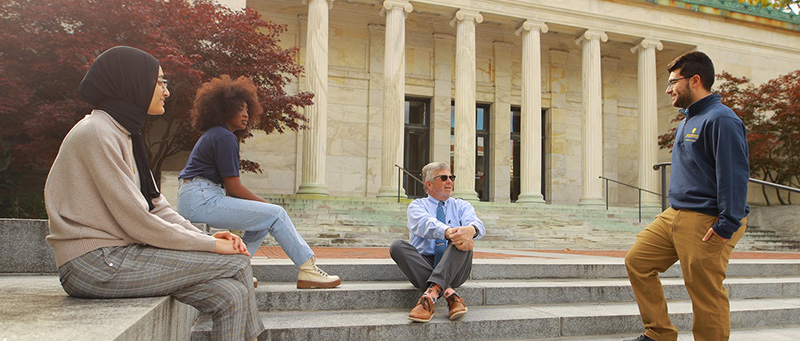 Benefits of Honors
The Honors College is a community of academically gifted students from all majors on campus. Students take unique Honors classes taught by dedicated Honors faculty and complete an Honors thesis or capstone project in their major, earning the Honors medallion at graduation within their normal program of study. Honors students are challenged to think more deeply and broadly about what they learn. With special academic, cultural, and professional development opportunities, their education extends beyond the classroom.
Honors students can also choose exclusive housing in the Honors Academic Village or the historic McKinnon, Scott and Tucker Halls.
Explore more about what the Honors College can offer you as a budding professional, inquisitive scholar, and engaged person.
Visit Campus
A campus visit is the best way to figure out if UToledo is a great fit for you.
Learn More and Register