Health Professions Living Learning Community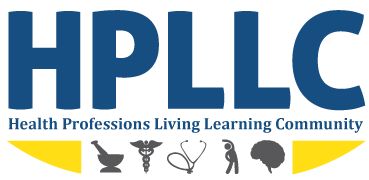 Better Health through Better Living
The Health Professions Living Learning Community (HPLLC), located within Presidents Hall, is an exciting residential opportunity open to all students.
The community is developed and nurtured through interactive programming, personal engagement and interaction with students, faculty and staff members. Engaging, fun team building programs, coupled with exclusive HPLLC events and the support of an HPLLC Ambassador will help you focus on the team skills you'll need as a healthcare professional. 
HPLLC Benefits
Live in a community that is conducive to your academic success
Develop friendships in a positive environment
Participate in high impact programming created exclusively for HPLLC residents
Give back to the community
Build leadership skills to help you grow and advance
Explore personal growth for success
Live in Presidents Hall, a suite-style community
HPLLC Requirements
Attend HPLLC Orientation prior to the beginning of classes
Participate in HPLLC sponsored programs and campus events each semester
Meet bi-weekly with your HPLLC Ambassador
Meet monthly with HPLLC members, faculty and staff members
$75 per semester programming fee for HPLLC members
View our brochure for major requirements and to learn more. 
Also, check out the Health, Wellness, and Leisure Living Learning Community.
Contact Information
Ali Moore, Hall Director for Presidents Hall and HPLLC
419-530-1345
alexandra.moore@utoledo.edu
Taylor Robbins, Graduate Assistant HPLLC
419.530.1618 
taylor.robbins@utoledo.edu