Alumni of the Month Features
Judge Gene Zmuda
B.A., political science: 1977-1981 & UT college of law 1981-1984.
Currently lucas county common pleas court judge.


"I've been here in Toledo my entire life – I did not choose to leave and have enjoyed every bit of it!" remarked Judge Gene Zmuda, who works in the Lucas County Common Pleas Court. "I think I have the best job in the world."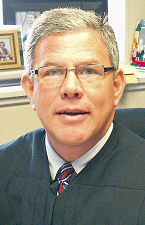 The successful, well-liked judge with a reputation of being fair but friendly, is a two-time alumnus of The University of Toledo. He earned his B.A. in Political Science in 1981 before pursuing a law degree at UT, which was achieved in 1984. Though well served by his studies, the elected official with 24 years of experience (10 years on Toledo City Council and another 14 as a judge), attributes much of his success to another element of his UT experience. According to Zmuda, none of these accomplishments would be possible without his time in the Honors Program.
The value of Honors, Zmuda said, can be traced to its "requirements about developing the person, the critical thinking that goes into you becoming a more holistic thinker." As a political science major, Zmuda's first days in the Honors Program were strikingly different than the days he spent working in his major. As one of the only students in his Honors classes not stemming from the field of medicine, he was surprised by how differently those from other fields thought and problem-solved.
"I realize they don't think like I do, and a lot of that is how differently they analyze things," he remarked. "I had never experienced that before […] the whole exposure to various viewpoints – I loved it!" In a profession dedicated to the interpretation and application of a legal tradition, these skills have been indispensable. "To view issues from a perspective other than 'What is the answer?' – to understand how decisions are made and explore along the way what it means to make a decision, these are skills I learned in Honors," Zmuda said.
Though much of what it means to be an Honors student has not changed, Zmuda welcomes some of the changes in the community since his time as an undergraduate.
The Honors Program, "deserved to be a college, and I am happy it has become one," he said. "It recognizes more clearly what Honors at UT stands for, which is the fundamental importance of a liberal arts education."
When he began in the Honors Program, Zmuda worked closely with the then-Director Jim Larson. He believes it was Dr. Larson's drive that allowed the Program to take off and eventually become what it is today. After Larson, Zmuda said that he and Director David Hoch became close, and that through Dr. Hoch the Program focused on what Honors could do to expand and help students. "Jim is responsible in my perspective for the starting of the Honors Program," Zmuda explained. "He wasn't the first director, but he really helped it grow. Then, when he retired, Dave Hoch ushered in features like service learning, trying to understand what broad role the Honors Program could fulfill for the student body, university, and community."
After he graduated with his undergraduate degree and then as a law student, Zmuda remained in Toledo and began his long career as a public servant. In addition to serving the City of Toledo, Zmuda has contributed to the UT community by teaching courses in Honors and at the UT College of Law. He has taught a class on Political Leadership, provided guidance to the Mock Trial team, and even once brought his courtroom to campus. He scheduled one of his cases to be held in The McQuade Courtroom in the Health and Human Services Building for students to observe the proceedings and learn.
Zmuda's advice for students entering the Honors College today is to expose yourself to as much as possible. "Don't be afraid to pursue something, going out of your comfort zone. You will never retrieve the time once you graduate," he added. "You'll never be able to have the freedom you have now to figure out exactly what makes up you."
Judge Zmuda was recognized for his contributions to the community and his embrace of the ideals of UT Honors as the 2017 recipient of the James K. Larson Distinguished Achievement Alumni Award.
---
Maureen Brown
B.A., Public Administration. Graduated with University Honors, 1973-1977.
Currently the Director of Private Banking at Fifth Third Bank.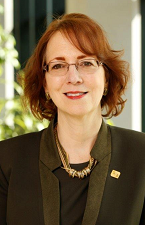 What was the Honors Program like when you were a student?
It was still relatively new, but was gaining traction and recognition on campus. You definitely felt the sense of community and camaraderie in the Honors Program. You could walk into the Honors lounge and feel the vibe – students and professors were always having wildly interesting conversations about a wide range of topics, and welcomed you into the discussion. The Program was a happy blend ofchallenging students' intellectual curiosity through independent study and small seminars, while affording you the ability to "escape" many of the standard courses required for all new students at the university.
How did the UT Honors Experience influence you as a person?
It influenced me more than I realized while at the university! The Honors Program pushed me outside my comfort zone (thank you!), and that discomfort was part of my "growth," both intellectually and emotionally. I came into the Program as a sheltered high school student, and quickly saw there was no place to "hide" for a shy and retiring student (again, thank you!). I learned to have more confidence in my opinions, and to freely express those in class and discussions.
The premise of the Program – allowing students to focus on their majors and areas of interest without having to take many of the standard required courses, afforded me the privilege of a deep dive into several areas of study. From that, I learned the power of intellectual curiosity and critical thinking. While I did not end up in a career of my major, I have carried those two traits into my career in banking, and they are useful every day.
How did it influence your success in meeting your professional goals?
My professional goals changed dramatically during my senior year. As part of my major in Public Administration, I was able to do an internship for a quarter. That experience was invaluable, and made me realize that my goal of working in government or politics was not my cup of tea. That probably isn't the typical result of an internship, but it motivated me to look at a career in some aspect of business. When I graduated, there were far more graduates than job openings, and I embarked on a career in banking. My career found me, and I've spent over 38 years in an industry I love. The confidence I gained from my Honors experience allowed me to make this late "U-turn" in my college curriculum, and know that I had the skills to adjust and find my way. Flexibility, whether in critical thinking or career strategy, is a valuable skill.
What skill, perspective, or bit of wisdom gained from your time in Honors most contributed to your success?
My Honors experience taught me invaluable life skills: the importance of working hard to create a solid reputation in your field of endeavor, intellectual curiosity (life-long learner), flexibility (to take advantage of new ideas or opportunities), and the courage to forge one's own path. Those skills have served me well over my career, and I continue to learn something new every day from clients, coworkers, or industry publications.
What is a favorite memory from your Honors experience?
I cannot pinpoint just one favorite memory. My Honors experience always brings to mind a feeling of happiness at being able to partake in something important, stimulating, and relevant. I still get that feeling from walking on campus today – this is where you learn to be a part of something much larger than yourself, and it is exciting.
Are there faculty in particular you remember?
There are so many wonderful faculty members from those four years. Of course, Dr. Jim Larson springs to mind – he was our fearless leader and an inspiration to the Honors Program; Dr. Roger Ray, who brilliantly taught Medieval History and illuminated the Dark Ages; Dr. Robert Freeman Smith and Dr. William Longton, who taught Latin American History and Ante-Bellum History, respectively, and challenged me to see the present through the voices and events of the past; and Dr. Ron Randall, who inspired me to major in Political Science/Public Administration (and I still love politics even though I did not make it a career!).
What would you like our current students to know about you?
I have had several five-year career plans, and every one of them was jettisoned for an opportunity to take what appeared to be a step to the side with a new position and challenge. Every one of those sidesteps has been rewarding, fulfilling, and ultimately led to my current career in Private Banking with Fifth Third Bank. I don't regret any of my career decisions, and feel very blessed to have had so many wonderful mentors and opportunities in my career. I truly enjoy helping clients simplify financial complexity, and am thankful every day that I have a career I love.
What advice would you like to give our current students?
Many will tell you to have a career plan. This is usually great advice, but sometimes the career we study for isn't the one that ultimately finds us and captures our passion. Be open to alternative paths, which may lead you to greater happiness and fulfillment.
The Honors experience is very special, so take advantage of every opportunity possible in the Honors College, and get involved in campus and community activities. Not only do prospective employers look for those well-rounded students, but you will find fulfillment in giving back.
---
Mark Luetke
B.Ed., Social science and journalism. Graduated Cum Laude with University Honors, 1966-1970.
Currently the President of fls group, a division of Thread Marketing Group.


What was the Honors Program like when you were a student?
When I arrived on the UT campus in 1966, the Honors Program was relatively new – more of a concept than a thing. The concept was to create a community that provided a path toward intellectual challenge and better academic success that would be harder for a student to find if left to his or her own devices. The delivery system was through Honors seminars with much smaller student-professor ratios and much more intense learning than normally available. Plus, we got the opportunity to do independent study with outstanding faculty in our individual degree-granting college.
There was a "thing" – a small "Honors Lounge" on the ground floor of a now-departed dorm. Some students used it almost like a club – participating in ongoing card games and late-night discussions. Since I was working to earn school money, however, I never had the time to take advantage of the lounge – which is something that I regret.
Perhaps most valuable was that our Honors advisors really guided me through an innovative and outstanding academic program that served me exceptionally well in my professional career.
How did the UT Honors experience influence you as a person?
The Honors experience taught me that I had greater capabilities than I thought I had. I was an underachiever in high school, and was recommended for the Honors Program by a vice principal who saw something more in me than I did in myself. (I actually accepted the invitation to join the Program only because they promised I could skip English 101.)
Very quickly I was exposed to concepts and ideas that I never knew existed. I made relationships with students and faculty that expanded my point of view and broadened my expectations of myself. I learned critical thinking. The most lasting takeaway was that the Program made me more intellectually curious, nimble, and fearless – characteristics that have served me in good stead since.
How did it influence your success in meeting your professional goals?
Understand that my career followed a trajectory that was far from straight. I entered UT thinking that I wanted to become a high school history teacher. While I did teach for a few years after graduation (probably not very good – but highly entertaining), I also worked as a production assistant at a weekly newspaper, show business publicist, political campaign consultant, held several public relations jobs, and finally as the founder and owner of a marketing company for 30 years. 
My Honors experience taught me the value of listening and learning from others, organizing my thoughts and effectively advocating them, looking at the world in a holistic way. The collegial nature of our (relatively small) Honors cohort allowed me to perfect teamwork, learn what I could from people smarter than me (there were a lot of those around), and embrace risk. All of this helped propel me to reach goals that I didn't even know I had.
What skill, perspective, or bit of wisdom gained from your time in Honors most contributed to your success?
In the second semester of my freshman year, journalism instructor Fred Endres told me that I would miss most of the learning opportunities UT had to offer communications students if I did not work for the Collegian. At his (very firm) urging, I walked into the student newspaper office one afternoon and its very fine editor, Tom Taylor, handed me an assignment to cover a campus speech by the Speaker of the Ohio House of Representatives. When I saw my byline that first time, I was hooked. With the encouragement of Taylor, Endres, and a handful of outstanding journalism faculty, I moved up the ladder to edit the paper myself as a senior.
That was a year of foment on campuses nationwide, and our Collegian staff covered student anti-war protests, the takeover of University Hall by a student group, the shooting deaths of four unarmed student protesters by the Ohio National Guard at Kent State University, the first Earth Day – and the start of a 35-game win streak by the football Rockets. As editor, I became close with President (William) Carlson and his outstanding vice president, Jesse Long, many faculty and administrators, and the media professionals at The Blade. That admonition to join the paper built a foundation for a lifetime of contacts and success.
What is a favorite memory from your Honors experience?

I created and taught a for-credit Honors symposium my senior year. At the time, I became engrossed with Daniel Boorstin's book The Image and its prophecy that "pseudo-events" would shape the media landscape of the future (we know how that turned out). Dr. Ernest Gray encouraged me and a fellow student to put together a syllabus and green lit the class.  How many students get an opportunity like that?
Are there faculty in particular you remember?
Dr. Gray directed the Program at that point, assisted by Dr. James Larson (who eventually went on to become director), and both had a profound impact on me. In addition, the program allowed me to take Honors symposia in my degree-granting college (Education). There, Dr. Edward Nussel showed us how good teachers got that way, and Dr. Jack Ahern encouraged us to be fearless. 
What would you like our current students to know about you?
My experience in the Honors Program had more impact on my life than anything – other than meeting my wife.
What advice would you like to give our current students?
Learn your primary profession, but also get good at 2-3 side skills. Build a personal "advisory board" of 3-4 people you can trust and admire to help direct you on personal, professional, leadership, and financial questions. This cast of characters may change over your lifetime, but asking questions of smart people will never fail you. Be flexible and take risks.