The University of Toledo has a proven track record of preparing teachers in early childhood education. Our students have outstanding pass rates on licensure exams and are successful at finding jobs in the field.
Early Childhood Education majors at The University of Toledo earn the standard pre-K - grade 3 Ohio teaching license, along with grade 4 and 5 endorsements. Our graduates are in high demand. The flexibility to teach multiple grades makes them highly competitive in the job market.
Top Reasons to Study Early Childhood Education at UToledo
Hands-on experience in local classrooms.

Learn in one of more than 150 Toledo-area schools as early as the first semester. Receive feedback and guidance from top-quality teachers and administrators. UT students train in local classrooms a minimum of five semesters.

Forward-thinking, inclusive teaching model.

Our graduates are equipped to handle the needs of a modern student. We teach the Whole Child Approach to education – developing the skills necessary to tend to students' emotional, psychological and physical concerns.

Education scholarships.

UToledo awards more than 60 endowed 

scholarships

 annually to education majors.

The Carver Center.

An invaluable resource for education majors. Students can learn the latest education technology and check out laptops, cameras and other materials as well as equipment they need for their field experiences.

Extend your degree.

Complete the coursework for the preschool special needs endorsement or the reading endorsement after graduating with your bachelor's degree.
Earn a master's degree in special education or counseling.

Accreditation.

The Judith Herb College of Education is accredited by the Council for the Accreditation of Educator Preparation.
What jobs can I get with an Early Childhood Education degree?
Almost all of UToledo's Early Childhood graduates earn licenses and find teaching positions in Ohio or around the country. (Ohio has licensure reciprocity agreements with 46 states.)
UToledo hosts the UTeach Job Fair every year. It brings dozens of employers to campus.
Employers love that our students are well prepared and passionate about teaching.
Principals who have hired UToledo graduates say our alumni:
Understand student learning and development, and respect the diversity of the students they teach
Plan and deliver effective instruction
Assume responsibility for professional growth, performance and involvement as an individual and as a member of a learning community
Hands-On Learning Opportunities
At UToledo, we take you beyond the textbooks and the four walls of a classroom. These real-world experiences are what help our graduates gain professional skills and land jobs.
Internships
Research
Study Abroad
Rocket Kids Semester
On-campus and Part-time Jobs
Student Organizations
Tuition and Scholarships
Most new students don't pay full price. 94% of new UToledo students receive scholarships or other state and federal aid.
Keep in mind: Your cost will vary by college, program and a host of other options. This is the average amount full-time students pay per year.
---
How to pay for collegeInternational Student - How to Pay for College
Choose Ohio First scholarship
Ohio residents who have been accepted into this STEM program are eligible for the Choose Ohio First scholarship — a four-year, renewable scholarship.

Honors College
The Jesup Scott Honors College at The University of Toledo offer our best and brightest the resources and opportunities needed to unlock your fullest potential. Whether you aspire following graduation to cure disease, innovate technology, advance statecraft, redefine markets, or express creatively, together we can fuel vibrant and promising tomorrows.
Honors students come from a variety of countries, backgrounds and cultures. While we may bond over a tough class, our differences make us blossom.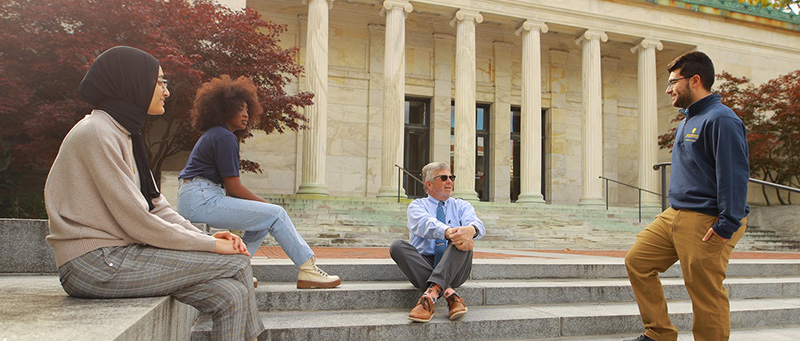 Benefits of Honors
The Honors College is a community of academically gifted students from all majors on campus. Students take unique Honors classes taught by dedicated Honors faculty and complete an Honors thesis or capstone project in their major, earning the Honors medallion at graduation within their normal program of study. Honors students are challenged to think more deeply and broadly about what they learn. With special academic, cultural, and professional development opportunities, their education extends beyond the classroom.
Honors students can also choose exclusive housing in the Honors Academic Village or the historic McKinnon, Scott and Tucker Halls.
Explore more about what the Honors College can offer you as a budding professional, inquisitive scholar, and engaged person.
Visit Campus
A campus visit is the best way to figure out if UToledo is a great fit for you.
Learn More and Register