CCP Courses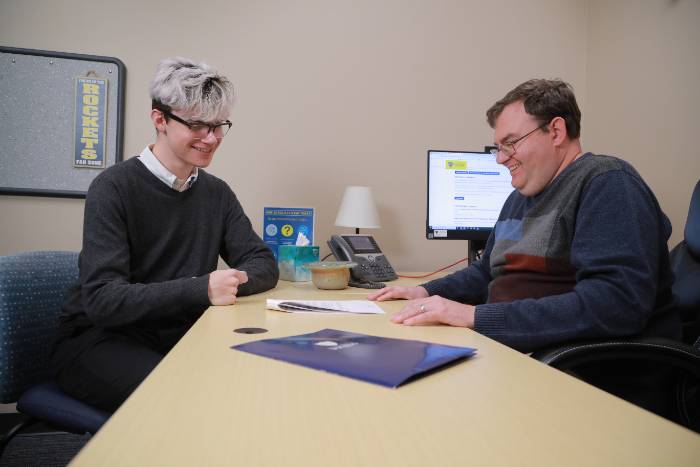 College Credit Plus students may take any UToledo course as long as you meet prerequisites.
Courses are divided into Level One and Level Two classes for CCP students. Many courses are available online.
You must complete 15 credit hours of Level One courses before you can move on to Level Two courses, unless you are enrolled in a CCP pathway. 
Your AP credits count toward your Level One credit hour requirement. For instance, if you earned ten hours of AP credit after taking the AP exams, you have to take five more credit hours of college courses before you can take a Level Two course.
Many Level One courses are freshman-level classes. They typically have a four digit number beginning with a 1 or 2.
ENGL 1110 - English Composition I
MATH 1320 - College Algebra
COMM 2600 - Public Speaking
Level One Course ListSchedule of ClassesHow UToledo Applies AP credit
What is a CCP Pathway?
A CCP pathway allows you to take 15 or 30 credit hours of courses tailored to a certain career. UToledo offers a wide variety of pathways, including business, criminal justice, engineering, health, nursing, law and more.
Pathways are a way to explore a major and fulfill some general education or major requirements. Many courses are transferable and fulfill the general elective/specific major requirements at Ohio public colleges or universities.
If you enroll in a pathway, you're also able to take Level Two courses without having to first take 15 hours of Level One courses.
Talk with your success coach to see if a pathway is a good idea for you.
---
How to Choose Courses
Consult your school counselor and UToledo success coach when choosing classes. They can see the big picture and help you avoid common pitfalls.
You also might want to think about:
What course requirements do you still have to fulfill for your high school?
You can get dual credit — credit for both high school and college — by choosing the right courses. Again, your counselor and success coach are your best resources.
What college major are you interested in?
Choose courses that align with your interests and that might fulfill prerequisites once you get to college. This is where our CCP pathways come in. Our pathways allow you to "test out" a major, taking courses that are tailored to a certain career (business, the arts, medicine, etc.).
You can run a degree audit once you are admitted to our CCP Program. The degree audit helps you determine the types of courses you need to take for your degree of interest. For example, you can run a degree audit to see how many credit hours of math, science, English or a foreign language your intended major would require. Your CCP success coach can help you run a degree audit and help you explore majors.
---
Course Selection Policies
Honors classes
CCP students are not permitted to take UToledo Honors courses. 
Adult Content
You and your parent/guardian must sign a permission slip within the CCP application acknowledging that you are aware that some courses may contain adult-themed content not suitable for students under 18.
Classes that aren't allowed
These courses are not permitted under College Credit Plus:
Applied courses with one-on-one private instruction
Courses with high fees
Study abroad courses
Physical education courses
Pass/Fail or Satisfactory/Unsatisfactory graded courses (unless the course is an internship or a transferable course with the
same grading scale for all students enrolled)
Remedial courses
Sectarian religion courses