Archived Posts 2011 - 2009
Live Stake Install on the Ottawa River / UT Main Campus
May 21, 2011
Below is a video of the installation of live stakes on the Ottawa River for research, restoration and stabilization.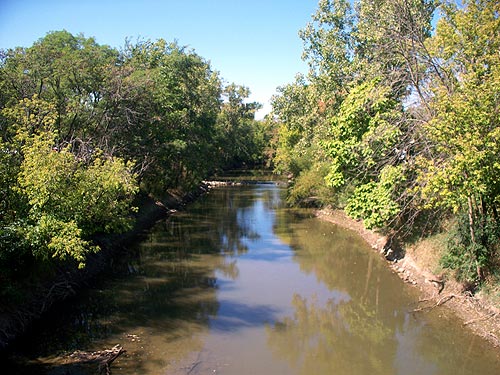 River Restoration Project Grant Award
By Patrick Lawrence: January 7th, 2011.
The President's Commission on the River has been awarded a grant of $235,197 from the Ohio Environmental Protection Agency Section 319(h) Nonpoint Source Program to construct a river restoration project along a section of the Ottawa River on the main campus of the University of Toledo. Preliminary design work for this project has been underway since 2009 with funding support provided by the Stranahan Foundation and U.S. Army Corp of Engineers. The aim of this project is to restore and enhance upwards of 900 feet of the Ottawa River in the vicinity of Savage Arena which will include improvements to in-stream aquatic habitat and native vegetation along the banks. Design plans will be discussed at a river restoration workshop to be held at the University of Toledo on March 1st, 2011. Construction of the river restoration elements will occur in two phases, with initial test structures installed in August 2011 and the remaining completion of the project in August 2012. This project will be undertaken in partnership with TMACOG, US Army Corp of Engineers, Ohio EPA, and the US Fish & Wildlife Service. For more information on this project please contact Dr Patrick Lawrence patrick.lawrence@utoledo.edu.
Events slated for Celebrate Our River Week
By Vicki L. Kroll : September 7th, 2010. Original source: utnews.utoledo.edu/index.php/09_07_2010/events-slated-for-celebrate-our-river-week
Not every university has a river that runs through campus.
Take a few minutes to remember that and learn more during Celebrate Our River Week.
Several events have been planned by the President's Commission on the River, a group dedicated to improving the Ottawa River on campus for research, teaching and public outreach.
"The Ottawa River is an important part of the University campus and our community, and the efforts by the President's Commission on the River and the many partners are intended to enhance and preserve the natural legacy and future of the river to our environment," said Dr. Patrick L. Lawrence, UT associate professor and chair of geography and planning, who is chair of the commission.
Events scheduled will be:
Wednesday through Friday, Sept. 8-10 — information displays in Carlson Library.
Thursday, Sept. 9, at noon — Ribbon-cutting ceremony at the new Student River Plaza, located behind the Student Union and Carlson Library. UT President Lloyd Jacobs is scheduled to speak at the event. Refreshments will be served.
Friday, Sept. 10, at noon — Rubber Duck Race. The toy fowls will be launched at the bridge by Carlson Library and float downstream to the finish line at the David Root Bridge on Towerview Boulevard East. The number of contestants will depend on how many tickets are sold; $1 will enter two rubber ducks. Cash prizes will be up for grabs. Funds raised will benefit future river restoration projects. Tickets will be on sale in the Student Union from noon to 1 p.m. Wednesday and Thursday, Sept. 8-9, and at the race.

Saturday, Sept. 11, 8:30 a.m. — Clean Your Streams. Come on down to the Ottawa River and volunteer a few hours to pick up along the waterway on Main Campus. Meet at the new Student River Plaza to take part in the community-wide event, which annually draws some 700 volunteers at more than 30 cleanup sites in Toledo. The University is a partner for the 14th annual Clean Your Streams, which is part of the Ohio Coast Weeks Program and the Ocean Conservancy's International Coastal Cleanup Event. In Toledo, the event is organized by Partners for Clean Streams.
"Clean Your Streams is a great opportunity for students in fraternities and sororities to gain philanthropy hours," Lawrence said.
For more information and to register groups, go to www.partnersforcleanstreams.org/cys.html.
For more information on Celebrate Our River Week, contact Lawrence at patrick.lawrence@utoledo.edu  or 419.530.4128.
Public Meeting on Ottawa River Dredging Project March 2, 2010
More information on the project details can be found in this announcement and at http://www.epa.gov/glla/ottawa/
2009 Celebrate Our River Week Sept. 9-12
Here is the schedule of planned events for the 2009 Celebrate Our River week, Sept 9th to 12th.  Please consider attending/participating and inviting fellow students, colleagues, and interested groups and individuals.
Wednesday September 9th
Mapping the River presentation by University of Michigan Arts on Earth Program.  7:00-8:30pm Student Union 2582
Thursday September 10th
Planting of the Center for Performing Arts rain garden. 4:00-6:00pm outside CPA building, north side across from Bowman Oddy Building
Thursday/Friday  September 10th/11th
President's Commission on the River Display.  Carlson Library

Saturday September 12th
Thirteenth Annual Clean Your Streams Day.  Meet outside the Carlson Library overlooking the river starting at 800am. For more information, including group registration, refer to http://www.partnersforcleanstreams.org/CYS.html
EcoTrack 11: Rain Gardens Address Storm Water Runoff
May 28, 2009
By Chris Vickers of WTOL. Original source: http://www.wtol.com/Global/story.asp?S=10440244 
(WTOL) - Storm water management is always an issue when it rains too much too quickly. The University of Toledo has explored an environmentally-friendly option to help address the issue.
Its not just a garden, but a natural way of treating storm water runoff. "Rain gardens are a green solution to treating not only the quality of storm water runoff, but the quantity," said Hans Gottgens with UT Environmental Sciences.
"It may not seem like this little garden can do much, but it's the message that matters," said Gottgens.
Instead of storm water running directly into the river, rain gardens are useful for storing that water, filtering any pollutants.
Gottgens told us, "It is really intended to be an educational resource as well as an environmental resource."
As students pass by, they may not even notice the compete function of the garden. "As a symbolism of the filtering capability of the fairly small rain garden, we designed the garden in the shape of a kidney symbolizing the function a kidney would have in the human body."
River Commission Earth Day Events
April 15, 2009
During Earth Day, Wednesday April 22nd, the Commission will participate in the following events on main campus:
River Bank Clean-Up
Meet at Savage Area overlook at 9:30 AM, all volunteers are welcome. Please bring work gloves and appropriate footwear.

Student Union Display

11:00 AM to 4:00 PM We are in need of volunteers to cover one hour slots for 1:00 PM, 2:00 PM, and 3:00 PM. Please contact

Patrick Lawrence

if you are interested and available.
Ottawa River Breaches Banks on Campus
March 26, 2009
During the week of March 23rd, 2009 a heavy rain event lead to a rise in water levels in the Ottawa River and increased storm water and runoff from parking lots, resulting in some flooding of areas on UT's main campus. UT photographer Dan Miller provided these pictures taken along the river after the storm. Please click on the photos to open their full-size view.
2008 Annual Report Posted
January 5, 2009
The President's Commission on the River has just posted its 2008 Annual Report (10MB).

This 2008 report provides summaries and updates of recent and future projects and programs for each of the following areas:
Beautification

Environmental Improvements

Public Access

Research

Fund Raising

Student Involvement

Education

Community Engagement
Archived Posts