Invest in Research
The University is recognized as a major force in contributing to the discovery of new technology and knowledge. We have a goal of increasing annual funded research to $80 million per year. On Main Campus, the center of new science and technology research and instruction will be in the engineering neighborhood east of Douglas Road.
To further expand intra- and interdisciplinary collaborative research opportunities, we will construct a new research facility located west of Nitschke Auditorium. The most promising research innovations appear at the intersections among disciplines, so the new research facility will serve all colleges, with a focus on the Colleges of Engineering, Natural Sciences and Mathematics, Pharmacy and Pharmaceutical Sciences, Health and Human Services, Arts and Letters, and Medicine and Life Sciences.
We anticipate that the College of Engineering will lead enrollment growth for the next decade. We will renovate the high bay space and adjacent spaces in the North Engineering Building into classrooms to enable the college to continue to expand its programming. We will remove Palmer Hall and convert its site into the engineering neighborhood's first academic quadrangle.
To better connect the engineering neighborhood to the rest of campus, we will improve the pedestrian experience at the Douglas Road and Oakwood Avenue intersection. As part of the University's contribution to the emerging region-wide Chessie Circle Trail, we will construct a multiuse trail that runs along the east side of Douglas Road from Bancroft Street to Dorr Street, as well as a pedestrian bridge over Douglas Road near Savage Arena.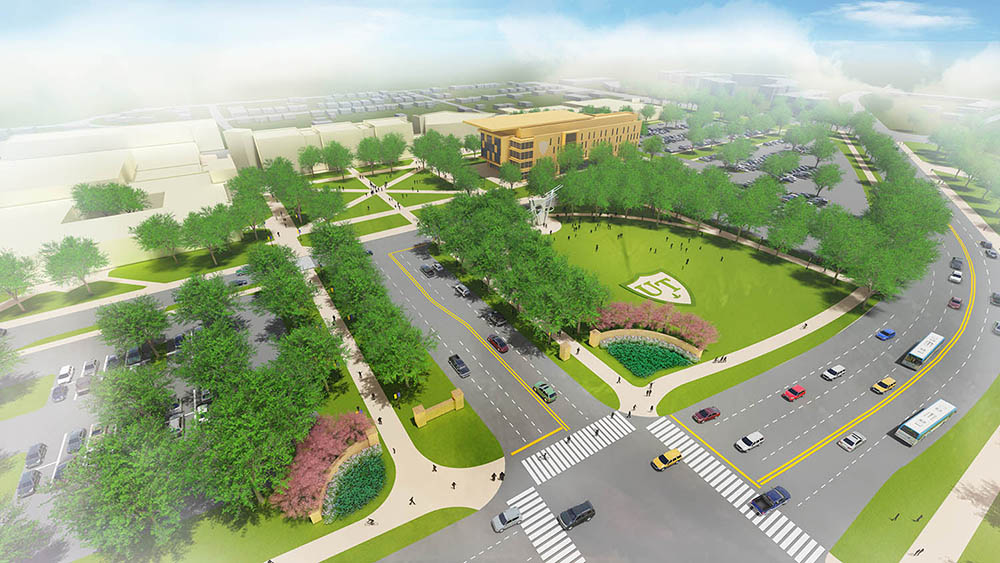 A view of a new research building and engineering quadrangle.