Where we've been, where we're headed
Enrollment Trajectory
The University's student enrollment has varied during the past decade, with a high of 23,114 students in 2010 during the economic downturn and a low of 20,381 students in 2015. Enrollment started to grow again in 2016. 
This plan assumes that student enrollment will continue to grow incrementally at 1 percent a year on average for 10 years. The majority of that growth will likely occur at Main Campus, with stable or moderate growth at Health Science Campus and in online-only programs. This plan assumes that total student enrollment will grow to almost 23,000 students. Nearly 19,000 of those students will take at least part of their coursework on Main Campus.
Student enrollment growth will not occur equally among the colleges. We anticipate that the College of Engineering and College of Business and Innovation will lead enrollment growth for the next decade. On-campus enrollment at Health Science Campus will be relatively stable.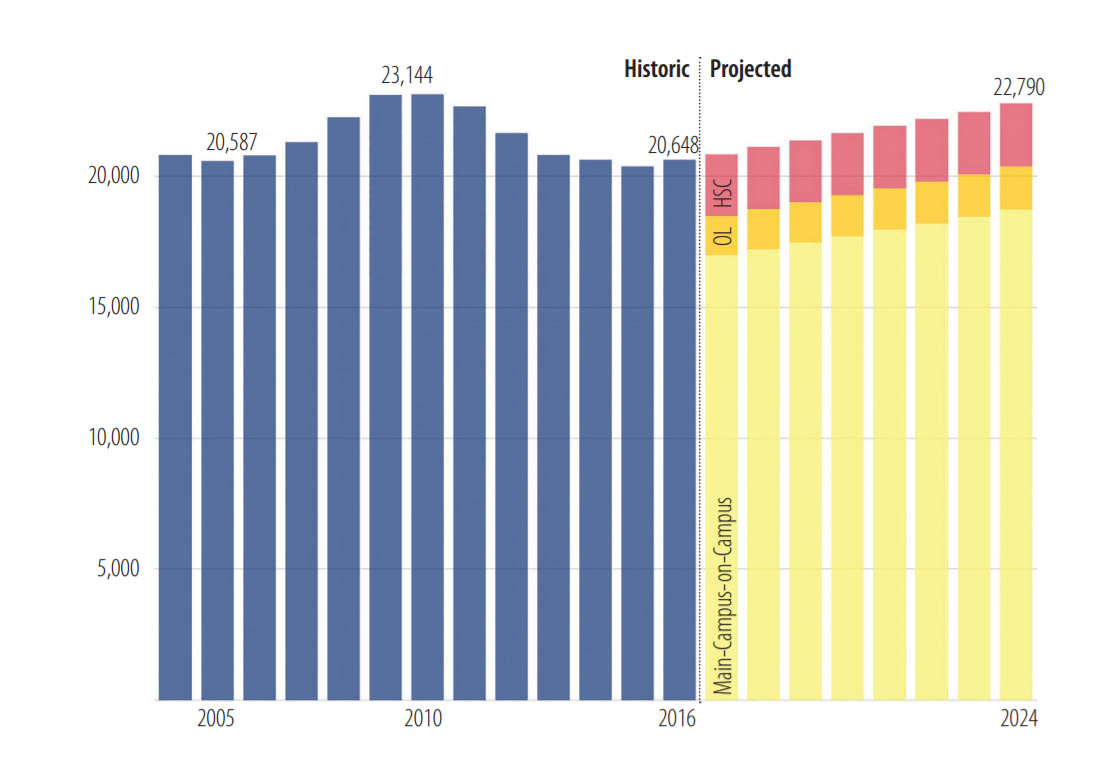 Historic and Projected Student Enrollment Levels. 
Research Growth
Funded research activity has grown significantly since the 2006 merger with the former Medical College of Ohio. In 2014, all research activity totaled $62 million, of which $57 million was related to science and engineering.
The University has a goal to increase annual funded research to $80 million/year within the next 10 years. To meet that research growth goal, we must continue to renovate and improve existing research labs, recruit additional researchers and place those new researchers in modern laboratory spaces.