Reposition the Academic Core
On Main Campus, the primary academic mission of the University is focused around Centennial Mall. This plan concentrates investments in classroom technology and layout in the academic core, making our teaching spaces more flexible and effective.
University Hall, Main Campus' iconic building, will remain a mix of academic and administrative offices. With greater classroom utilization in the academic core, we will refurbish the vacant and underutilized spaces in University Hall into administrative offices and move our Human Resources and Finance departments from Scott Park Campus to Main Campus for greater efficiency.
How students study and gather has changed, and the academic core buildings need to respond. The floor-by-floor transformation of Carlson Library that is providing less book storage and more group study space will continue. A similar renovation approach in Lancelot Thompson Student Union will result in more student organization and gathering space and more convenient student support services.
Centennial Mall's beauty is renowned. Improvements to other core open spaces will complement that distinctive space. We will redevelop the open space south of Memorial Field House to create a signature space that differs from Centennial Mall. Goddard Field north of Bancroft Street will become a shared community amenity, with two informal recreational fields. With a completed river walk, Main Campus' identity will be more closely tied to the natural beauty of Ottawa River.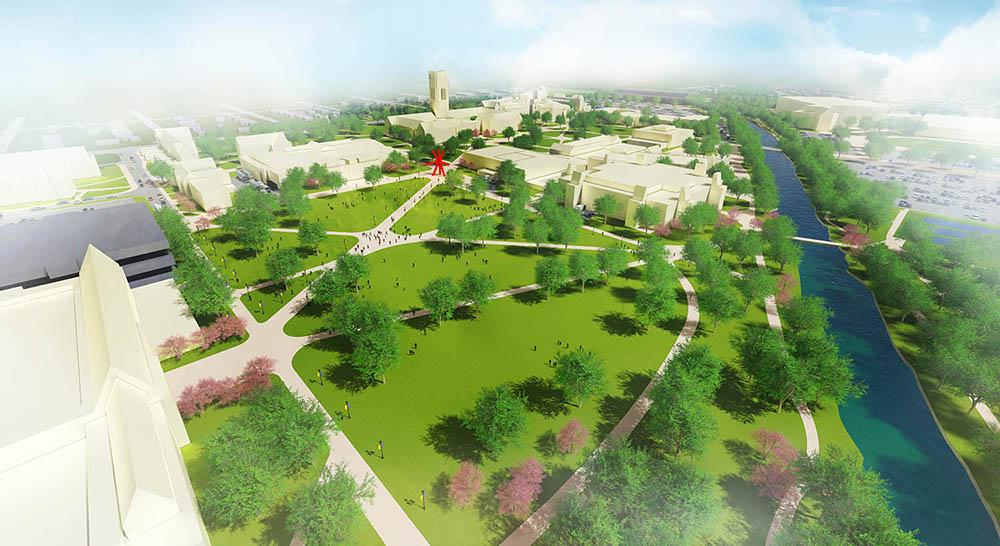 A view of a new signature open space south of Memorial Field House, looking from the Center for Performing Arts toward University Hall.