Pathology Residency Program Overview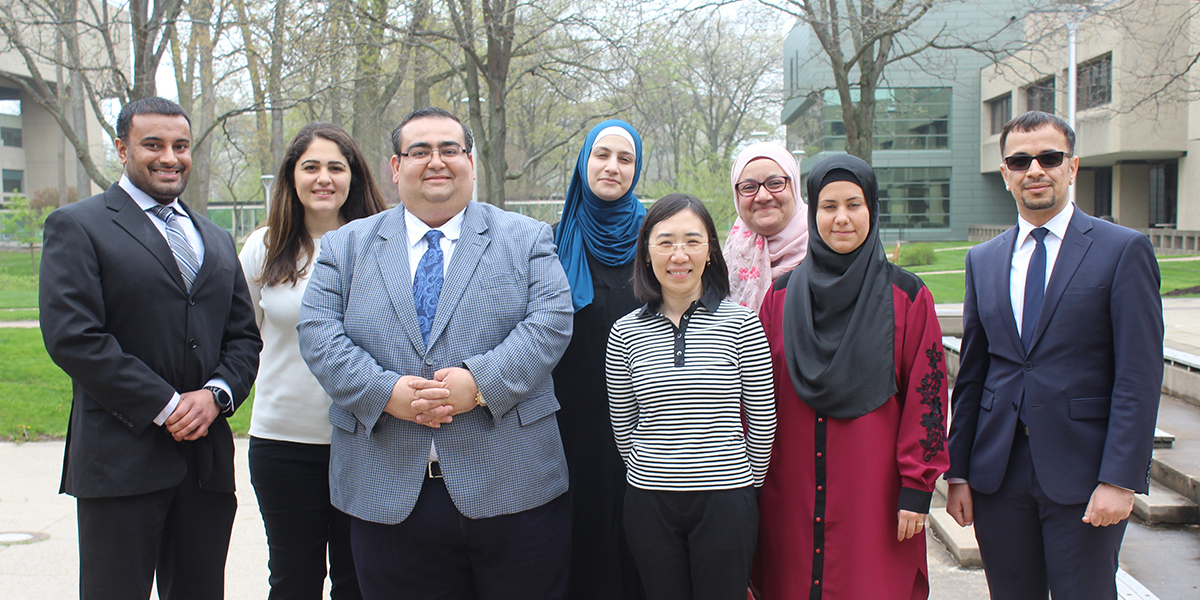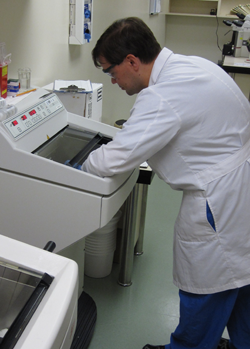 The University of Toledo AP/CP pathology residency is a small program focused on high quality resident education in clinical service, in teaching, and in research.
Our clinical experiences are hands-on and faculty-intense. This includes immediate faculty supervision during grossing during a resident's initial surgical pathology rotations, direct patient encounters and practice at fine needle aspirations during cytopathology rotations, daily one-on-one teaching sessions during clinical pathology rotations, and extensive teaching collections and archives in neuropathology. To complement the strengths of the University of Toledo Medical Center, we have rotations for forensic pathology (the Lucas County Coroner's Office), pediatric pathology (Akron Children's Hospital), dermatopathology (Pinkus Laboratories), and blood banking and microbiology (The Toledo Hospital). Our graduates consistently place in highly regarded fellowships and employment opportunities.
Teaching is an absolute priority in our program, both for faculty and for residents. We are small enough that virtually all members of our department interact on an almost daily basis. We have a strong series of didactics and conferences, including interdisciplinary conferences such as our various general and subspecialty Tumor Boards, where residents present cases with assistance and backup from faculty. Residents also participate regularly in the undergraduate medical student instruction, directing weekly small group discussions that complement the faculty lecture series. Finally, we have a very popular and active elective clerkship in pathology for 3rd and 4th year medical students. We generally see a new group of 10-20 clerks every two weeks, and our residents participate in the teaching of these clerks as well.
We expect all residents to participate in original research. To this end, we have monthly research conferences focusing on resident research efforts, didactics on practical approaches to research, and a monthly Journal Club. Resident research is formally presented at our annual Peter Goldblatt Resident Scientific Day, and then serves as a vehicle for resident presentations at national pathology meetings and conferences.
The division of Anatomic Pathology provides training in autopsy and surgical pathology, cytology, electron and fluorescence microscopy, immunohistochemistry and immunopathology, neuropathology, dermatopathology, and other specialty areas. Special training in forensic pathology is available. The Division of Clinical Pathology includes clinical chemistry, toxicology, hematology, blood banking, immunology, microbiology and virology, molecular diagnostics, cytogenetics, tissue typing, and flow cytometry. The program for each resident can be tailored to his or her interest and capabilities with special emphasis in any of the subspecialties desired. Administrative and managerial skills are included at all levels with the development of major responsibility in the final year.
How to Apply
Our program accepts applications only via the Electronic Residency Application System (ERAS). For more information on How to Apply please follow the link.
Accreditations:
ACGME: American Accreditation Committee for Graduate Medical Education
AABB: American Association of Blood Banks
ASHI: American Society for Histocompatibility and Immunogenetics
CAP: College of American Pathologist
All residents are provided with hospitalization insurance, professional liability insurance, uniforms, as well as allowances and expenses for books, professional meetings, and workshops. Other benefits include a childcare nursery for a nominal fee.