Alumni in the Spotlight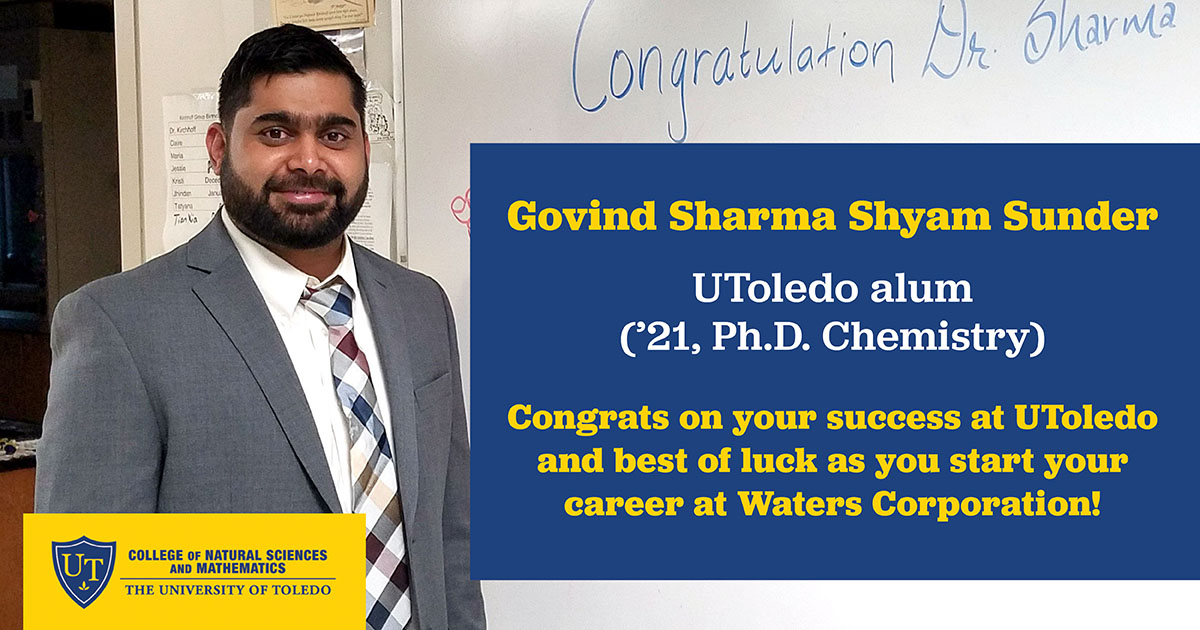 01.10.2022 - Huge shout-out and congrats to Govind Sharma Shyam Sunder, ('21, Ph.D. Chemistry), on all of his success while at The University of Toledo and best wishes on future endeavors!
In Sharma's own words:
"When I came to
#UToledo
in 2016, I began to explore labs and choose an advisor. I was excited to talk with Dr. Kirchhoff, who became my advisor and helped me join his lab," Shyam Sunder said. "I'm so glad that I did and that I made the right decision because the growth in my learning curve was steep."
"When I was new to the University of Toledo, I was good at theoretical knowledge of instrumentations and techniques. Then I got real-world experience. Dr. Kirchhoff was so encouraging and kept motivating me to learn new things."
According to Dr. Krichhoff, "His [Sharma's] desire and commitment to learn new methods, explore novel chemistry and gain experience with the excellent instrumentation available in the department set him apart. The knowledge he gained and his growth as a scientist led to his co-authorship on five journal articles to date from his dissertation — three as first author — and ultimately was key to him obtaining the position at Waters Corporation, which is one of the leading scientific instrument companies in the country."
Kirchhoff said that Shyam Sunder's discovery and development of a new air-stable polymer for the extraction of rare earth elements, which was published this year (ACS Applied Materials & Interfaces,
bit.ly/3n8jaFi
), was a major contribution to the scientific literature.
We're so happy and excited for you Sharma, we're lucky to have you out in the field representing
#UToledoRocketScience
!
---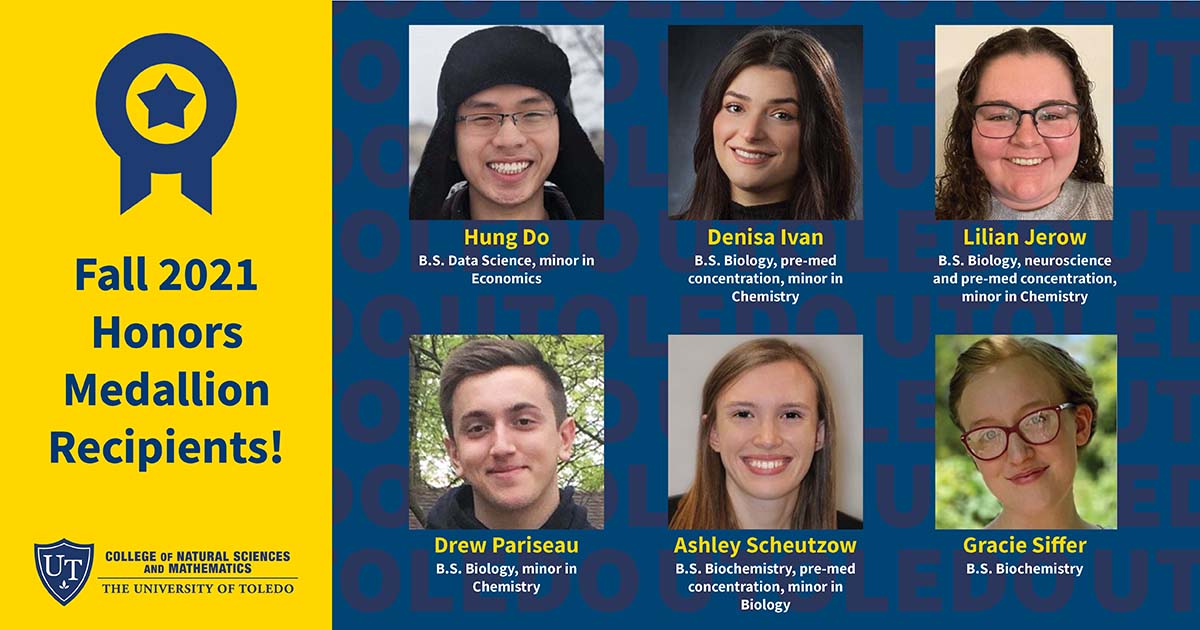 12.15.2021 - The University of Toledo Jesup Scott Honors College recognized its graduating students at its Fall Medallion Ceremony held on Sunday, Dec. 5, 2021.
A special shout-out to the six recipients of the Honors medallion from the College of Natural Sciences and Mathematics:
• Hung Do, B.S. Data Science, minor in Economics
• Denisa Ivan, B.S. in Biology, pre-med concentration, minor in Chemistry
• Lilian Jerow, B.S. in Biology, neuroscience and pre-med concentration, minor in Chemistry
• Drew Pariseau, B.S. in Biology, minor in Chemistry
• Ashley Scheutzow, B.S. in Biochemistry, pre-med concentration, minor in Biology
• Gracie Siffer, B.S. in Biochemistry
Congrats to all the medallion recipients and best of luck on all your future endeavors!
---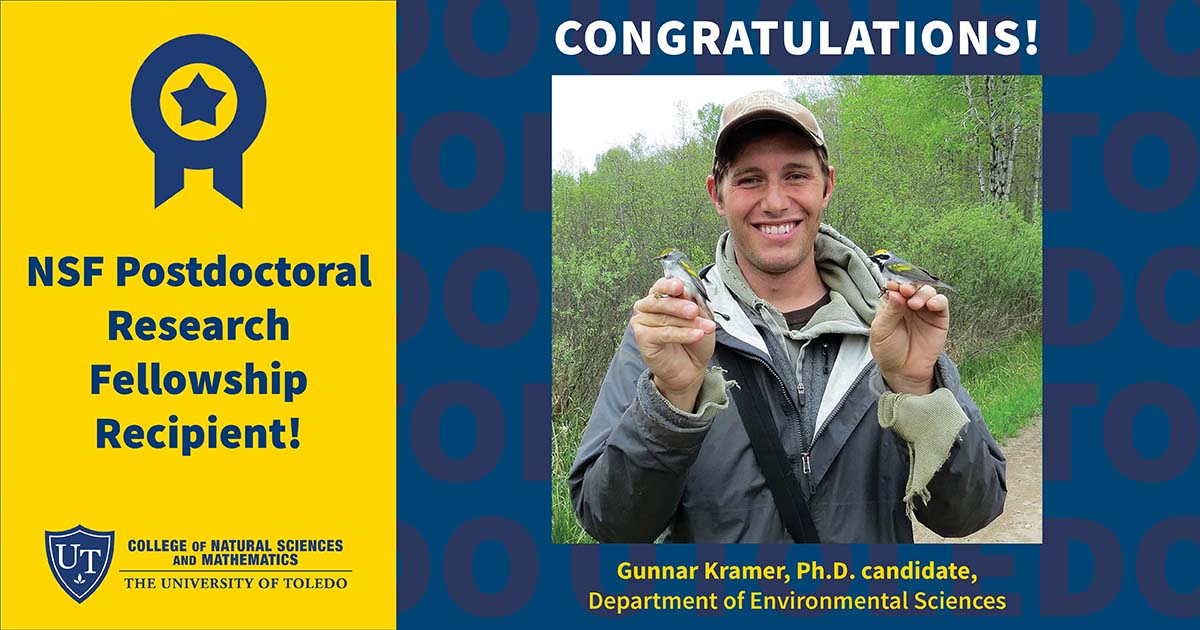 12.03.2021 - Join us in congratulating Gunnar Kramer, Department of Environmental Sciences at the University of Toledo, who is heading to Harvard University as an NSF Postdoctoral Research Fellow after graduating this month with his Ph.D. in Environmental Sciences from The University of Toledo!
The
National Science Foundation (NSF)
awarded Kramer the fellowship to advance research to understand the basis of avian diversity, evolution and behavior. Kramer has published 17 papers on cutting-edge ornithological research that identifies migration routes.
"Most notably, my research showed that the population dynamics of migratory species can be linked to factors like deforestation in species' wintering areas," Kramer said. "This type of information is critical for conserving declining migratory birds."


"He is a perfect example that we can and do host some of the best graduate students in the world here at UToledo," said Dr. Henry Streby, associate professor of ecology.


Kramer, a Minnesota-native, will work in the laboratory of Dr. Scott Edwards, professor of organismal and evolutionary biology at Harvard and curator of ornithology in the Museum of Comparative Zoology.
---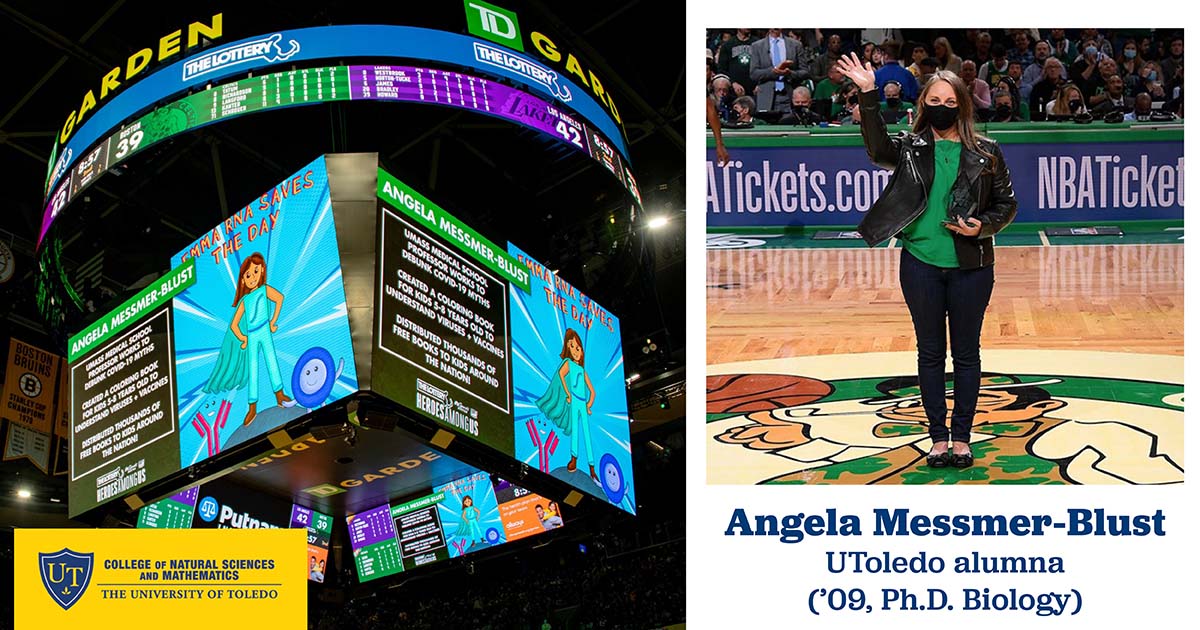 November 29, 2021 - HUGE shout-out to
Angela Messmer-Blust,

The University of Toledo

alumna - B.S. Biology ('03) and Ph.D. Biology ('09/Advisor, D. Vestal), University of Toledo Department of Biological Sciences
– on some really exciting recognition she recently received for her work developing a coloring book to explain the science of the
#mRNAvaccine
to children!
Angela is a Sr Scientific Advisor and Assistant Professor at UMass Chan Medical School where she was able to turn her vision into reality with the opportunity to lead the "Emma RNA Saves the Day" coloring book project at the RNA Therapeutics Institute!


The Boston Celtics recognized Angela as a
#HeroAmongUs
for her work on the coloring book at the Celtics vs. LA Lakers game where
#EmmaRNA
got a standing ovation on Friday, Nov. 19, 2021!
For more information about this project and to download or request physical copies for a classroom, in English or Spanish, visit:
bit.ly/3rzpR6z
Congrats Angela on your hard work and this great achievement! Our
#RocketPride
is shining bright!
---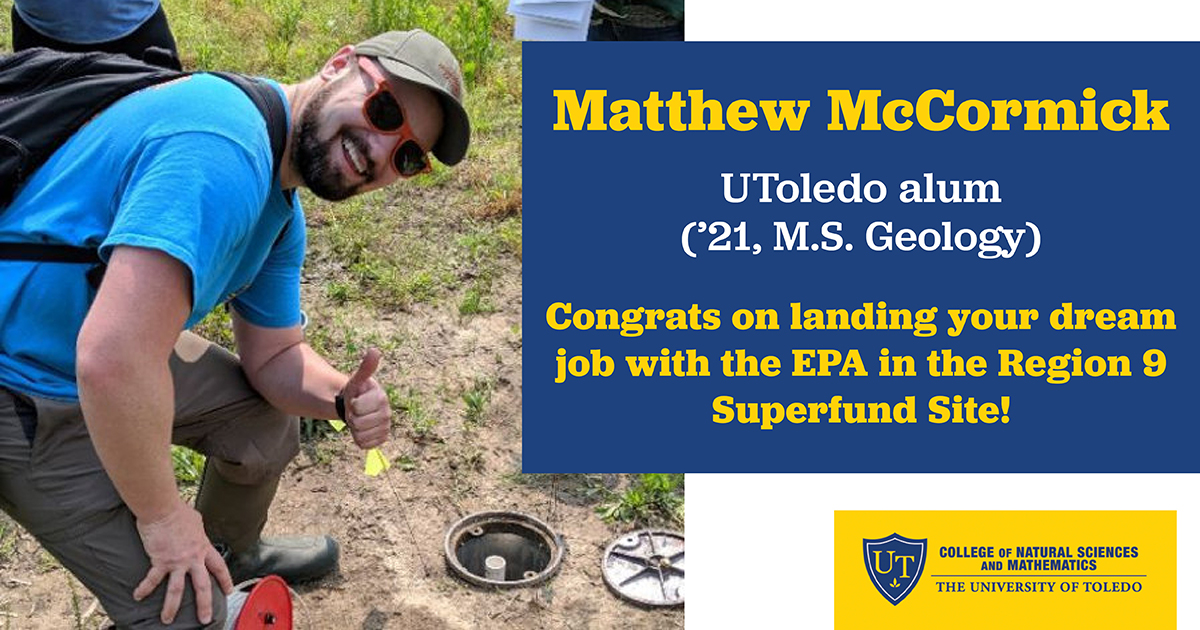 October 1, 2021 - Huge shout-out and congrats to
Matthew McCormick, ('21, M.S. Geology)
, recent alum from
The University of Toledo
, on getting his dream job! 
"I accepted a position with the
U.S. Environmental Protection Agency
. The position is in Region 9 working on superfund site remediation in California, Nevada, Arizona and Hawaii and is based in San Francisco! It's literally my dream job!
I want to thank you for all your help and direction in the development and execution of my thesis research. Our committee meetings were the most influential points in the evolution of my research, and you helped me think outside of the box and drove me to do more. Looking back, I think that if I didn't have you on my committee that my research wouldn't have evolved into the study it did, and I wouldn't have learned the skills which got me an awesome EPA job. It was an honor having you as a committee member, and I hope that future students can share the benefit of having you serve on their committee.


Thank you again for guidance and tutelage, it helped me land a great job! I'll make sure to keep in touch in the future and will do my best to represent the department."


We're so happy and excited for you Matt, we're lucky to have you out in the field representing
#UToledoRocketScience
!
---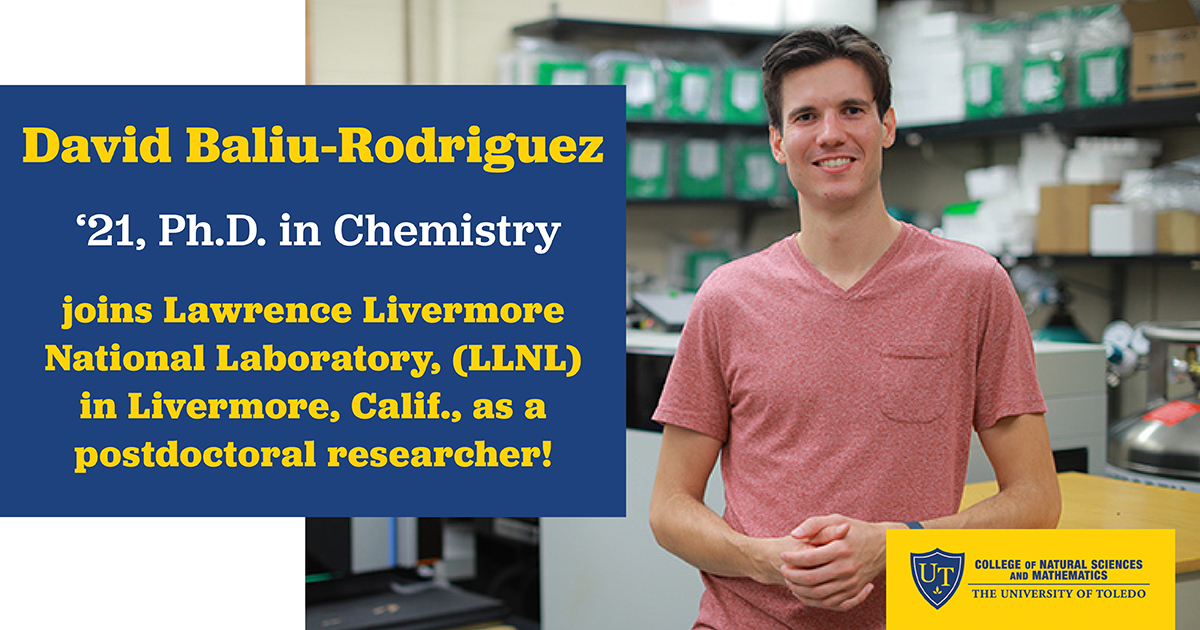 August 16, 2021 - HUGE shout-out to
David Baliu-Rodriguez
, The University of Toledo, who is graduating with a
Ph.D. in #chemistry (Isailovic Lab)
, and on Aug. 30 will join Lawrence Livermore National Laboratory in Calif., as a postdoctoral
#researcher
!
"Research has long been my passion," he said, "and the National Laboratories have outstanding scientists and facilities. At LLNL, I'll have the opportunity to work with instruments and techniques that are not available anywhere else."


"Dr. Dragan Isailovic has been an excellent advisor who has pushed me into becoming an independent researcher," Baliu-Rodriguez said. "He offered high-end instruments for me to learn and perform experiments, and projects that are worthwhile both from a career-development and environmental sense."


"I look forward to expanding my horizons to California, where there is so much exciting science being done," Baliu-Rodriguez said. "Dr. Dragan empowers his students to be independent thinkers, and to find new ways to apply what we've learned to our projects. At LLNL, I'll be taking that skill to the next level."


---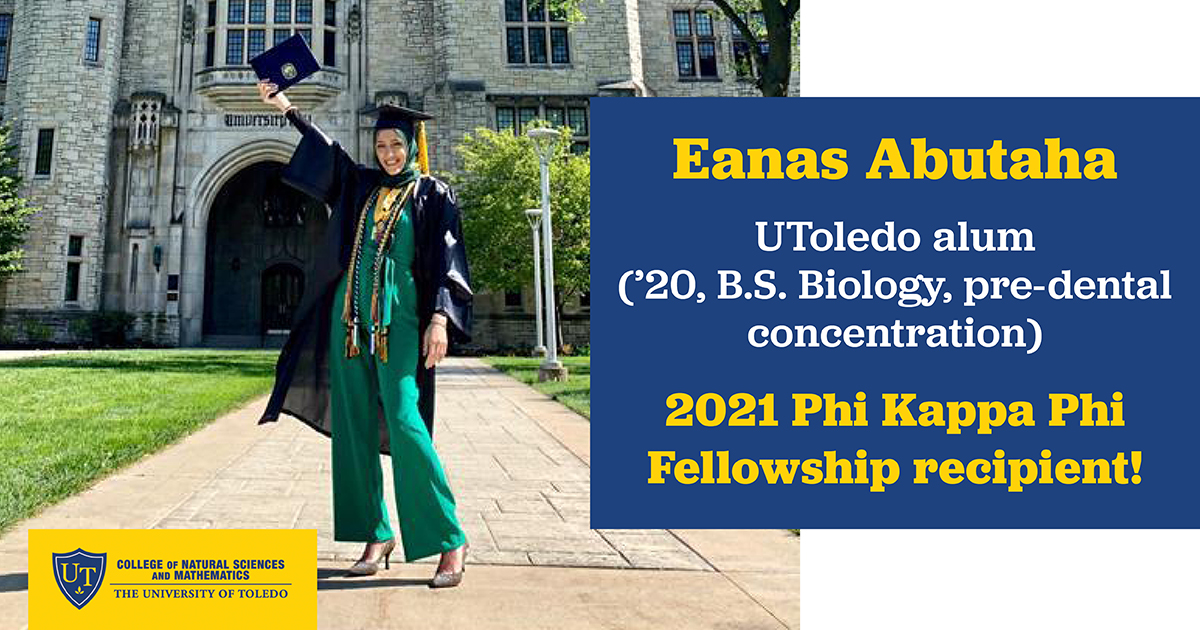 The 2021 class of fellows represents students from more than 60 colleges and universities across the nation. The recipients—drawn from all academic disciplines—are pursuing post-baccalaureate programs of study ranging from science and engineering to arts and humanities.


#PhiKappaPhiFellowships
are part of the Society's robust awards program, which gives more than $1 million each year to outstanding members and students on chapter campuses through study abroad grants, graduate fellowships, funding for post-baccalaureate development, member and chapter awards, and grants for local, national and international literacy initiatives.
---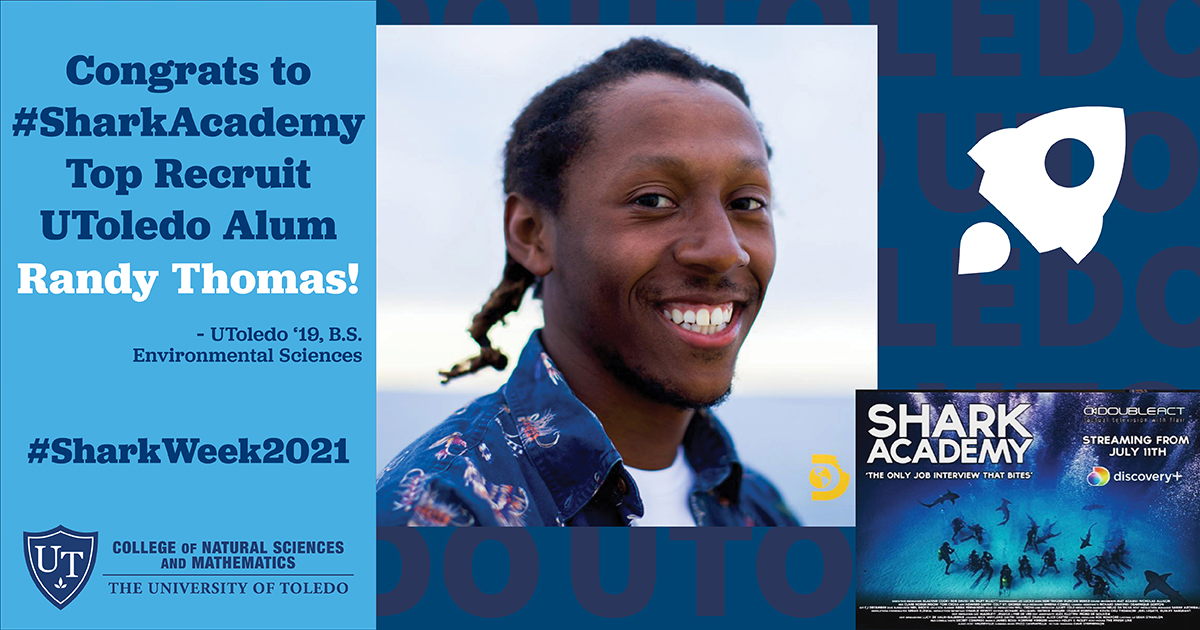 ---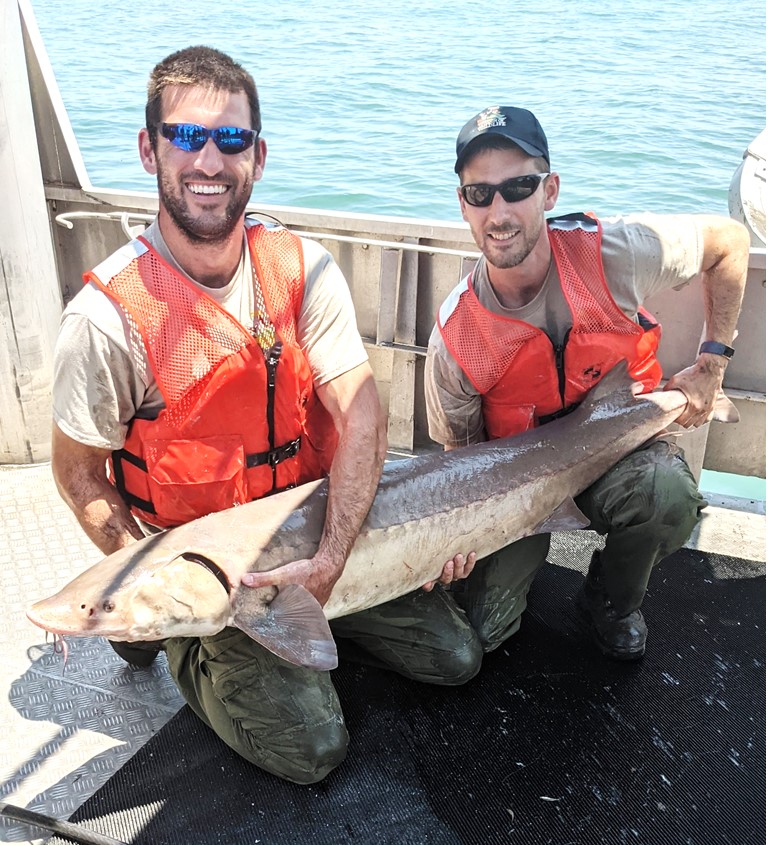 DES grads are working at state and federal natural resource agencies (as well as parks, NGOs and other places) to protect and restore the
#GreatLakes
and other
#ecosystems
.
Pictured (L-R): Brian Schmidt, (MS '15, Mayer) and Dr. Mark DuFour (MS '12 and PhD '16, Mayer & Qian). Photo: Jim McFee.
---
If you'd like to be featured or have a suggestion of someone else who should be, contact us at NSM@utoledo.edu.

Departmental Alumni Spotlights:
Biological Sciences
Environmental Sciences
Physics & Astronomy