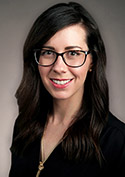 Chelsea Chandler, Ph.D.
Memorial Field House 3010A
chelsea.chandler@utoledo.edu
419.530.4379
Chelsea joined UT Online as an Instructional Designer in May of 2018. She holds a B.M. in Music Education and a M.Ed. in Curriculum and Teaching from Bowling Green State University. In 2015, Chelsea completed her Ph.D. in Curriculum and Instruction from The University of Toledo. Her research interests include reflective practice, learning, and curriculum design.

Prior to joining UT, Chelsea served on the faculty at Concordia University Chicago as an Assistant Professor of Curriculum and Instruction, where she taught online, hybrid, and face-to-face courses in the College of Graduate Studies. Before beginning graduate work, Chelsea also held a position as a music teacher in Perrysburg, Ohio.

Chelsea enjoys spending time with her husband and family. She loves music, plays the flute, and is an avid reader.