The University of Toledo offers one of the country's premier engineering programs. Our accredited degree in Construction Engineering Technology (CET) combines:
Civil engineering (structures, geotechnics, surveying and infrastructure design)
Construction management (estimating, contracts and project scheduling)
Graphics, materials and buildings
Courses are grounded in practical applications, rather than theory. Every class has a laboratory component or project that tackles a real-world problem.
UToledo prepares students for a wide range of careers in construction, operation and maintenance of infrastructure.
Learn more about the Engineering Technology Department.
Top Reasons to Study construction engineering technology at UToledo
Optional co-ops.

Students in the optional 

co-op program

 complete a minimum of three semesters of work in the construction industry. Earn a salary while you develop work skills and investigate different areas of industry.

Expert faculty.

All faculty have experience in the industry they teach.

Unique courses.

UToledo's lineup of classes goes beyond the usual offerings at other universities. Our CAD application curriculum is superior to any technical bachelor's degree program in the area. Students also can earn certifications that give them an advantage in the internship and job market.  

Hands-on labs.

Our construction materials testing lab is used solely for teaching undergraduates. Students test aggregates, asphalt, concrete and soils, and participate in other tests and demonstrations.

Opportunities outside the classroom.

The Ohio Contractors Association invites undergraduates to attend its

 

NW Ohio Constructor for a Day program

 

every fall. Students visit job sites and spend the day with industry personnel.  
The CET program sends a team to the annual

 

OCA student cost estimating competition

 

in Columbus. Students train with local industry professionals and compete against other Ohio schools in a mock project estimate. UToledo's team won first place in 2016.

Accredited program.

The Bachelor of Science in Construction Engineering Technology degree program is accredited by the Engineering Technology Accreditation Commission (ETAC) of ABET,

 under the General Criteria and the Program Criteria for Construction Engineering Technology and Similarly Named Engineering Programs.
What jobs can I get with a construction engineering technology degree?
UToledo graduates have versatile skills that allow them to contribute at any workplace on day one. They know how to:
Use basic construction documents
Make design and construction decisions
Specify project materials and methods
Perform cost estimates and analyses
Manage construction activities
CET graduates work in five primary sectors within the construction industry:
Construction management:

 

estimator, project manager or engineer, field engineer, quality assurance technician, safety manager, director of field operations
Consulting:

 

project manager, designer, project controller, construction coordinator
Facilities:

 

facilities manager, space planner, right-of-way manager
Government agency:

 

surveying technician, inspector, engineering technician, director of public utilities
Supplier:

 

estimator, applications engineer, product manager, sales engineer, design project coordinator, product specialist
UToledo students also have been accepted into graduate programs across the country
University of Southern California and Florida International University, construction management   
University of Michigan and the University of Detroit-Mercy, architecture
University of Luxembourg, sustainable tall buildings
University of Toledo, MBA and master's degrees in engineering and geology
Hands-On Learning Opportunities
At UToledo, we take you beyond the textbooks and the four walls of a classroom. These real-world experiences are what help our graduates gain professional skills and land jobs.
Internships
Research
Study Abroad
Rocket Kids Semester
On-campus and Part-time Jobs
Student Organizations
Tuition and Scholarships
Most new students don't pay full price. 94% of new UToledo students receive scholarships or other state and federal aid.
Keep in mind: Your cost will vary by college, program and a host of other options. This is the average amount full-time students pay per year.
---
How to pay for collegeInternational Student - How to Pay for College
Choose Ohio First scholarship
Ohio residents who have been accepted into this STEM program are eligible for the Choose Ohio First scholarship — a four-year, renewable scholarship.

Honors College
The Jesup Scott Honors College at The University of Toledo offer our best and brightest the resources and opportunities needed to unlock your fullest potential. Whether you aspire following graduation to cure disease, innovate technology, advance statecraft, redefine markets, or express creatively, together we can fuel vibrant and promising tomorrows.
Honors students come from a variety of countries, backgrounds and cultures. While we may bond over a tough class, our differences make us blossom.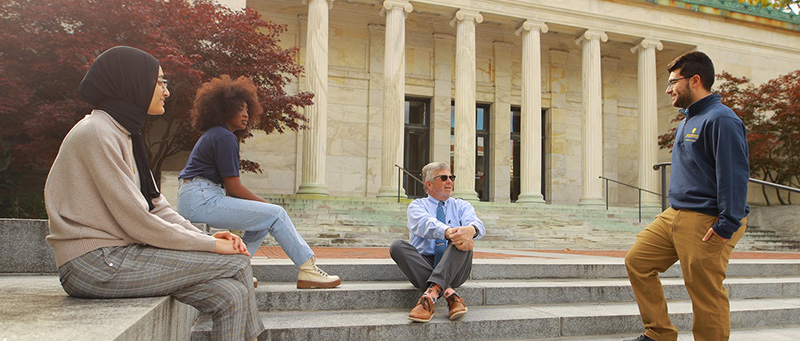 Benefits of Honors
The Honors College is a community of academically gifted students from all majors on campus. Students take unique Honors classes taught by dedicated Honors faculty and complete an Honors thesis or capstone project in their major, earning the Honors medallion at graduation within their normal program of study. Honors students are challenged to think more deeply and broadly about what they learn. With special academic, cultural, and professional development opportunities, their education extends beyond the classroom.
Honors students can also choose exclusive housing in the Honors Academic Village or the historic McKinnon, Scott and Tucker Halls.
Explore more about what the Honors College can offer you as a budding professional, inquisitive scholar, and engaged person.
Visit Campus
A campus visit is the best way to figure out if UToledo is a great fit for you.
Learn More and Register