The Engineering Technology Department is one of six academic departments in the College of Engineering at The University of Toledo. The Department offers ABET-accredited professional technical programs leading to the Bachelor of Science degree in four areas of study: Computer Science and Engineering Technology (CSET), Construction Engineering Technology (CET), Electrical Engineering Technology (EET), and Mechanical Engineering Technology (MET). The Department also offers a Bachelor of Science degree in Information Technology (IT) in partnership with the University's College of Business and Innovation.
An education in engineering technology emphasizes problem solving, technical skills and extensive laboratory experience to integrate theory and practice. The curriculum includes a solid foundation in applied sciences and mathematics.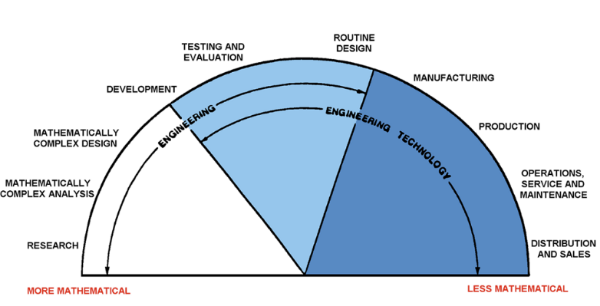 In the spectrum of professional technical jobs illustrated above, engineering technology falls closer to the craftsman than to the researcher. Engineering technology education is math/science based but focuses on algebra-based coursework for the first two years and postpones the use of calculus until the latter half of the program. Engineering technology education includes foundational theory but the emphasis is on applications of the theory and hands-on laboratory work. Engineering technology education starts with applications and moves to the foundational theory. For comparison, engineering education starts with the foundational theory and moves to the applications of that theory.
The dark blue portion of the diagram corresponds to associate degree graduates (technicians), the lighter blue portion to bachelor's degree graduates (engineers and technologists), and the white portion to master's and PhD graduates. At the bachelor's level, engineering and engineering technology graduates may compete for the same jobs, at the same pay and with the same titles.
The Engineering Technology department offers only BS degree programs. Associate degree programs previously offered by the department were discontinued in 2005.