Why major in Electrical Engineering Technology (EET) vs. Electrical Engineering at The University of Toledo?
UToledo's Electrical Engineering Technology students focus on technical skills and hands-on lab experience. Our program emphasizes problem solving and the application of theory first. Electrical Engineering undergrads, on the other hand, start with theory and then move to the application.
This broad knowledge across a wide variety of Electrical Engineering topics makes UToledo grads highly marketable. They have technical skills in the areas of automated manufacturing, industrial controls, test operations, power generation and distribution, digital communications and instrumentation.
Learn more about the Engineering Technology Department.
Top Reasons to Study Electrical Engineering Technology at UToledo
Optional co-ops.

Our College of Engineering is known for its unique 

co-op program

. Students build a resume and earn a paycheck. UToledo places engineering students in businesses in 40 states and 34 countries.

Learn the latest technology.

We teach two major brands of PLCs (digital computers used for automation) popular in industry. This gives UToledo engineering graduates a leg up in the job market, especially in more technical automation jobs. Some UT graduates have had multiple job offers, with annual, starting salaries ranging from $60,000-65,000.

Customize your major.

Have a specific career path in mind? UToledo's EET majors often minor, concentrate or dual-major in:

Experienced faculty

Most have a minimum of three years of industrial experience. Many have 10 years or more.

Hands-on experience in state-of-the-art labs.

Flexible scheduling.

UToledo accommodates all kinds of students. The EET program offers full-time day classes, part-time night classes and online classes.

Degree completion program

Have a two-year associate's degree in Engineering Technology? UToledo makes it easy to complete your bachelor's degree and transfer credit.

Accreditation.

The Bachelor of Science in Electrical Engineering Technology degree program is accredited by the Engineering Technology Accreditation Commission (ETAC) of ABET,

 under the General Criteria and the Program Criteria for Electrical Engineering Technology and Similarly Named Engineering Programs.
What jobs can I get with an Electrical engineering technology degree?
Electrical engineering technologists are among the most well-rounded engineering professionals. They are in high demand.
EET graduates may work for small or large manufacturing companies. They usually concentrate in the area of automation and electrical control.
Typical jobs include:
Automation engineer

Automotive engineer

Controls engineer

Electrical engineer

Instrumentation engineer
Hands-On Learning Opportunities
At UToledo, we take you beyond the textbooks and the four walls of a classroom. These real-world experiences are what help our graduates gain professional skills and land jobs.
Internships
Research
Study Abroad
Rocket Kids Semester
On-campus and Part-time Jobs
Student Organizations
Tuition and Scholarships
Most new students don't pay full price. 94% of new UToledo students receive scholarships or other state and federal aid.
Keep in mind: Your cost will vary by college, program and a host of other options. This is the average amount full-time students pay per year.
---
How to pay for collegeInternational Student - How to Pay for College
Choose Ohio First scholarship
Ohio residents who have been accepted into this STEM program are eligible for the Choose Ohio First scholarship — a four-year, renewable scholarship.
Honors College
The Jesup Scott Honors College at The University of Toledo offer our best and brightest the resources and opportunities needed to unlock your fullest potential. Whether you aspire following graduation to cure disease, innovate technology, advance statecraft, redefine markets, or express creatively, together we can fuel vibrant and promising tomorrows.
Honors students come from a variety of countries, backgrounds and cultures. While we may bond over a tough class, our differences make us blossom.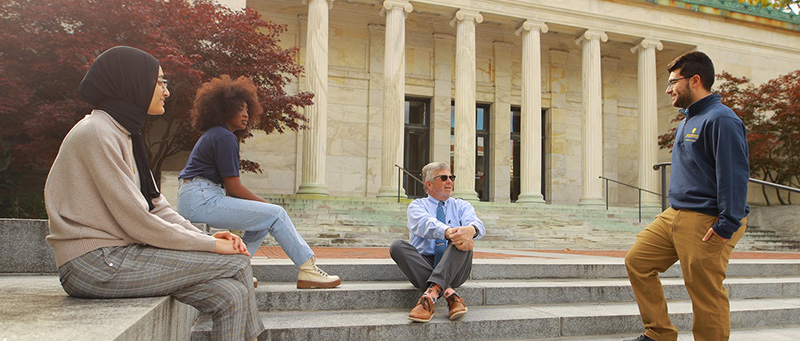 Benefits of Honors
The Honors College is a community of academically gifted students from all majors on campus. Students take unique Honors classes taught by dedicated Honors faculty and complete an Honors thesis or capstone project in their major, earning the Honors medallion at graduation within their normal program of study. Honors students are challenged to think more deeply and broadly about what they learn. With special academic, cultural, and professional development opportunities, their education extends beyond the classroom.
Honors students can also choose exclusive housing in the Honors Academic Village or the historic McKinnon, Scott and Tucker Halls.
Explore more about what the Honors College can offer you as a budding professional, inquisitive scholar, and engaged person.