News and Events
A SECOND LIFE FOR USED BATTERIES
Glad to see our peer-reviewed article featured on the cover of Electricity. This article explains how used electric vehicle batteries can be reused with our Bilevel Equalizer technology.  The full article can be found at UToledo News.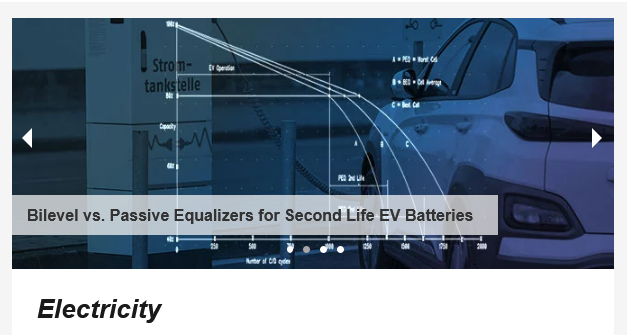 Peer reviewed paper on cover of batteries journal
Dr. N.S. Mubenga's and Dr. Tom Stuart's peer-reviewed paper titled "A Bilevel Equalizer to Boost the Capacity of Second Life Li Ion Batteries" is on the cover of  Batteries.
Congratulations to the aci team
The University of Toledo Student Chapter of the American Concrete Institute (ACI) Team won 6th place in the world-wide ACI FRP Composites Competition and 3rd place across the United States at  the ACI 2019 Fall Convention in Cincinnati, Ohio on October 20th and included 38 universities.  The team consists of  Paul Shay (CET),  Zach Sherman (CET), Evan Huelsman (CET), Jason Schnipke (CET), and Lukas Gephart (MET) with Dr. Luis A. Mata as the faculty advisor. The objective of the competition was to design, construct, and test a concrete beam reinforced with fiber-reinforced polymer reinforcement to achieve the most optimal cost-to-load ratio while being able to predict loads and deflection of the concrete member. The project explored concrete mixture proportioning, construction of formwork, calculations regarding the strength of concrete, flexural capacity of the beam, sustainability and overall cost.
 


CET graduate is new facilities director for TMA
Alumnus, John Yaniglos, a 2005 Construction Engineering Technology graduate has been selected as the Toledo Museum of Art's new Facilities Director.  John will oversee building maintenance for the museum.
senior design expo spring 2019
Our students showcased their hard work during the Spring 2019 Senior Design Expo.


Linda beall named distinguished university lecturer
Linda Beall, Interim Department Chair and Senior Lecturer, was recently awarded Distinguished University Lecturer for her exemplary teaching, support of student success and her commitment to The University of Toledo's education mission. Linda joined the University faculty in 2000 and serves as a board member for the Toledo Design Center. She is also a member of the Toledo Chapter of the American Institute of Architects and American Institute of Architects Engage Studio.  To read the full article please visit UT News.


Bilevel equalizer Presentation
Dr. Ngalula Mubenga is presenting her current battery research on Bilevel Equalizers at The University of Toledo's Brady Center (NT 1000) on Thursday, March 28, 2019 at 6:30 p.m. Full details are available on the IEEE Toledo Section website.
2019 Outstanding alumni award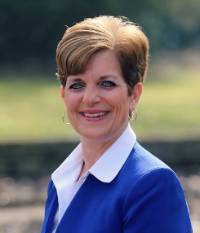 Congratulations to Dr. Margot Hoffman! Dr. Hoffman is the President & CEO of The Partnership for Excellence (TPE), the state-based Baldrige program for the promotion of performance excellence in Ohio, Indiana and West Virginia.  TPE is a volunteer-driven, 501(c)3 non-profit member organization headquartered in Columbus, Ohio.  Since 1999, TPE has served more than 382 organizations and TPE Examiners have volunteered more than $37 million dollars in services to these high-performing enterprises.

Dr. Hoffman has over 25 years of experience in engineering, corporate training, general management and senior leadership positions with global automotive supply corporations. 

Dr. Hoffman has a Ph.D. in organization and management with a specialization in leadership from Capella University. She holds a master of business administration in management and bachelor of mechanical engineering technology degree, both from the University of Toledo. Dr. Hoffman serves as a national Baldrige senior examiner and is on the board for the Alliance for Performance Excellence. She is a member of the Altra Industrial Motion Corporation board of directors and is the 2018-2020 Governor for Zonta International's District 5.
2019 engineers week scholarship winner
One of the highlights of the annual celebration of the Toledo Area Engineers Week is the awarding of a $1000 scholarship to an engineering student.  This year's recipient of the 2019 Engineers Week Scholarship is Alex Dimofski.
Alex is currently a junior in the Computer Science and Engineering Technology program at The University of Toledo, with plans to graduate in May 2020.  Alex is employed as a student worker in the Engineering College Computing office.
As a student, Alex has participated on the Student Activities Committee at UT and he has been an active member of Triangle, the fraternity for engineers and scientists.  He has participated in Songfest and a number of philanthropy activities through Triangle and has volunteered with the MATHCOUNTS competition during Engineers Week.
2019 toledo area young engineer of the year
Congratulations to James Gonya, E.I.! James, a 2017 graduate of the Electrical Engineering Technology program, has been awarded the 2019 Toledo Area Young Engineer of the Year award. James is currently a Discipline Lead Engineer in the Automation and Instrumentation Systems Group with The JDI Group, a full service Architectural and Engineering firm.
 Girl power! February 9, 2019 at Imagination station
Dr. Ngalula Mubenga and students from the University of Toledo, College of Engineering will present LEGO® Mindstormers where they will demonstrate how to build and program robots at Imagination Station's 5th annual Girl Power STEM event on Saturday, February 9, 2019 at 9:00 a.m.
Dr. nasser alaraje, department chair, engineering technology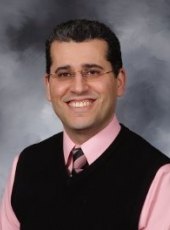 Dr. Nasser Alaraje will be the new Department Chair for Engineering Technology starting         July 1, 2019. Dr. Alaraje comes to us from Michigan Technological University- School of Technology where he served as Chair of the Electrical Engineering Technology program.  Dr. Alaraje has extensive industrial experience and will be a welcome addition to the department.
DR. N. SANDRINE MUBENGA WINS first  PLACE AT IEEE NATIONAL AEROSPACE AND ELECTRONICS CONFERENCE
Congratulations to Dr. N. Sandrine Mubenga and Dr. Thomas Stuart winners of first place during the poster session at the NAECON 2018 Conference in Dayton, Ohio for their research paper on "Bi-level Equalizer for Lithium Ion Battery."  The paper will be published in IEEE Xplore.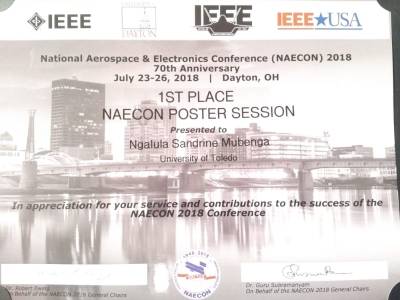 Dr. mubenga will present research paper at the Advanced Design and Manufacturing Expo on March 7, 2018

Please join Dr. Ngalula Mubenga  as she presents her research paper,  Lowering the Cost of Energy Storage for E/HV and Grid Applications Using a Bilevel Equalizer for Large Li-ion Batteries
This will be on March 7, 2018 from 2:00 p.m. -2:30 p.m. in Room 5 at The Huntington Convention Center in Cleveland, Ohio.
More details can be found here.
Fall 2017 CET Bridge Test
On December 14, 2017 the students in the CET-1010 Introduction to Construction Engineering course gathered in the CET Materials Testing lab to participate in the load annual testing of their index card bridges for their "final exam".  Student teams are charged with constructing a bridge using only standard index cards and glue to span an 18" gap.  The bridges are limited to 50g of material and must follow other dimensional requirements.  Bridges are scored on adherence to the specifications as well as the weight of the bridge, the load it will carry and the bridge's load carrying efficiency (Load/Bridge Weight).  This year's top performer carried a total load of nearly 3.5 kg with an efficiency of 80 times its weight.  Efforts from past years have yielded load carrying capacities over 6 kg and efficiency ratings over 100!
The year-end project allows students to learn the value of teamwork, problem solving while following a set of constraints and an appreciation for quality design and workmanship when viewing the failures of each structure.  Students enjoy the lighthearted break during a hectic exam week with cookies and cheers and jeers for each bridge as it's tested.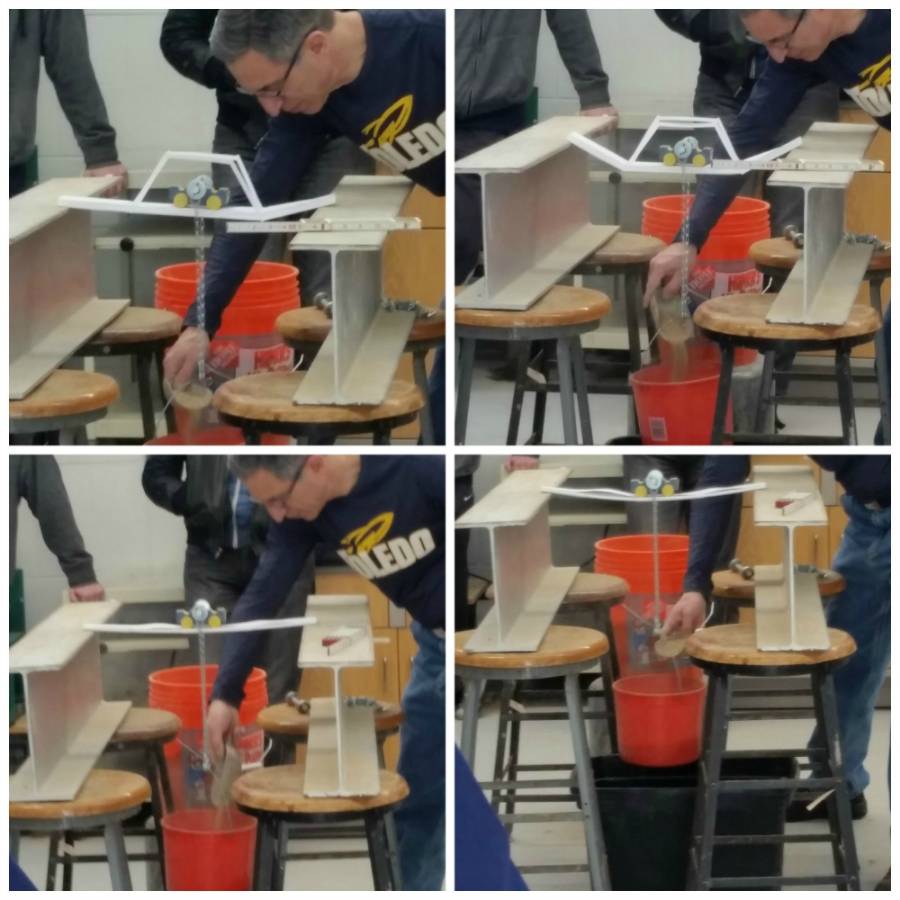 Fall 2017 Senior Design expo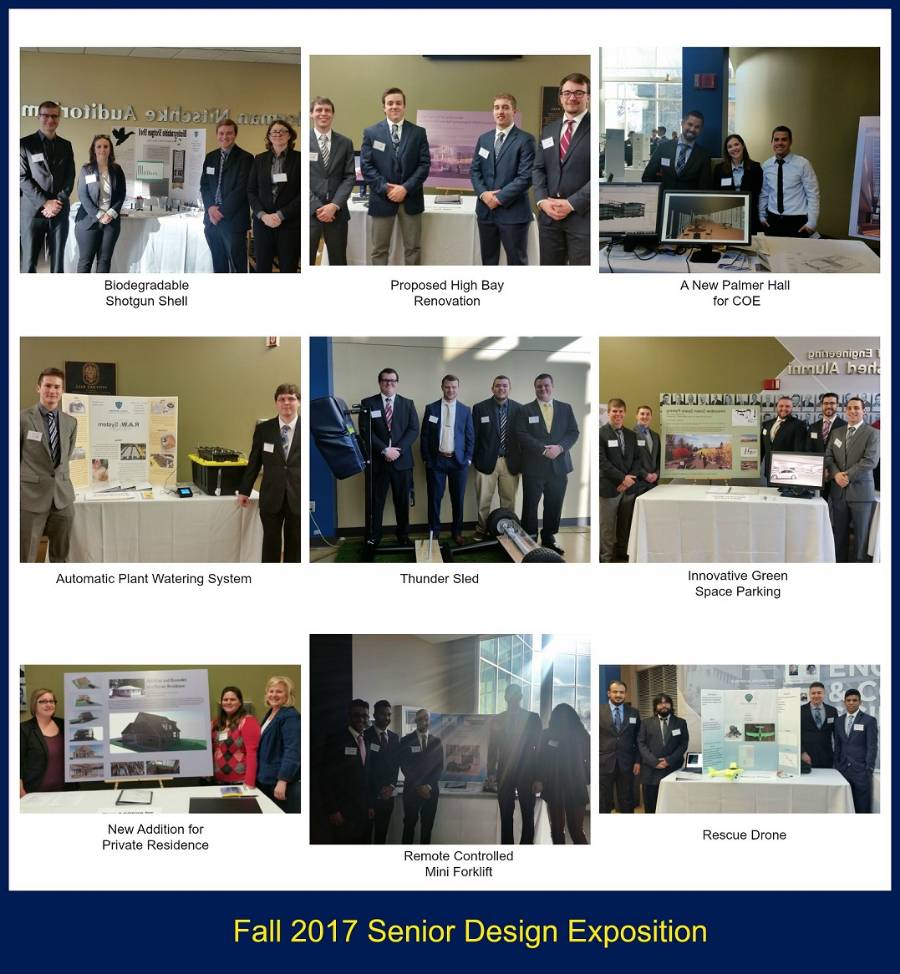 ACM-W team wins big at scarlethacks 2017
Congratulations goes out to Engineering Technology students Yizhen Shi, Carla Marzari, and Naba Rizvi who won first place and also won "Most Entrepreneurial Project" for CodeWeGo at ScarletHacks.  ScarletHacks is Illinois Tech's 24-hour hackathon.
Visit https://devpost.com/software/codewego to see how CodeWeGo works and what inspired the team to create it.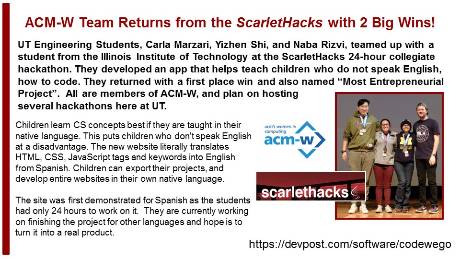 met graduate appears on shark tank and lands a deal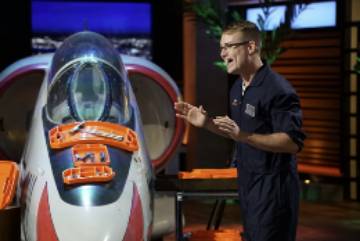 Tom Burden a 2014 MET graduate appeared on "Shark Tank" on November 12, 2017 with his invention the Grypmat, a non-slip tool tray geared toward mechanics. For more on this story please visit 13ABC.
2017 ASEE NOrth Central Section Best Faculty Paper Award
Congratulations goes out to Dr. Carmen Cioc, Dr. Sorin Cioc and Richard Springman for their paper "Using the Capstone Senior Design Project to Retrofit or Design Laboratory Demonstration Units" which was awarded Third Place in the  2017 Best Faculty Paper Award Competition of the ASEE North Central Section.  The award is listed on the ASEE website and will also be in the next ASEE newsletter.  
Graduate receives top award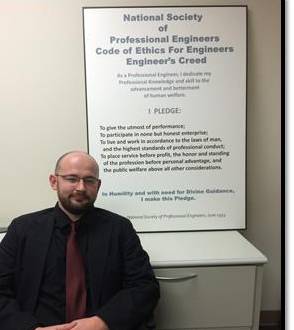 James Gonya was named the winner of this year's Outstanding Engineering Student Award by the Ohio Society of Professional Engineers. James was the president of the society's student chapter, served on the society's board of directors, served on the Engineer's Foundation of Ohio's board of trustees and he graduated magna cum laude.  James just recently passed the Fundamentals of Engineering examination and is employed by JDI Group in Maumee.
'the Price is right'
Jacob Mattoni an EET student and a senior airman in the Air National Guard won the Showcase Showdown on The Price is Right in March.  For more of this story please see The Blade published May 27, 2017.
Making connections: Preparing teachers to integrate stem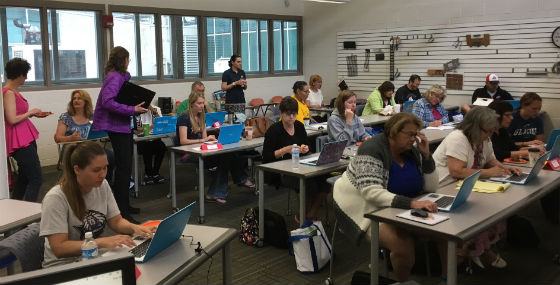 A summer research collaboration between UT and Toledo Public Schools (TPS) led by Dr. Judy Lambert provided support to 5th and 6th grade math and science teachers who would like to integrate STEM activities into their classrooms.  Dr. Carmen Cioc, MET program director, and Dr. Sorin Cioc  developed and presented four engineering design challenges to the 17 participants. The participants also toured two of our engineering labs and learned more about 3D printing and the flow of air in the wind tunnel.
spring 2017 senior design exposition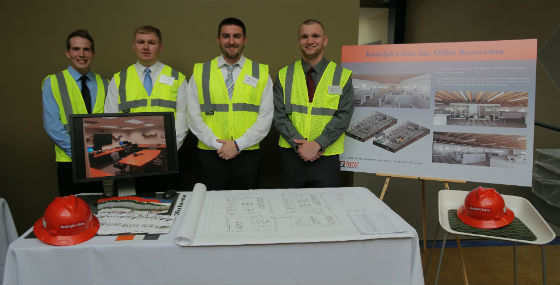 Rudolph Libbe Inc. Office Renovation
Senior Design Team


Construction Engineering Technology students, along with Interim Chair, Linda Beall, tour the new "Tower on the Maumee", formerly the Fiberglass Tower. Photo is of the newly installed Italian tile. For more of this story please see The Blade published April 19, 2017.
Spring 2016 CET Graduate Ammar Alkhars was accepted into the very selective McDermott Middle East KSA Graduate Training Program. Ammar (pictured on the far left in article) will now be rotated through McDermott's sections over a two year period to learn their operational functions.