Location
University Location
The University of Toledo's Main Campus is one of the three major campuses that house the University's academic enterprise. It is the largest of the three campuses and is located on Bancroft Street, between Secor Avenue on the west and Douglas Road on the East. The North Engineering building is located on F4 of the map.
Engineering Technology Department Location
Situated in the east side of the North Engineering building, the Engineering Technology Center (ETC) houses instructional laboratories and faculty offices. This facility includes three state-of-the-art computer laboratories maintained by Engineering College Computing, as well as instructional laboratories for strength of materials, materials testing, thermodynamics, computer integrated manufacturing and computer networking.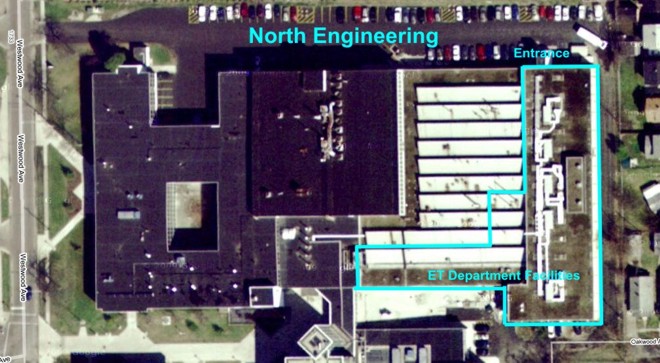 Visitors are encouraged to use the north entrance to NE, located near the northeast corner of the building. This entrance leads immediately to the offices of the Engineering Technology Department. Parking is available in lot 19S off of Westwood Avenue.