Admission Requirements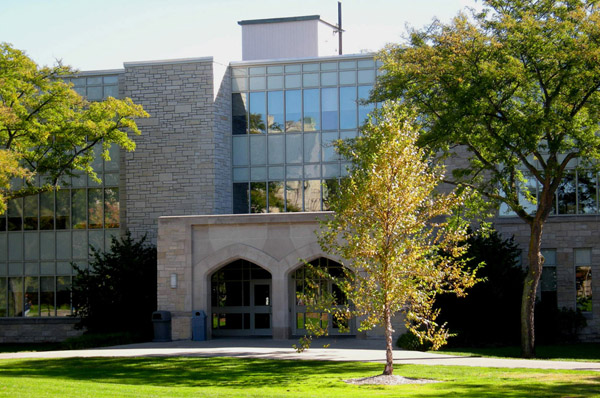 The Occupational Therapy Doctorate program at The University of Toledo is a long-standing accredited program. The program features small class sizes, individual faculty mentorship, and level one fieldwork each semester. The Occupational Therapy Doctoral program's mission is to improve the human condition through occupation by: (1) preparing doctoral-level practitioners who integrate occupational therapy theory, research, and practice; and (2) leading the profession through education, service, research, and advocacy.
Beginning 2022, the GRE is NOT required for the OTD program application process.

Undergraduate students at the University of Toledo and select partner schools are eligible to apply for early-decision admission in their Junior year (or 1 year before their graduation).  After graduating with their bachelors, students accepted through early-decision admission submit documentation of completing program requirements before beginning classes in the OTD program.

---
---
Please read 
all

 of the following instructions before beginning your application. 

We require all applicants to submit their applications via the Occupational Therapy Centralized Application System (OTCAS) at https://otcas.liaisoncas.com/applicant-ux/#/login . 
 
Opening of Admissions - 
The 2024 Admission cycle begins July 21, 2023 when the OTCAS application opens. We begin reviewing completed and verified applications in October. 
 
Closing of Admissions - 
The 2024 Admission cycle closes February 1, 2024. ONLY applicants whose OTCAS application is completed and verified, by February 1, 2024 will be considered for admission. 
---
Application Process
Due to the sequential nature of the curriculum, students start the Occupational Therapy Doctorate (OTD) degree program in FALL SEMESTER ONLY.  We evaluate applications and we accept candidates into the program beginning in October and continue until the class is filled. The Occupational Therapy Program admits students for one admission cycle only. Applicants who request deferred admissions must reapply and compete with the new applicant pool.
Based upon the total score an applicant receives, the Admissions Committee will take one of the actions below :
Acceptance: An applicant who has met all of the general admissions criteria and is being offered a seat int he program.
Provisional acceptance: An applicant must complete the general admission requirements as specified under "Admission Criteria".  For example, an applicant who does not meet the minimum GPA requirement may be considered for provisional acceptance if the overall application provides evidence that the applicant has potential to succeed in the program. The student must achieve a 3.0 GPA within the first semester to progress in the program.
Contingent acceptance: An applicant must complete the general admission requirements specified under "Admission Criteria".  Examples of circumstances which may result in a contingent admission and must be fulfilled prior to the term of admission (these may occur alone or together) are:
An applicant with a bachelor's degree in progress.
An applicant who has any prerequisite courses to complete at the time of application may be admitted with contingent status, with the clear understanding that all remaining prerequisite courses will be completed with a B- or better prior to registering for Fall courses.
Wait List – Applicant who both meets admissions criteria and have a strong application will be place on a wait list.  The wait list is ranked according to the strength of the application.  Applicants on the wait list may be offered a set for enrollment in the Fall semester pending availability. Admission from the ranked wait list continues until the class is filled.
Declined - Applicants who either do not meet the admissions criteria or who do not submit a competitive application will be declined.
---
Admission Criteria

The following requirements are essential in determining a candidate's potential for success in this program. To be considered for acceptance into the OTD program, a candidate must:

Bachelor's Degree. Complete a Bachelor's degree before entering the program, from an accredited college or university with a minimum 3.0 undergraduate grade point average (GPA).  We consider applicants whose degrees are in progress for admission. UToledo requires official college transcripts verifying degree once an applicant has been accepted to the program.  During the application process, all official transcripts should be sent directly to OTCAS.


It is our policy to use the cumulative GPA calculated by OTCAS when assigning admission points. This applies to those who have completed their bachelor's degrees and to those who have degrees in progress. OTCAS calculates GPAs based on all academic coursework completed.  For more information on how OTCAS calculates GPAs, please review the OTCAS Application Help Center



In addition to the OTCAS fee, a non-refundable application fee must be paid to UToledo (Click here) before the application will be reviewed.


Prerequisites. Show completion of, or a plan for completing, the designated prerequisites at the College level with a grade of B- or better.  If accepted, we will require official transcripts showing prerequisite completion prior to beginning the program. Prerequisite courses must be completed prior to starting the program, NOT prior to application.


Letters of Recommendation. Submit three letters of recommendation via OTCAS, each from a person with authority regarding your work and assessing your qualification for graduate education, ability to complete graduate work, and/or your qualifications for a professional career.  Suggestions include, but are not limited to, college advisors, professors, occupational therapists, work and/or volunteer managers or supervisors. OTCAS cannot accept paper references.  UToledo does not require documentation of work and/or volunteer experiences.


Applications. Submit the OTCAS application and associated fees. Once OTCAS has received your application, references, and official transcripts, they will process your application and verify your documents before releasing them to UToledo.  Please note that UToledo cannot access uncompleted and unverified applications.
---
Prerequisites/AP Courses
Introductory Biology (3 semester or 4 quarter credits). Lab not required
Human Anatomy and Physiology (6 semester or 8 quarter credits). Lab required.  If Anatomy and Physiology are taken as separate courses, we require a lab for Anatomy but not for Physiology.
Introduction to Psychology (3 semester or 4 quarter credits)
Abnormal Psychology (3 semester or 4 quarter credits)
Introductory Sociology OR Anthropology (3 semester or 4 quarter credits)
Lifespan Human Development. You may meet this requirement by either 1) obtaining a B- or better in a Lifespan Human Development course (3 semester or 4 quarter credits) that covers human development from birth to death OR 2) obtaining a B- or better in BOTH a Child Development course (3 semester or 4 quarter credits) AND a Gerontology/Psychology of Aging course (3 semester or 4 quarter credits).
Statistics (3 semester or 4 quarter credits)
Medical Terminology (2 semester credits)
Applicants can count an AP course from high school for an OTD program pre-requisite if the following criteria are met:
The AP course must appear on the applicant's college transcript
The AP course must result in college credit
The AP test associated with the course must have been taken and the test score must be documented either on the college transcript or in an official letter from the testing agency. The applicant must have received a score of 4 or better on the AP course test.
---
Student Expectations
The UToledo OTD program has technical standards to clearly state the expected capabilities of students within the program. All potential applications should self-assess that their abilities align with these expectations. Applicants can find a list of our technical standards HERE.
Additionally, all courses within the UToledo OTD Program use Blackboard, an online learning management system.  Blackboard is used to distribute course materials, collect course assignments, provide grading and feedback, and administer tests.  Enrolled students will need to have a personal computing device with internet access. Information technology has provided recommended specifications on this website.
---
Transfer Credits and work experience
To earn the UToledo's OTD degree, students must complete all the occupational therapy course work here.  Courses taken in other occupational therapy education programs cannot be transferred. Undergraduate students seeking to transfer to UToledo to complete their bachelor's degree should visit the UToledo Adult and Transfer page to learn more. We do not award course credit for work experience.
---
Optional Electives
Electives - Occasionally, applicants ask if we have suggestions for courses or course content that would be valuable for the study of occupational therapy in addition to the required pre-requisite courses.  The following list of content areas may be helpful to you in your study of occupational therapy and you may consider such content if you have electives you need to satisfy; however, courses with this content are not required for admission to the program, nor does taking them confer an advantage during the application process. The only courses required for admission are the pre-requisite courses listed above.
Arts: for those who are interested in fabricating unique devices or using creative expression for its therapeutic value
Biomechanics/kinesiology: for those who want a stronger foundation for orthopedics
Business: for those who are interested in starting their own therapy business
Composition/writing: for those who want to strengthen their writing skills
Contemporary office software: for those who need to enhance skills with Power Point, Word, Excel, etc.
Marketing: for those interested in program development
Neurosciences: for those who want a stronger foundation for providing therapy to those who have neurological conditions
Physics: a non-calculus based course may be useful for those who want a stronger foundation for understanding movment and force in everyday life
Public speaking: for those who need to enhance their ability to speak in front of groups
Sign language: for those interested in working with persons with hearing impairments
---
International Applicants
International Applicants Must:

Meet the Admission Criteria described in Admission Criteria section
Submit TOEFL scores.
Possess a degree equivalent to a 4-year US bachelor's degree in a major other than occupational therapy.  International students must have their foreign transcripts evaluated for equivalence to US academic credentials.  Click here to go to NACES (the National Association of Credential Evaluation Services) to find an acceptable member list of foreign educational credential evaluation services.
Exceptions - TOEFL scores are not required if the student has earned a US degree or has attended a regionally accredited US institution for one, full-time academic year and earned a minimum 3.0 GPA.  This exception does not include those who have attended a US institution for the purpose of English language instruction.

For questions regarding UToledo International student admissions please contact the UToledo College of Graduate Studies at 419.530.4723 or graduateonlineapplication@utoledo.edu
---
Information Sessions/Questions
Information Sessions - The Admissions Committee invites interested applicants to attend one of the virtual information sessions held throughout the year. This is an opportunity to ask questions of faculty and students about the OTD Program. Please use this link to register for a session:  https://www.utoledo.edu/hhs/ot/contactvisit.html
For questions about your OTCAS application, please contact OTCAS Customer Service at 617.612.2860 or otcasinfo@otcas.org
For questions about the OT program or admission requirements contact the OT program at 419.530.6691 or  OccTherapyDoctorate@utoledo.edu