Course Delivery Model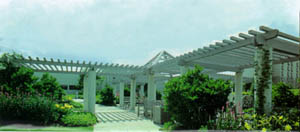 One of many quiet, picturesque places
on campus to study or relax with friends.
The majority of academic classes are scheduled on Tuesday through Friday, into the early evening. Mondays as well as Wednesday and Friday mornings are reserved for Level I fieldwork experiences, research projects, group projects, and meetings. Level II fieldwork and Capstone Experience require full-time participation during the typical working hours/days of the facility offering the experience.
The philosophy of the graduate faculty teaching in the OTD degree program is to make the most effective use of class and laboratory contact time. Therefore, we expect that students will actively engage in independent study, inquiry, and fieldwork outside the classroom to augment learning. We expect students to actively contribute to classroom discussion and laboratory simulations as a means of enriching their own and each other's learning.
We do not recommend that any student attempt to attend the OTD degree program while continuing to be employed full-time. We do not recommend that a student attempt to commute from long distances without an adequate support system in place.