Program Technical Standards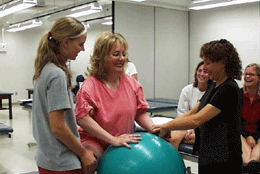 People with disabilities attend classes to
help students understand their challenges.
The faculty encourage applications from all qualified individuals regardless of race, color, national origin, religion, gender, sexual orientation, age or status as a veteran of any conflict, and disability status.  The demands of the occupational therapy doctoral program require students to be skillful in multiple domains, including cognition, emotional regulation, communication, and gross and fine motor coordination.  The purpose of these standards is to clearly state the expected capabilities of students in the OTD program. Potential applicants should self-assess that their abilities align with these expectations.  Within the program, course syllabi will identify specific expectations for students. 
Across the curriculum, the following are required to successfully complete the program:
Communicate orally and in writing to complete individual and group assignments at the graduate level including papers, exams, presentations, projects, and demonstrations;
Maintain interpersonal relationships with instructors, faculty, advisors, mentors, fieldwork educators, classmates, peers, and clients;
Commit time and effort to complete independent and group work according to timelines and due dates;
Manage and prioritize multiple concurrent demands;
Maintain access to and use current technologies to engage with learning materials, submit work, and engage in clinical practices;
Be punctual and attend class, practicum experiences, and fieldwork at both on- and off-campus locations, including necessary transportation and on-site mobility;
Demonstrate a realistic understanding of the field of occupational therapy including the scope and diversity of the profession and the requirements of therapists in their day to day work;
Demonstrate the willingness and ability to assume responsibilities for the full spectrum of occupational therapy services;
Meet health requirements including specific vaccinations and screenings. (A detailed list of these requirements can be obtained from the program. It is the applicant's responsibility to inquire as to inquire as to the implications of any individual health related circumstances.);
Respond adequately to the health and safety needs of clients/patients, including

Complete training in cardiopulmonary resuscitation,
Have knowledge of Center for Disease Control standards for infectious control, and
Respond appropriately to emergency situations in classrooms, practicum sites, and fieldwork placements;
Submit to criminal background checks.  Results may be required for fieldwork placement. Applicants/students with a criminal history may want to consult with respective licensing boards regarding their ability to obtain professional licensure.
Maintain personal/professional records. 
We urge applicants to ask questions about the program's technical standards for clarification and to determine whether they can meet the requirements with or without reasonable accommodations. We expect that any student who requires accommodation to attain the course objectives will work with the Student Disability Services to notify the course instructor at the first opportunity.  Revealing a disability is voluntary; however, such disclosure is necessary before any accommodations may be made in the learning environment or in the program's procedures. We handle disability-related information in a confidential manner. Reasonable accommodations will comply with the Americans with Disabilities Act and require program and institutional approvals. 

Approved 3/28/18