NEWS AND ANNOUNCEMENTS
State Awards UToledo $613,436 to Lead Harmful Algal Bloom Research Projects
The University of Toledo is among four Ohio universities to receive a total of $2.08 million from the Ohio Department of Higher Education's Harmful Algal Bloom Research Initiative in this year's round of state funding to address Lake Erie water quality and find solutions for algal bloom toxicity.
UToledo researchers include

Dr. Steven Haller

, assistant professor in the Department of Medicine, who will work to create a new therapy for microcystin exposure and hepatotoxicity using naturally occurring Lake Erie bacteria that removes microcystin released by harmful algal blooms in drinking water. He will also conduct deep phenotyping of human organ biobank specimens for cyanotoxin exposure in at-risk populations.
The first grant (~

$193K

) is titled 

"Microcystin Degrading Bacteria as a Novel Therapy for Microcystin Exposure and Hepatotoxicity." 

Here they are collaborating with

Dr. Jason Huntley

to use the MC-LR degrading bacteria as probiotic therapy for MC-LR induced hepatotoxicity.

Click Here to Read More in the UToledo News

---
MMI Faculty Recognized for Promotion
Congratulations to members of our faculty who were recently approved for promotion by The University of Toledo Board of Trustees at its April meeting!


The MMI faculty member who achieved promotion to professor is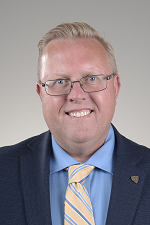 The MMI faculty member promoted to associate professor is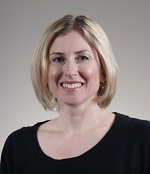 Dr. Jyl Matson


CONGRATULATIONS!
Click Here for More Information
---
Gayatri Subramanian, Ph.D.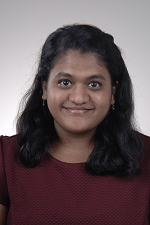 Future Plans: Gayatri is currently interviewing for postdoctoral fellowships.
Email:
Gayatri.Subramanian@utoledo.edu

---
UTCOMLS students well represented in annual Three-Minute Thesis Competition

Congratulations to our graduate students who recently participated in and were recognized at the
College of Graduate Studies' 2020
Three-Minute Thesis (3MT®) Competition
.
3MT celebrates the exciting research conducted by students around the world. Developed by The University of Queensland (UQ), the competition cultivates students' academic, presentation, and research communication skills. Presenting in a 3MT competition increases their capacity to effectively explain their research in three minutes, in a language appropriate to a non-specialist audience. Competitors are allowed one PowerPoint slide, but no other resources or props. 


CONGRATULATIONS, ANNA!
Second Place Winner: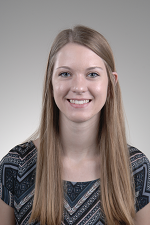 Anna Glanz
MSBS student in Medical Microbiology and Immunology
Faculty Adviser: Dr. Saurabh Chattopadhyay
Presentation: "'Boosting' Our Bodies Natural Antiviral Defense"


---
Hallie Dolin, Ph.D.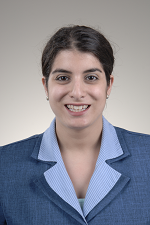 Future Plans: Hallie plans to complete her MD and specialize in pathology, with an aim towards translational medicine.
Email: Hallie.Dolin@utoledo.edu
---
MMI students selected to present at conferences, now canceled due to coronavirus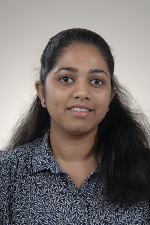 Smrithi Sugumaran Menon, a third-year graduate student in the Department of Medical Microbiology and Immunology and trainee of Dr. Viviana P. Ferreira, was awarded a travel support of $1,500 to present a poster, also at the AAI's annual IMMUNOLOGY 2020 meeting in May in Hawaii.
Her abstract will be published in a special online supplement to The Journal of Immunology late April or early May. The title of her abstract is "Assessment of function of neutrophil-derived properdin in a novel functional assay."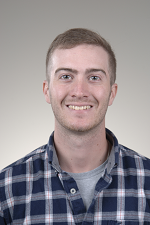 Brenden Tully, a second-year graduate student in the Department of Medical Microbiology and Immunology, mentored by Dr. Jason Huntley, was selected to present a poster at the American Society for Microbiology (ASM) Microbe Conference, which was scheduled to be held June 18-22, 2020 in Chicago. ASM Microbe typically is attended by 10,000 – 12,000 microbiology and infectious disease experts from around the world.
Brenden's abstract, entitled "Infection and transmission of Francisella tularensis by the American dog tick and lone star tick," describes how he has been examining infection and bacterial persistence of F. tularensis in two different U.S. tick vectors over time, with additional studies comparing bacterial transmission by both infected ticks to naïve hosts.
---
The Department of Medical Microbiology & Immunology welcomes new faculty member:
Associate Professor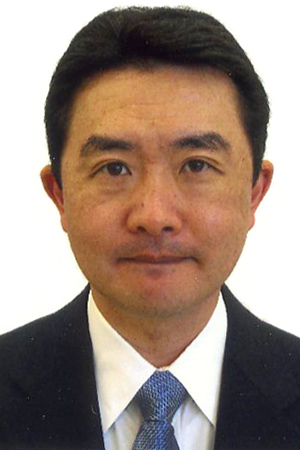 On April 1, 2020 Dr. Ogino joined the department from Case Western Reserve University School of Medicine in Cleveland, OH.  Dr. Ogino's skills, expertise, and research, as a virologist, will be demonstrated as he will play a very important role in the current COVID-19 research collaboration project with our outstanding group of virologist on campus. 
Dr. Ogino's laboratory has been focused on understanding the fundamental molecular mechanisms of gene expression of nonsegmented negative strand (NNS) RNA viruses. NNS RNA viruses include many important human pathogens, such as rabies, human parainfluenza, respiratory syncytial, measles, and Ebola; however, at present there are no effective drugs against these viruses. He brings with him an R01 NIH grant.
WELCOME!
---
MMI Staff members named Women of Week by the UToledo Eberly Center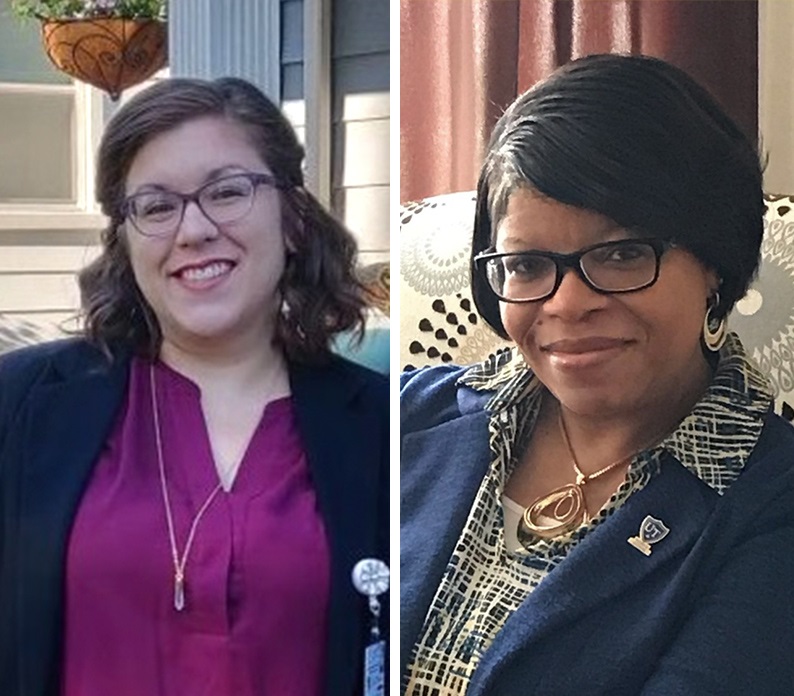 The UToledo Catharine S. Eberly Center for Women recognizes outstanding students, faculty, and staff by highlighting a woman of the week in its weekly newsletter.  "We want to applaud the women on campus who make a difference every day in the work that they do, the people they interact with, and the communities they serve," according to the center.
Laura Brown and Pam DeWalt, two staff members from the Department of Medical Microbiology and Immunology, were recently featured in the Eberly Center's weekly newsletter.
Learn More and Read the Interviews
---
Faculty members participate in UToledo panel on coronavirus outbreak

On March 4, The University of Toledo hosted a public forum on the coronavirus outbreak with top scholars from the College of Medicine and Life Sciences and the College of Nursing with specific expertise in public health, infectious diseases, immunology, and microbiology.

As a public research university, UToledo regularly shares our scholarly and research expertise on major issues impacting the public.

The discussion was moderated by Dr. Joan Duggan, professor of medicine, an infectious disease specialist, and Senior Associate Dean for Faculty Affairs & Development.

UToledo experts on the panel include: Dr. Jennifer Hanrahan, associate professor of medicine and chief of the Division of Infectious Disease; Dr. Jason Huntley, associate professor of medical microbiology and immunology; Dr. Linda Lewandowski, professor and dean of the College of Nursing; and Dr. R. Travis Taylor, assistant professor of medical microbiology and immunology.

Watch highlights from the discussion below. Watch a report by NBC 24.
---
 Congratulations to our MD/PhD candidate, Sara!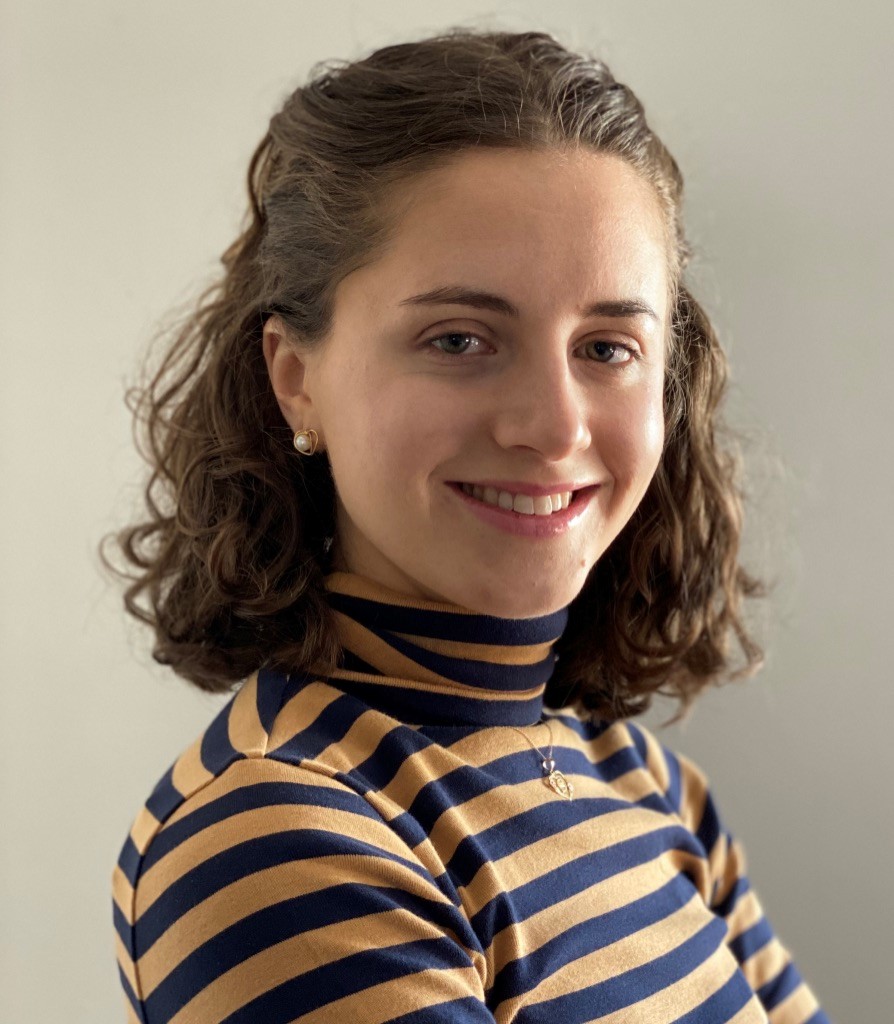 Sara Moore, a MD/PhD candidate in the laboratory of Dr. Viviana P. Ferreira in the Department of Medical Microbiology and Immunology was recently awarded a Microgrant from the Joint Biology Consortium, an NIH-funded collaborative network supporting innovative research in arthritis. This grant will support Sara's research on the role of the complement system, an essential part of the adaptive and innate immune response, in rheumatoid arthritis. Specifically, Sara is interested in characterizing a protein called properdin, an enhancer of complement activity, to better understand how complement facilitates a proinflammatory environment in rheumatoid arthritis and other autoimmune diseases. 
---
MMI Researcher Co-Chairs Biothreats Conference




Dr. Jason Huntley, Associate Professor in the Department of Medical Microbiology and Immunology, recently served as co-chair for the 2020 American Society for Microbiology (ASM) Biothreats Conference in Washington, D.C.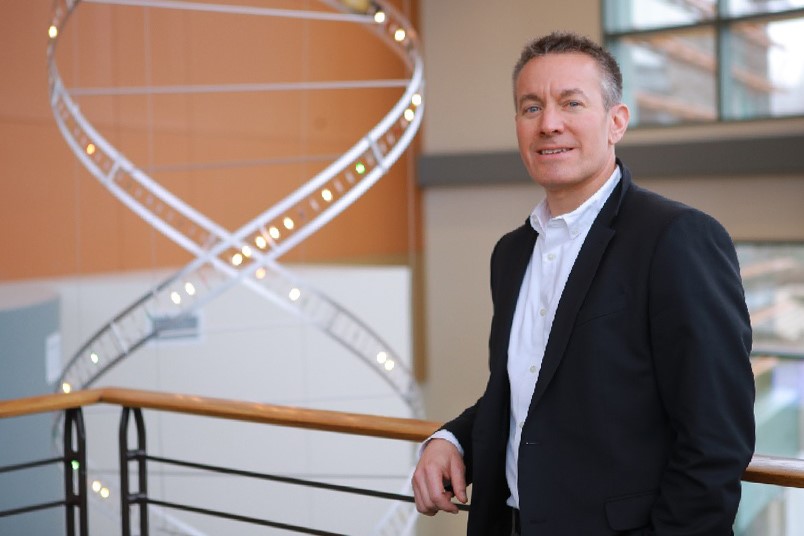 Over the course of the last year, Dr. Huntley and a team of national experts in infectious diseases, diagnostics, therapeutics, and vaccine development organized and invited over 60 speakers to present their latest breakthroughs to prevent and treat viral and bacterial diseases.

ASM Biothreats 2020 featured an opening keynote presentation by Dr. Anthony Fauci (NIH-NIAID), who spoke about U.S. government efforts to diagnose, contain, and quickly develop a DNA-based vaccine against the novel 2019 coronavirus that is of worldwide concern. ASM Biothreats 2020 also featured presentations by Avril Benoit from Doctors Without Borders, Christopher Houchens from the Biomedical Advanced Research and Development Authority (BARDA), and Douglas Bryce from the U.S. Department of Defense Joint Program Executive Office for Chemical, Biological, Radiological and Nuclear Defense (JPEO-CBRND), among other presenters.   Nearly 700 physicians, scientists, and government policy makers attended this three-day conference.
---
MMI faculty member Dr. R. Mark Wooten and Department Chair Dr. Kevin Pan were recognized for their contributions to preventing and treating global health challenges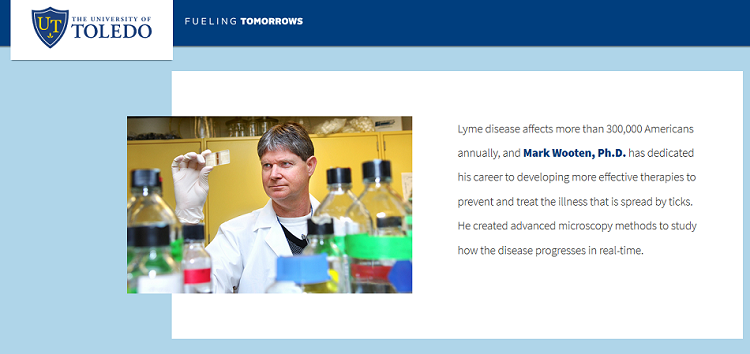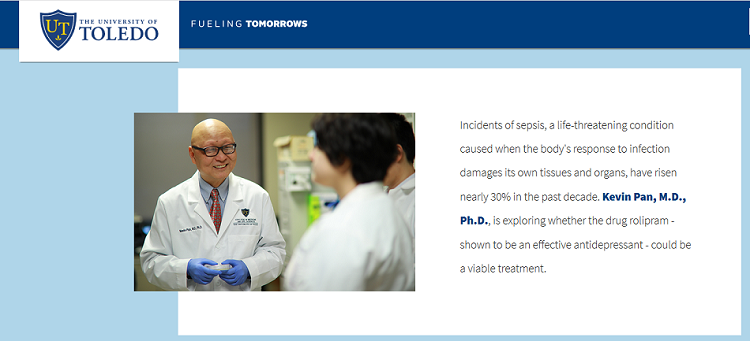 Click Here to learn about how UToledo is developing solutions to prevent and treat global health challenges
---
Huntley Lab Research Published in Ohio Sea Grant magazine on producing safe drinking water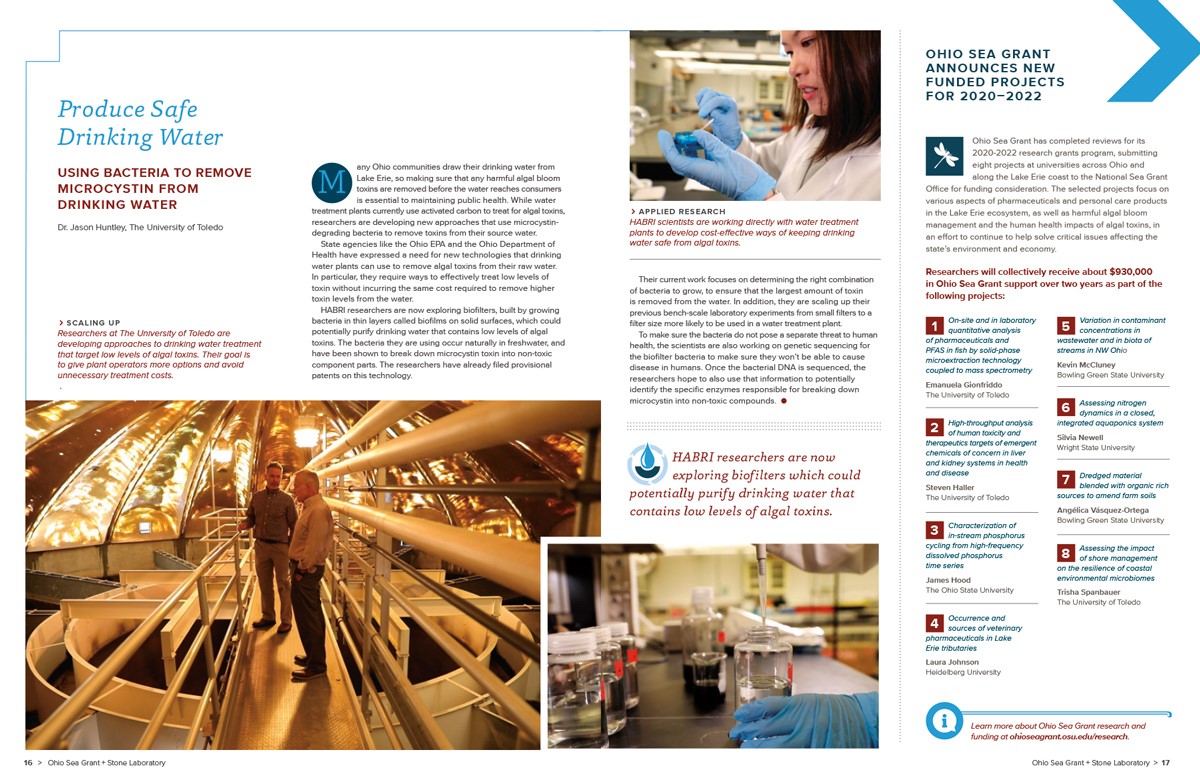 Click Here to Download the Article
Research from the laboratory of Dr. Jason Huntley, associate professor in the Department of Medical Microbiology and Immunology, was featured in a recent issue of the Ohio Sea Grant magazine, Twine Line.The article on pages 16 and 17, titled "Produce Safe Drinking Water: Using Bacteria to Remove Microcystin from Drinking Water," highlights efforts by Dr. Huntley's research group to develop new methods to remove the microcystin toxin, MC-LR, from drinking water.Harmful algal blooms and their toxins cause serious threats to human health here in Ohio and around the world. MC-LR, in particular, is known to cause liver cancer, as well as respiratory and gastrointestinal distress, skin rashes, and other complications in humans.  Federal and state agencies, including the Environmental Protection Agency (EPA), National Oceanic and Atmospheric Administration (NOAA), Ohio EPA, and the Ohio Department of Health (ODH) have emphasized the need for new water treatment technologies to aid in MC-LR removal from contaminated water sources.  Dr. Huntley's group has isolated naturally-occurring bacteria from Lake Erie that degrade MC-LR into non-toxic breakdown products.The Huntley research group currently is working on two main projects to produce safe drinking water: First, they are using these MC-LR degrading bacteria in biologically-active water filters – biofilters – to remove the MC-LR toxins and produce safe drinking water; Second, they are performing whole-genome sequencing on their MC-LR degrading bacteria to identify MC-LR degrading enzymes, which could be purified for water treatment.
---
Researchers Seek New Treatment for Sepsis Through Innovative Approach
New research from The University of Toledo College of Medicine and Life Sciences suggests it may be possible to treat septic shock with drugs that are already part of the clinical repertoire.  Screening existing pharmaceutical agents for unexpected applications is increasingly seen as a valuable tool for establishing new treatments, particularly within the field of oncology research.
Dr. Kevin Pan, professor and chair of the UToledo Department of Medical Microbiology and Immunology, is applying that innovative approach to sepsis, a life-threatening condition in which the body's extreme immune response to infection damages its own organs.  By exploring new ways to modulate that immune response, Pan and his collaborators hope to provide a complimentary treatment to go along with antibiotics that can prevent damage to critical organ systems.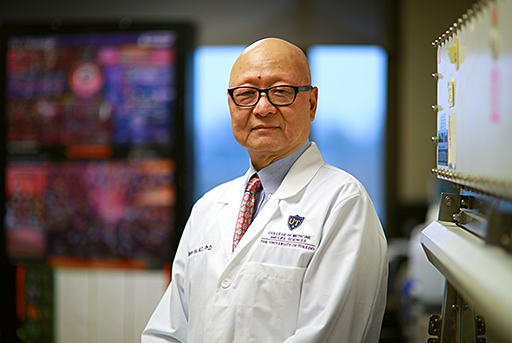 Click Here to Access the full UToledo Article
---
MMI Department Chair speaks to student group about his journey to becoming a physician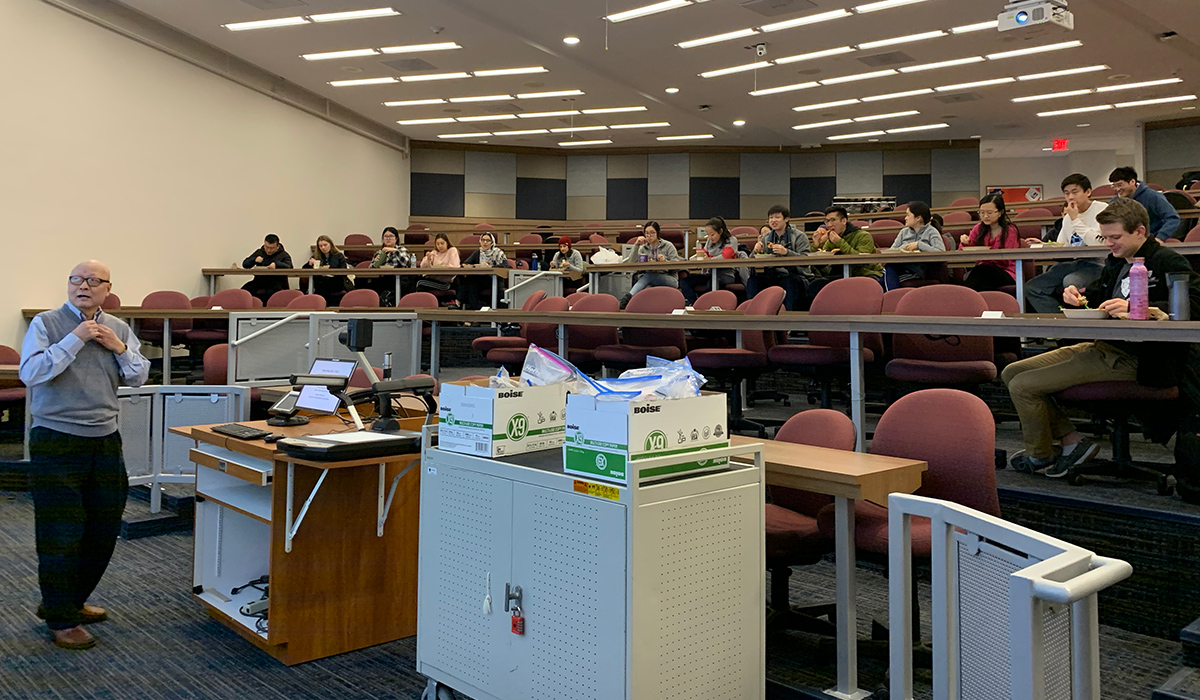 The 
Asian Pacific American Medical Student Association (APAMSA)
recently hosted 
Dr. Kevin Pan
, professor and chair in the Department of Medical Microbiology and Immunology, for a lunch talk.
APAMSA is a national organization that brings students together that are involved in the unique health issues of Asian American and Pacific Islanders in the United States. Its focus is promoting the health and well-being of these communities. The goal of the UToledo chapter is to foster a strong community between medical students, physicians, and other healthcare professionals by providing opportunities for cultural enrichment and engaging with our community to develop health initiatives. In addition, the club strives to illuminate the collective Asian American experience by holding events that serve as space for discussions, such as lunch talks, social meetings, and more.
During this lunch talk,
Dr. Pan
shared stories of growing up in China and his journey to becoming a physician. From being a barefoot doctor in rural parts of China to a professor and chair of the Department of Microbiology and Immunology, Dr. Pan is proof that you can never go wrong with hard work and following your dreams.
The students' intention with this lunch talk was to provide a space for open discussion about ethnic minorities in medicine, as well as allow medical students of varying backgrounds to interface with and learn from a successful APIA physician.
---
Congratulations to
Irum Syed
on her
Toledo Blade article, "Accurately identifying Melioidosis can be problematic"
published on 01/06/2020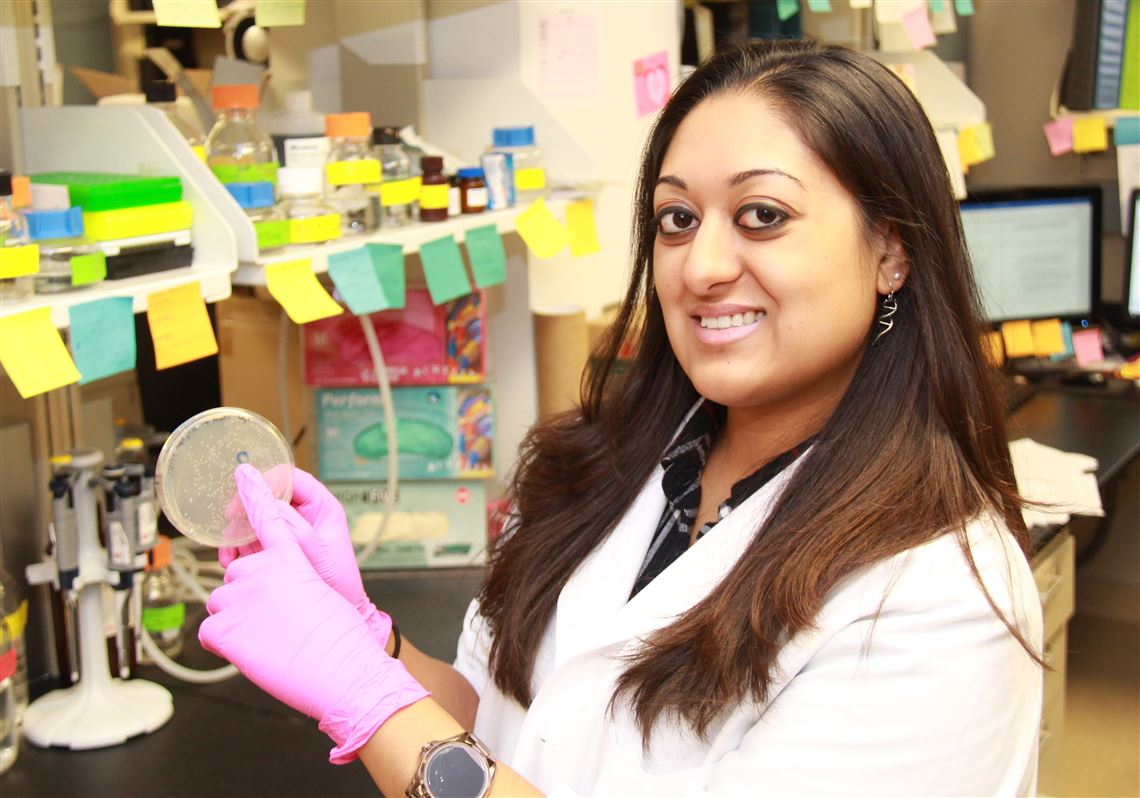 ---
MMI University of Toledo 2019-2020 Graduate Research Awardees
Congratulations to Gayatri Subramanian!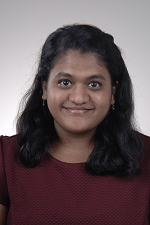 Gayatri Subramanian, PhD candidate in the laboratory of Dr. Saurabh Chattopadhyay, Assistant Professor, in the Department of Medical Microbiology and Immunology, was recently awarded the University of Toledo 2019-2020 Graduate Research Award.  This UToledo Graduate Student Association (GSA) Graduate Research Award will provide $2,000 towards Gayatri's research project that focuses on understanding how herpes simplex virus – 1 (HSV-1), a major human pathogen, hijacks host proteins to its benefit. Current approach to address this question is by using cellular and molecular techniques, such as genetic and pharmacological inhibition of the host protein, which HSV-1 depends on. The target protein was identified in the process of understanding the antiviral mechanisms of a novel interferon stimulated gene (ISG), Tudor domain containing protein 7 (Subramanian et al, PLoS Pathogens, 2018). The GSA award will help investigate the molecular mechanisms of this novel host-virus interaction.

Congratulations to Brenden Tully!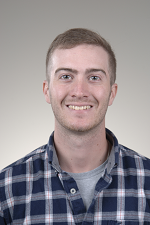 Brenden Tully, MSBS student in Dr. Jason Huntley's lab in the Department of Medical Microbiology and Immunology, recently was awarded the University of Toledo 2019-2020 Graduate Research Award.  This UToledo Graduate Student Association (GSA) Graduate Research Award will provide $2,000 towards Mr. Tully's research project to study how the highly-infectious and deadly bacterium, Francisella tularensis – the causative agent of tularemia, infects different U.S. tick species and identify which tick species poses the greatest risk to human health.  Climate change has led to significant expansion of the geographic ranges of different tick species in the U.S.  Ticks are known to harbor and transmit dozens of infectious diseases to humans, including Lyme disease, Rocky Mountain Spotted Fever, and tularemia.  Two ticks, the American dog tick and the Lone Star tick, are believed to be the primary tick vectors for tularemia but actual data is severely lacking.  Mr. Tully has developed a mouse-tick-F. tularensis infection model to naturally infect both American dog ticks and Lone Star ticks ticks with F. tularensis, examine bacterial replication in each tick, and test transmission efficiency of infected ticks to naïve mice.