Graduate Research Forum
---
Congratulations all !!!
---
GRF 2021 Poster Session Finalists and Winners
Fathima Dhilhani Mohammed Faleel
Sukanya Chakravarty
Smrithi Sugumaran Menon (Second Place)
Sara Moore (Third Place)
Mitchell Harberson
Rachel Golonka (First Place)
---
GRF 2021 Oral Session Finalists and Winners
Joshua Breidenbach (First Place Tie)
Jonnelle Edwards (Second Place)
Kathryn Becker (First Place Tie)
---
 GRF 2021 REGISTRATION AND ABSTRACT SUBMISSION DEADLINE: JANUARY 22, 2021 
Registration link: https://forms.office.com/Pages/ResponsePage.aspx?id=BxdrHam6PUqo-N6r-z1GewpTMeiAwL9ElWXRXJ3CNcZUOUtZMzZKSThPTlhHUk9YRVFHQ1RDTVRSRC4u
Abstract submission link: https://forms.office.com/Pages/ResponsePage.aspx?id=BxdrHam6PUqo-N6r-z1GewpTMeiAwL9ElWXRXJ3CNcZUMFo3WkhVSjNWVU9LN01GMEY4OVdTVVpSVC4u
Please limit your abstracts to 300 words. Your abstracts should include the purpose of your study, its significance, a summary of your data, and a concluding statement.
Let's make our first virtual GRF a success!
---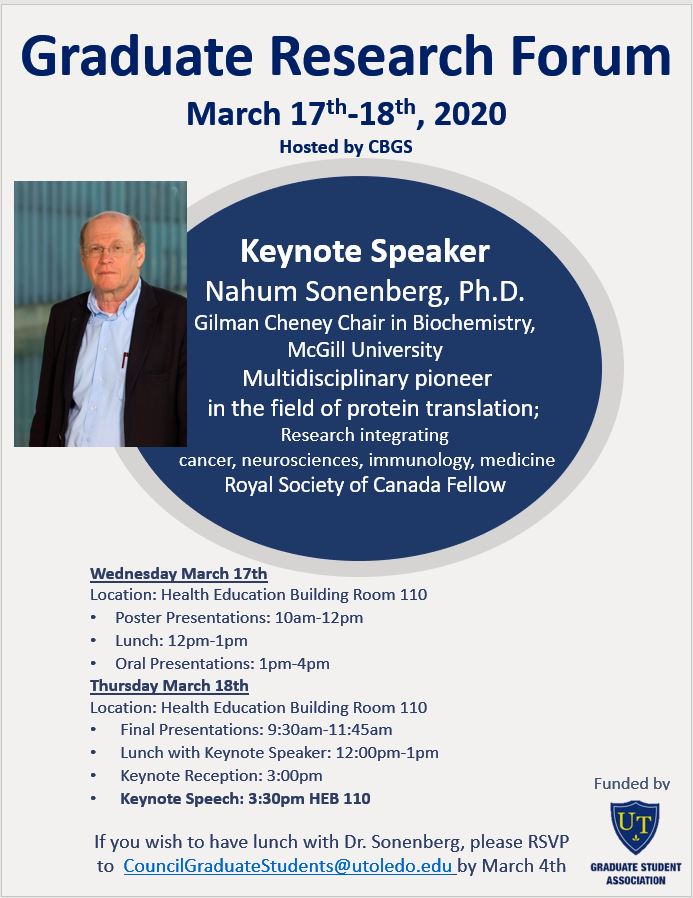 ---
CBGS would like to thank all the participants and volunteer judges
Congratulations! 
---
Poster
1st place: Kathryn Becker 
2nd place: Jin Chen
3rd place: Rachel Golonka
---
Oral
1st place: Gayatri Subramanian 
2nd place: Sarah Galla
3rd place: Neha Nandedkar 
---
GRF 2020 REGISTRATION
---
Students will be allowed to register for both poster and oral presentations at the link provided below. 
Lunch will only be provided to students that registered beforehand.

First-year students should REGISTER but select "No presentation" in the options.

Abstracts do not have to be submitted at the time of registration
***Please review this document for general guidelines regarding oral and poster presentations.
---
REGISTRATION AND ABSTRACT SUBMISSION OPENS:  December 16th, 2019


LAST DATE TO REGISTER: January

 

15th, 2020@ 
5 PM

Confirmation that you have an oral presentation will be sent by January 21st, 2019

---
Oral Presentations:
There are 12 spots for oral presentations.
If more than 12 students register, the candidates will be selected according to the following criteria:
First, by removing those that presented last year at the 2019 GRF. 
Then, if candidates need to be further narrowed down, we will draw names randomly.
---
DEADLINE FOR ABSTRACT SUBMISSION:  January 24th, 2020@ 5 PM
GRF 2019 ABSTRACT SUBMISSION
---
Registered students can submit their abstracts at the link provided below.  Abstracts are limited to 250 words (text only; does not include title, authors, or grant support information). Carefully review your abstract; once your abstract has been submitted, it cannot be modified.  
Students that fail to submit their abstracts by the deadline may still participate, but will not be considered for awards.  Individuals granted oral presentations that miss the deadline will be moved to the poster presentation category (no award consideration), and a person on the oral presentation waitlist will be given their spot.
---
Abstract Submission Link:
---