ICF Equipment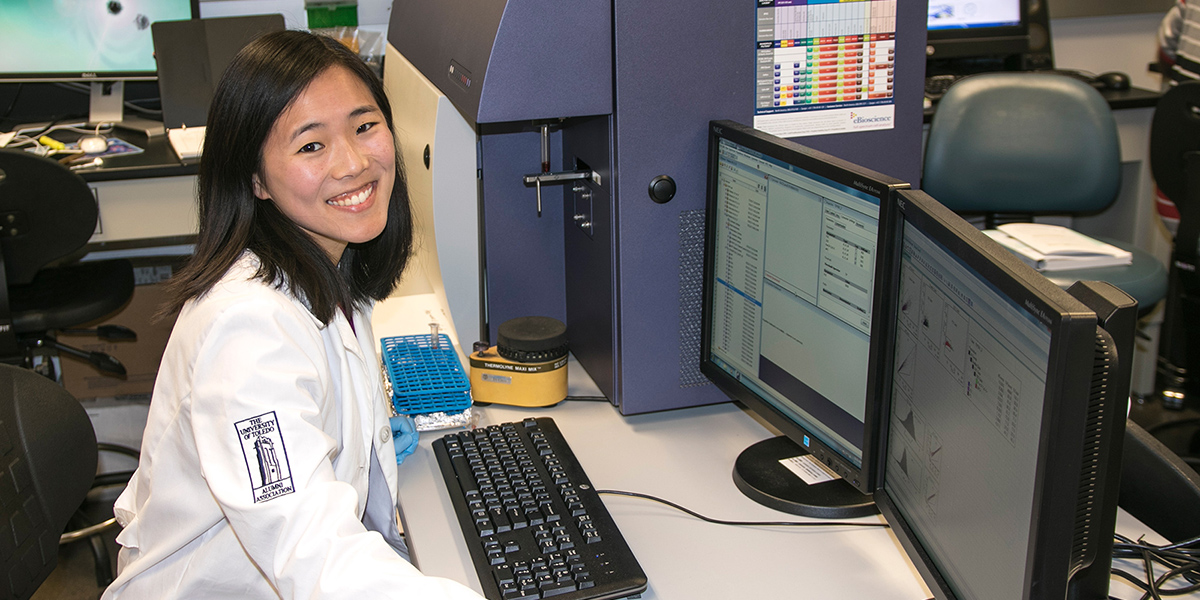 Sections:
---
Advanced Microscopy and Imaging Center
TCS SP5 Laser Scanning Confocal Microscope:  TCS SP5 Laser Scanning Confocal Microscope with MP (Leica Microsystems) is equipped with both conventional and high-speed resonance scanners. This includes conventional lasers plus multi-photon excitation (458, 488, 514, 561, 633, and a tunable Ti-Sapphire MP laser 710-990nm). This system is capable of collecting up to five colors simultaneously for quantitative confocal image analysis in both live cell and animal imaging, fixed tissue and includes the capabilities for 3-D reconstruction, FRAP, FRET, animation, stereo imaging, single layer projection, time lapse collection, and co-localization analysis. Found in Block Health Science Building, room 057.
IVIS Spectrum:The IVIS Spectrum (Caliper Life Sciences) is a whole animal fluorescence imaging system. The IVIS Spectrum is a multimodal bioluminescent and fluorescent imaging system specifically designed for noninvasive longitudinal imaging of cells and tissues in small animals. This instrument facilitates the study of biological processes via fluorescence in small animals, including tumor growth, cancer metastasis, bacterial infections, immune responses and inflammation, and regulation of tissue-specific gene expression. Found in Block Health Science Building, room 057. 
FluoView™ FV1000 Confocal Microscope: The FV1000 Confocal Microscope (Olympus) is a next-generation imaging system designed for high-resolution, confocal observation of both fixed and living cells. The FV1000 offers advances in confocal system performance while providing the speed and sensitivity required for live cell imaging with minimal risk of damage to living specimens. Found in Block Health Science Building, room 057. 
TIRF (Total Internal Reflection Fluorescence) Microscope: The TIRF Microscope (Olympus) is available on an Olympus IX81 inverted microscope/imaging system that allows the visualization of fluorescent molecules either in wide-field (conventional) or exclusively at the cell-glass interface (TIRF). This latter capability allows selective, real-time tracking of single molecule or particle dynamics at the surface of living cells with three solid state laser lines (488, 543 and 633).Found in Block Health Science Building, room 057. 
ACUSON Sequoia C512 Ultrasound: The ACUSON Sequoia C512 cardiac Ultrasound (Siemens) imaging system is an echocardiography system used for studying cardio-vascular disease processes in small animals, including ischemic heart disease, heart failure, hypertension, diabetic cardiomyopathy, cardiac hypertrophy and remodeling. Capabilities include: high-resolution imaging, tissue harmonic imaging, differential echo amplification, spectral Doppler (pulsed and continuous wave), color Doppler (for measurements of velocity energy and tissue Doppler imaging) and color-Doppler M-mode imaging. Found in Block Health Science Building, room 057.
Additional Analytical Equipment
Seahorse XFe Analyzers:  Two Seahorse XFe Analyzers (Agilent) an 8-well and 96-well format are available to measure the oxygen consumption rate (OCR) and extracellular acidification rate (ECAR) of live cells in a multi-well plate to interrogate key cellular functions such as mitochondrial respiration and glycolysis. The instruments perform compound addition and mixing, label-free detection, and automatic calculation of OCR and ECAR in real time. Both instruments can be found in Block Health Science Building, room 057 
Learn more Cell Reference Database
The Cytation™ 5: The Cytation™ 5 (BioTek) is a cell imaging and plate reader system that combines automated digital widefield microscopy with conventional multi-mode microplate reading. With 4X, 20X and 40X magnification, the imaging module provides high-quality cellular and sub-cellular imaging in fluorescence, brightfield, color brightfield and phase contrast. The multi-mode microplate reader incorporates variable bandwidth monochromator optics and high sensitivity filter based detection optics. Live cell imaging and multi-mode assays are optimized with incubation to 65 °C with shaking, and dual reagent injectors with Gen5 software. Found in the Health Education Building, room 233A. 
IncuCyte S3 Live-cell Analysis System:The IncuCyte S3 Live-cell System (Sartorius) is a real-time system that sits inside a standard tissue culture incubator and automatically acquires and analyzes HD, phase and fluorescent images of living cells, around the clock, for days, weeks, or months, while cells remain undisturbed. Kinetic, image-based measurements ensure you never miss a relevant response allowing for cell monitoring and surveillance, cell health and viability, migration and invasion, plus a wide range of phenotypic cell-based assays.  Found in Block Health Science Building, room 057.
G:Box Western Blot Imagers: Two G:Box Imagers (Syngene) are available for researchers. Each of these systems include: a top of the range, cooled cameras with RGB and IR lighting options. The imagers are set up to making it easy to image fluorescent DNA and RNA gels, protein gels stained with visible dyes such as Coomassie blue, as well as chemiluminescent and multiplex fluorescent Western blots. The imager found in the Health Education Building room 233A is capable of IR, RGB, Chemi, and UV detection while the imager located in the Block Health Science Building room 057, is only capable of chemi and UV detection.
Peggy Sue™ Protein Analyzer: The Peggy Sue™ (Protein Simple) lets you separate and analyze proteins by size or charge from 2-440 kDa either by immunoassay or total protein. Small sample volumes and starting materials are no problem. This instrument can use as little as 0.2 µg/µL of protein in just 5 µL of sample, and runs up to 96 samples in one experiment.  This instrument can record up to 96 data points overnight and contains software for all needed data analysis.  Found in the Health Science Building, room 057.
The PamStation®12 PamGene: The PamStation®12 developed by PamGene is a multi-use instrument utilized in combination with PamChip4 arrays.  This system's main use is to serve as a kinome array to identify kinase activity from lysates of cells or tissue.  Arrays can be used to investigate Tyrosine Kinase (PTK) or Ser/Thr Kinase (STK) activity by analyzing phosphorylation dynamics toward 15 amino acid long putative phosphorylation sites derived from human sequences.  Investigators can assess kinase activity and screen reactivity towards 196 targets in the PTK chip format and 144 targets in the STK chip format. Substrates which become phosphorylated are detected via antibody based fluorescence to allow for the generation of real time kinetics.
Learn more Learn more: Tyrosine Learn more: SerThr
---
Flow Cytometry Core
Flow Cytometry Core Facility provides access to instrumentation, assistance, guidance, and offers information on current cytometric methods and applications as well as on dyes, cytometric bead arrays, multi-color panel kits, and other reagents. We welcoming UT investigators from all campuses and industrial researchers, technicians, and students from the surrounding community. We offer high-speed cell sorting. This can be used to isolate/separate cell types (or vesicular bodies), rare populations, as well as specific clones post-transfection for further cell culture or analysis/experimentation—if a population can be labeled, distinguished, and gated, it can be sorted. Samples are prepared by individual investigators who then deliver them to the Core for flow cytometric analysis or sorting. The core will not prepare cells but can provide assistance, guidance, and/or generation of publication-quality graphics and experimental design. 
Equipment:
Cytometers (BD Biosciences)
BD FACSCalibur: 488nm, 633 lasers
BD FACSAria: 405nm, 488nm and 633nm lasers
BD FACS Canto II: 488nm, 633 lasers
The Flow Cytometry Core is located on the second floor of the Health Education Building, room 233A. 
---
Histology Core
Leica automatic tissue processor: Provides a more safe and automated system to process tissue and prepare tissue for downstream histological applications. Found in Block Health Science Building, room 007.
Leica EG 1160 embedding station:  Compact automated system to allow consistent reproducible paraffin embedding. Found in Block Health Science Building, room 007.
Reichert-Jung 2030 microtome:  Rotary microtome that allows accurate specimen sectioning, with smooth easily controllable sectioning thickness and speed. Found in Block Health Science Building, room 007.
Microm HM550 Cryostat: Cryostat microtome which allows for the production of finely sliced frozen tissue sections. Found in Block Health Science Building, room 007.
Olympus VS120 Slide Scanner Slide Analyzer: Upright microscope which contains a motorized stage for whole tissue scanning in brightfield and fluorescence applications.  Automated microscope which produces high-detail and precise images, with the ability to scan multiple slides. Found in Block Health Science Building, room 007.
---
Electron Microscopy Core
Transmission Electron Microscope (TEM): The EM lab is equipped with two transmission electron microscopes (FEI Company), one being used for clinical diagnostic purposes and the other available for use by researchers. Found in Block Health Science Building, room 029.