Holmium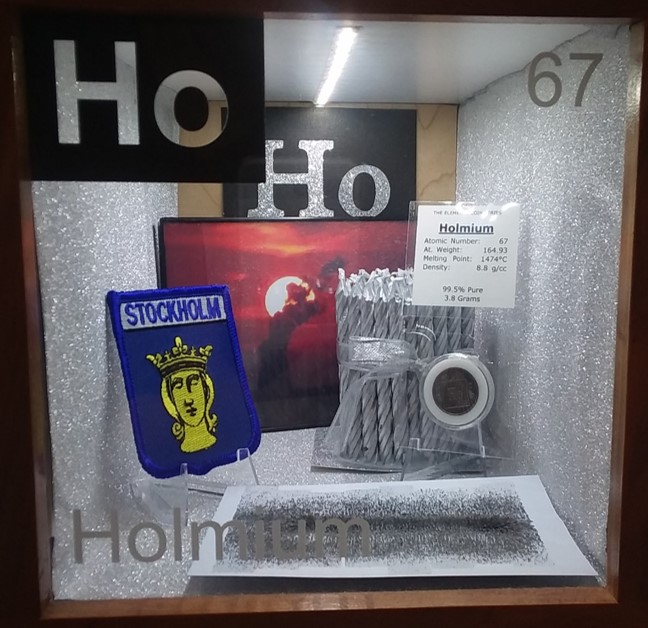 Contributor: Judy Lynn Mohn Rosebrook
About the Display: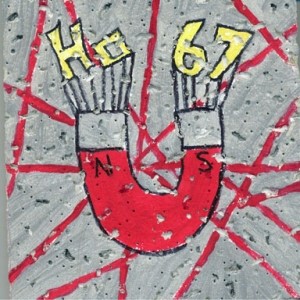 The Holmium display features:
A Holmium coin 

from "The Elements Coin Series"-the coin is 3.8g and 99.5% pure! It is a first ever issue for Holmium in coin form (picture below!)



A Stockholm Coat of Arms patch 

representing the Swedish chemist, Per Theodor Cleve, who discovered Holmium in 1879. Holmium comes from the Latin word for the city of Stockholm, Holmia.

A photo of the Davis-Besse Nuclear Power Station 

located in Ottawa County, Ohio. Holmium can absorb neutrons, so it is used in nuclear reactors to keep a chain reaction under control. 

A magnetic pole piece with magnetic iron powder 

to demonstrate that Holmium has the highest magnetic strength of any element. Holmium is used in alloys for the production of magnets. 

67 silver candles 

to represent the

 atomic number of Holmium, the year of Mrs. Rosebrook's Woodward High School graduation, and her age! 
Holmium is a Rare Earth metal, having a metallic sheen and is fairly soft and malleable. It rapidly oxidizes in moist air. It's magnetic properties could hold promise for future applications!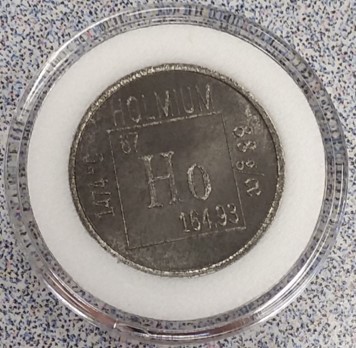 Fun Facts:
Holmium is never found in its pure form in the wild!
Holmium oxide (Holmia) shows two dramatically different colors: yellow under natural light and pink under fluorescent lighting!
Holmium has medical applications: Holmium lasers emit light of a wavelength that does not damage eyesight, thus, one of its medical uses is for eye surgery!
Some of the most cutting edge lasers used to treat certain cancers are solid-state lasers that require Holmium to crack yttrium aluminum crystals. The lasers can be used to vaporize tumors with only minor tissue damage; a patient with early stage bladder cancer can be in and out of the hospital in an afternoon without a general anesthetic! A Holmium laser is pictured below:

About the Contributor: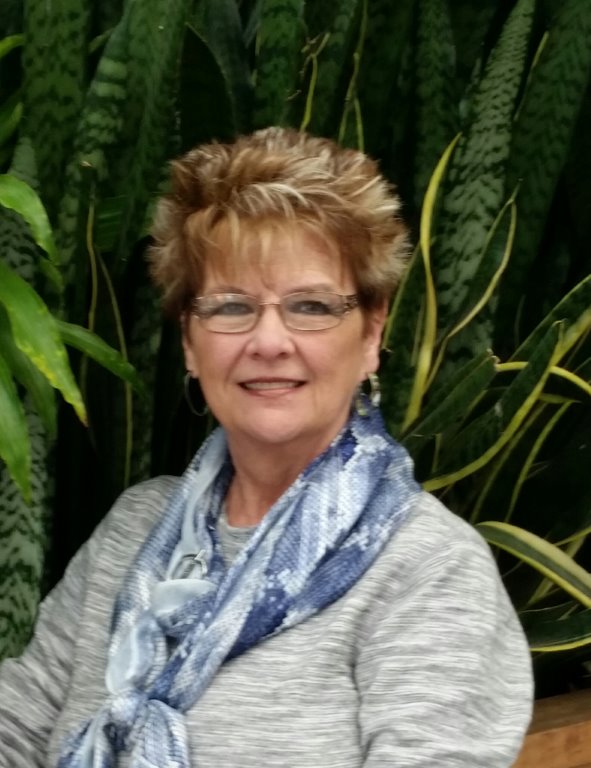 From Judy: "I was born (in 1949, making me 67!!!) and raised in Toledo; attended Hamilton grade school, Woodward High School and received my Bachelor's Degree in Education from the University of Toledo! Married in 1973 to a farmer from Deshler in Henry County and have lived in his family home since then! Raised three children here and now have seven grandchildren! I retired from teaching in 2011 from the Patrick Henry School District, having taught Special Education, Learning Disabilities, 8th grade science, and language arts! I had read about this project in the Toledo Blade. Today there was an article in the Napoleon Northwest Signal about a local 2nd grader, Destiny Zamora, who had contributed. I thought, I would like to be a part of this also! I checked #67 and decided on Holmium!"
On why she chose Holmium: "I graduated from Toledo Woodward High School in 1967 and we are planning our 50th High School reunion this summer! Also, I'm 67!"
Back to the Periodic Table
Symbol: Ho
Atomic Number: 67
Atomic Mass: 164.93032 u
Electron Configuration: [Xe] 4f116s2
Year Discovered: 1879
Discovered By: Per Theodor Cleve