About Us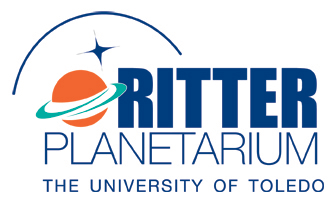 ---
Nestled among the beautiful buildings of the University of Toledo's main campus, the Ritter Planetarium is your gateway to the Universe.  Outfitted with a digital projector and 5.1 surround sound, the planetarium will show you the wonders of the Universe with live guided tours of the visible night sky and stunning full-dome imagery.  We have been part of the University community for over fifty years during which we have brought astronomy to life for the student body, local school children and Scout groups, and the greater Toledo community.  University students studying a wide variety of disciplines including astronomy, Spanish, geology, and communication visit the planetarium each year to watch relevant programs.   We also offer programs specifically designed for K-12 students and Scout groups, and are open on the weekends for public programs and observing.    We are also available for private programs, receptions, and birthday parties by reservation.
---
Public Programs
We open our doors to the public Friday evenings year round and Saturday afternoons during the school year.  Friday night programs are appropriate for all ages while the Saturday afternoon programs are aimed at the youngest family members.  The programs last about an hour and consist of a full-dome feature presentation, an interactive tour of the night sky, a discussion of current astronomical events, and a question and answer session.  Weather permitting, audience members are then given the opportunity to use our telescopes to view the stars and planets.
Click for our current schedule
---
School Programs
We offer standards-based, developmentally-appropriate programs for Pre-school through 12th grade students throughout the year.  Typical visits last about an hour, consisting of a feature presentation chosen by the teacher followed by a live, interactive tour of the night sky, a discussion of current astronomical events, and a question and answer session with a resident expert.
---
Private Programs
The planetarium is available for reservation by private groups year-round.  You and your group can select from a large library of full-dome programs that cover topics ranging from the solar system to black holes.  In addition, you will get a live guided tour of the nights sky from one of our resident experts, who will be there to answer all your questions.
---
Birthday Parties
Looking for a different and exciting birthday experience for your child?  Then the Ritter Planetarium is the place to be.  Your birthday child, friends, and family will have private access to the planetarium for two fun and educational programs of your choice and a thrilling space-themed roller coaster ride.  The birthday child and close family then gets a special tour of the 1-m telescope housed in the Ritter Observatory that is used by researchers at the University to study the stars and galaxies in the Universe.  Tables and chairs are available if you wish to serve simple food such as birthday cake, but catering services are not offered.
---
Scout Programs
Throughout the year, Ritter Planetarium offers specially designed programs for Boy Scouts, Girl Scouts, and Cub Scouts and Brownies that assist the children in completing requirements for their astronomy badge.  Hopefully, they will also be inspired to study space and the sciences throughout their lives, even if its just stargazing from their back yards.
Click for our Scout information page
---
The Helen and Elgin Brooks Observatory
The Helen and Elgin Brooks Observatory is dedicated to undergraduate education and public outreach. Established in 1987, the observatory was completely re-modeled with a new telescope in 2015. It is now home to a permanently mounted fourteen-inch telescope in a twelve-foot dome on top of McMaster Hall. The observatory is used for public observing following most evening planetarium programs. It is used extensively by over five-hundred introductory astronomy students every semester.  The observatory is also used during scouting programs and is available for K-12 classes visiting in the evenings.