The University of Toledo's Bachelor of Visual Arts Degree program is perfect for students who want a broad liberal arts education combined with solid art skills in a variety of media.
Faculty in the accredited Department of Art encourages students to experiment. Visual art majors can do advanced work in 2D Studies, 3D Studies, Digital and Photographic Art and New Media Design Practices. You will learn how to think and write as well as how to draw, ship artwork and launch an exhibit. You will leave UToledo with real-world skills that allow you to find work in a constantly evolving job market.
If you decide that you want a more intense studio art experience, you can apply to our Studio Art Bachelor of Fine Arts degree program as early as spring semester freshman year. Graduates in Studio Art receive a BFA and usually pursue graduate school or careers as studio artists.
Top Reasons to Study visual arts at UToledo
Flexible, practical skills.

Visual Arts bachelor's degree students learn the skills critical in today's job market. They learn:

"Soft skills" like critiquing, writing, research and problem solving
"Hard skills" like tool use, computer use and digital technology

Personal connections to faculty.

Faculty members exhibit their work and invest in their students. They bring their research and experiences into the classroom.

Classes on the campus of the world-renowned Toledo Museum of Art.

The four-story UToledo 

Center for the Visual Arts

 on the TMA's campus is home to the Department of Art. Students are steps away from the museum's 45 galleries, art reference library and visual resources collection.

Community collaborations.

Build your resume and portfolio with hands-on experience. Art majors have:

Curated exhibitions at "guerrilla galleries" in downtown Toledo
Designed and produced a 158-foot-long mural for a UToledo engineering building
Seen their artwork displayed on billboards in Toledo and the Detroit area through the Digital Billboard Project
Traveled with professors to New York City, Detroit, St. Louis, Chicago, Japan and China for classes and conferences

Internships.

Hone your skills at places like 

The Arts Commission

 in Toledo, the Toledo Museum of Art and UToledo's Department of Art.

The latest art-making tools.

The UToledo Art Department has a wood shop and foundry for bronze casting and metal forging. Art students have access to 3D printers, dark rooms, two digital studios, a laser etcher and CNC router.

Accredited.

The Department of Art in UToledo's School of Visual and Performing Arts is accredited by the National Association of Schools of Art and Design.

Graduate school options if you want to teach art.
What jobs can I get with a visual arts degree?
The University of Toledo prepares its graduates to find work in a constantly evolving arts job market.
Educator
Entrepreneur
Gallery owner
Visual effects artist
Web designer
Hands-On Learning Opportunities
At UToledo, we take you beyond the textbooks and the four walls of a classroom. These real-world experiences are what help our graduates gain professional skills and land jobs.
Internships
Research
Study Abroad
Rocket Kids Semester
On-campus and Part-time Jobs
Student Organizations
Tuition and Scholarships
Most new students don't pay full price. 94% of new UToledo students receive scholarships or other state and federal aid.
Keep in mind: Your cost will vary by college, program and a host of other options. This is the average amount full-time students pay per year.
---
How to pay for collegeInternational Student - How to Pay for College
Choose Ohio First scholarship
Ohio residents who have been accepted into this STEM program are eligible for the Choose Ohio First scholarship — a four-year, renewable scholarship.

Honors College
The Jesup Scott Honors College at The University of Toledo offer our best and brightest the resources and opportunities needed to unlock your fullest potential. Whether you aspire following graduation to cure disease, innovate technology, advance statecraft, redefine markets, or express creatively, together we can fuel vibrant and promising tomorrows.
Honors students come from a variety of countries, backgrounds and cultures. While we may bond over a tough class, our differences make us blossom.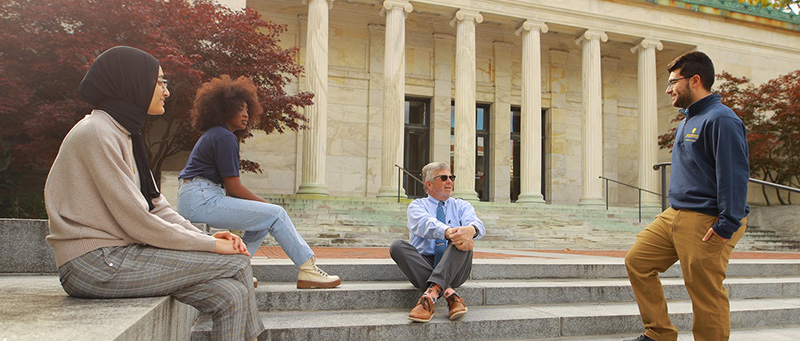 Benefits of Honors
The Honors College is a community of academically gifted students from all majors on campus. Students take unique Honors classes taught by dedicated Honors faculty and complete an Honors thesis or capstone project in their major, earning the Honors medallion at graduation within their normal program of study. Honors students are challenged to think more deeply and broadly about what they learn. With special academic, cultural, and professional development opportunities, their education extends beyond the classroom.
Honors students can also choose exclusive housing in the Honors Academic Village or the historic McKinnon, Scott and Tucker Halls.
Explore more about what the Honors College can offer you as a budding professional, inquisitive scholar, and engaged person.
Visit Campus
A campus visit is the best way to figure out if UToledo is a great fit for you.
Learn More and Register