Internal Sales Competition (ISC) - October 18, 2019
All day, 2 round tournament style sales competition where the top students compete (30) and serve as ambassadors (approx 20-30).  Recruiters act as judges, coaches, and buyers.  Access to student resumes and role plays are provided in advance to arrange custom coaching/interview assignments.  ESSPS Partners only.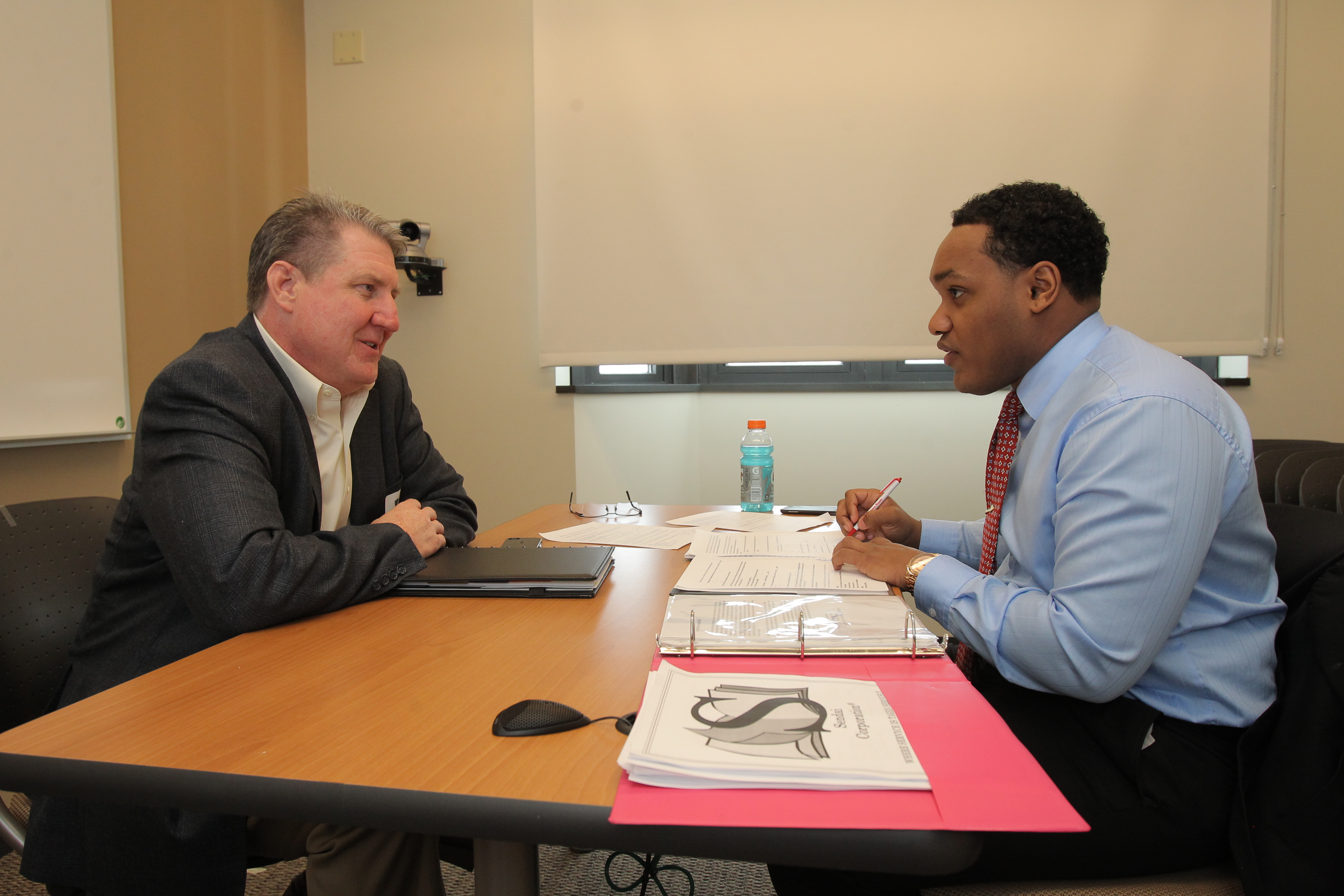 Agenda

8:30-8:45          Check-in, Networking, Breakfast
8:45-9:00          Welcome and Directions
9:15-10:55        Round 1
11:00-12:00      Lunch
12:15-12:45      Coaching/Interviewing Session
1:00-3:00           Finals
3:15-4:00           Awards and Networking


Directions and Parking
Park in lot 1N, 1S, or 17.  These lots are the closest to the Savage Business Complex (SB) and will not be ticketed for permits during the ISC. 


Resumes (code needed) - access competitor and worker resumes.  Emailed 1-2 weeks in advance
ESSPS Showcase (login needed) - access role plays from ISC, Sales Competition Team, and classes
CARLOS (login needed) - access role play schedules, role assignments, and results.  Emailed week of event
Sponsor Information


General
Sponsor attendees will provide coverage on the coaching/interviewing session*, judging*, and buying*.  We recommend a blend of Sales and HR professionals with more on the sales side to better connect with these top sales students.
Sponsor attendees will be scheduled for an entire round at a time to ensure fairness in the competition.  The students are competing within their role play rooms with the top students in each room advancing, so it is critical that the same judges evaluate each of the students and that the same person plays buyer for each of the students.  There are 2 rounds to the ISC (Round 1 and Finals), and we will be running 6 role play rooms simultaneously each round (Finals will be 2 role play rooms).
Judges*
Will use the following evaluation sheet.  Competitors will receive their evaluation sheets at the end of the competition.
Buyers*
Will have access to the public and private buyer profiles for the round(s) where they play buyer 1-2 weeks prior to the ISC
It is critical that the private buyer profiles remain private at all times
Students will receive the public profile for Round 1 3 weeks or more prior.  The profile for Finals will be distributed shortly after the Finalists are announced.
Coaches/Interviewers*
Will have 1, 30 minute block during the ISC to coach and/or interview students that have been selected for them.
Coaches/Interviewers are ESSPS program sponsors.  The number of student sessions per block for a sponsor will be determined based on overall headcount (student and sponsor) and sponsor level.  Higher level sponsors will get more coaching/interviewing sessions and more of the competitors than student workers.  When the number of students cannot be evenly distributed within the same sponsor level, those ESSPS program sponsors who are also UTISC sponsors will be given priority.

Student Information


Competing
Students are eligible to compete as long as they have NOT ACCEPTED a post graduation job offer.  Students with accepted internship offers are allowed to compete
To be considered for the ISC as a competitor, please complete the Sales Competition Team (SCT) Competitor Application
Senior Division is for students who have completed PSLS 3440 Sales.  Students currently in PSLS 3440 Sales and those who have not taken that class yet will compete in the Junior Division.  There will be 15 students in each division competing.  Those not selected to compete, will help to run the ISC.  All ISC student workers who submit resumes will have their resume shared with the sponsors, network, and possibly receive a Coaching/Interviewing Session.
Coaching/Interviewing Session is a 1-1 for 30 minutes with one of our sponsors
Students are expected to attend the entire ISC regardless of whether they advance or not
Champions receive a $1,000 scholarship from Marketing & Sales Executives of Detroit (MSED).  Other finalists receive gift cards to Amazon ( 2nd $100, 3rd $75, 4th-6th $50).
Peer Coaching
Peer coaching is encouraged to aid in the development of both the role play seller and peer coach
Students are eligible to be a peer coach if they have already accepted a post graduation job offer and/or have an proven track record of advanced placement with ISC and/or Sales Competition Team (SCT) 
Students may self-select and mutually agree on seller-coach pairings
Students who are looking for assistance to be paired up as the seller or coach are asked to indicate that in their Sales Competition Team (SCT) Application so the ESSPS can suggest pairings and facilitate introductions for students who are seeking connections
To be considered for the ISC as a peer coach, please complete the Sales Competition Team (SCT) Peer Coach Application
Peer coaches who have a seller make it to Finals will receive an Amazon gift card ($25)
Role Play Details
Preparation – Role Play
The call is a blend of information gathering and value propositioning.  Use your time wisely.
Sales call guides are an excellent way for you to create a road map for your sales call.  Templates (basic, corporate).  The corporate version is better suited for some in Senior Division.  Junior Division students might be more comfortable with the basic version.
Sample sales portfolios are available in the Huntington Sales Lab (SB 4200) for use in practice and in the competition.  You can come visit and work with them anytime M-F 10-5.  They are not available for field trips outside the lab.  A sales portfolio checklist is available should you want to create your own.
ESSPS faculty are available for coaching and practice – please just ask
ISC Workshops open to all competitors is being hosted by Pi Sigma Epsilon (PSE) in SB 4170 on 10/7 and 10/14 from 7-8pm
Watching the role plays from the previous ISC's can help set expectations and give you structure.  The ISC role plays are in the ESSPS Showcase in the Role Play Channel.  Doing a keyword search on Round 1, Semi Finals, and Finals will bring them up.  For those not formally in the classes yet, please contact the ESSPS for a special login.
Workers
ISC workers are students who we ran out of competition spots for, are looking to get some behind the scenes insights and networking before competing in the future, or are already placed

All ISC student workers who submit resumes will have their resume shared with the sponsors, network, and possibly receive a Coaching/Interviewing Session