Medallion Feature Stories
Honors Class Fights Food Insecurity with Donations Drive

By Jessica Harker: Nov. 27th, 2017
"48 percent of college students have experienced food insecurity in the last 30 days." This fact, posted on a trifold by Professor Michelle Davidson's Honors 1010 (Ideas, Innovation and Society I) class during the Showcase of Writing last Friday, reflects a serious problem in our community.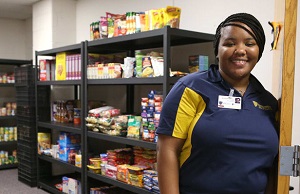 To address this issue, the HON 1010 class worked to create and promote a food drive benefiting the UT Student Food Pantry, which is available to all UT students and affiliates. This food drive, along with an informational presentation, was on display during the showcase last week in the Thompson Student Union.
"Our HON 1010 class is about collectivism and the behavior of humans as they operate in a group," said Nathan Banky, a first-year student studying Bioengineering who is in the class. "Each of us was given specific goals to organize the food drive, whether it was running social media accounts, creating flyers or graphics, conducting research, writing press releases – everything. The specific roles allowed us to see how we interact and behave when we are all working towards a common goal," he added.
This common goal was to alleviate the issue of college students facing food insecurity. "I found out a lot more than I thought I would," remarked Donovan Cleggett, a first-year student studying Criminal Justice. "Just because we go to college and can cover the costs of tuition doesn't mean we have money on the side to readily afford other things such as food," he said.
Despite the ready need for such a service, Cleggett explained that the Student Food Pantry has struggled to increase its donations – which is why his class decided to help.
"I think the biggest issue is getting the word out and promoting awareness," Banky said. "Because we didn't know this was a big issue at UT, I think our main goal is just to make people aware that there is a need for donations to this Student Food Pantry."
Along with organizing the food drive, the students raffled off a $25 Chipotle gift card, tickets for which were given for cash or canned food donations.
According to Prof. Davidson, the class was able to raise $48 in cash donations and brought in over 30 canned items. "The Student Food Pantry director tells me that cash donations can go quite a ways, because they can purchase food from some sources for 18 cents on the dollar. The money we raised is the equivalent of $250 dollars," she said.
Prof. Davidson said that the whole project was an experiment in "groupish" and "selfish" behavior, studying texts such as Jonathan Haidt's book "The Righteous Mind."
"I witnessed students step up and do more than their share to cover all components of the project and to make sure that their table was manned at the Showcase of Writing," she elaborated. "This class did a fantastic job pulling together all the elements of the project and covering the presentation and donation station."
For information on donating to the UT Student Food Pantry, see here.
---
Honors Student Secures CERN Internship

By Jessica Harker: May 4th, 2017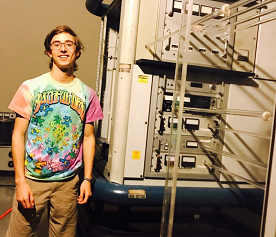 "It's like a kid wanting to be an astronaut and then all of a sudden they are able to work for NASA." This is how Jackson Schall, a second-year Physics and Mathematics double-major as well as an Honors student, said he feels about his internship with CERN this summer.
CERN, the European Organization for Nuclear Research, conducts cutting edge research in fundamental particles and is where physicists and engineers are probing the basic structure of the universe. "CERN is the biggest machine in the world, and the biggest scientific collaboration," Jackson said, "Their goal is just to pursue the fundamental areas of science." The research campus straddles the border of France and Switzerland.
"I applied to 17 different programs, and this was my top pick. I didn't expect to get it at all, really," he said. With only about 14 students being chosen for the internship out of 1,700 applicants, just two of which actually get to travel to work at CERN directly, the internship was exceptionally competitive. "Upon finding out, I immediately was like 'I don't care what other positions I get offered – I'm going to this one.'"
Jackson will be working on the research through Columbia University. The internship will pay around $6,500, and he will also have an apartment in France provided for the duration of his stay. "My role involves upgrading the machines, to get better readings on everything," he said. He will also be assisting with software, developing code to optimize processes in the system. "It's a good thing to put on my résumé as my first position – this will hopefully be a great start to a career." Too, he will be working directly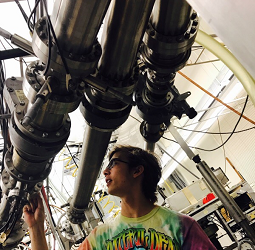 with the Large Hadron Collider – specifically the Atlas detector.
Jackson cites the Honors College as influential in his securing the internship due to the opportunity it presented him to work closely with Dr. Vani Cheruvu, associate lecturer of Mathematics. He was the only Honors student in his section with her, which allowed them to collaborate together. "I'd spend like two hours working with Dr. Cheruvu a week by myself," he said. "It really helped in that aspect. I still have a great relationship with her, which will help in the future." Jackson also credits his accomplishment with the support of Dr. Rick Francis, the Director of Research Advancement and Information Systems at UT, who offered Jackson a strong letter of recommendation along with Dr. Cheruvu.
"If you're in the Honors College, you do more work – and that will get your foot in the door to be able to push yourself to achieve more," Jackson added. "You just have to keep grinding."