Student of the Week Profiles
Charles Reed

Though research can be routine and formulaic, JSHC students are at their best when they are challenging assumptions, breaking barriers, and working between fields and traditions. Senior English major Charles Reed illustrates this powerfully with his Honors thesis. He first opted to write a traditional paper analyzing similarities between various stories with similar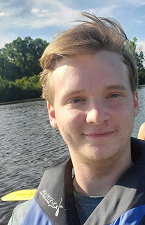 themes, but later he was inspired to pen a short story accompanying his argument!

In it, Charles scrutinizes poverty, the American Dream, and the impossibility of bootstrapping one's way to success. "My overarching argument is that capitalism requires exploitation and employs certain tactics to manufacture your consent to that exploitation - exploitation which happens on all levels and is participated in by the exploited," he said. The short story he wrote to pair with his argument offered commentary on the lasting effects this exploitation has on the future of society. "I tried to look at how society will change if unfettered capitalism is allowed to continue prioritizing profits over humans and the environment, where that breaking point is, and what will happen when we hit it," Charles added.

Honors English students such as Charles are required to take a writing seminar course for the thesis. There they work through a rigorous process, produce multiple drafts, engage constantly with their peers, present their research at an undergraduate showcase, and defend their thesis to a committee of at least three professors.

This undertaking was one of the most rewarding experiences Charles has gotten out of the JSHC. Not only was he able to actively work with dedicated peers and professors inside and outside of class, but it prepared him for what's to come in graduate school! In the long run, Charles hopes to make a living as a writer. "I adore how writing impacts the world," he said. "Being able to produce a work that evokes emotions out of someone is one of my favorite things."

Favorite Honors Class: "Definitely my 'Science and Cinema' seminar with Prof. Dan McInnis!"
---
Madison Hoffman

Madison Hoffman has been trained by her Honors experience to challenge any information presented to her earnestly and to critically analyze her surrounding reality. With a plan to earn an M.B.A. while committing herself to a career in the health and wellness field, understanding the truth behind everyday variables will push this Health Care Administration major to become her greatest self!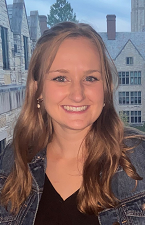 Preparing to graduate this December with the medallion, Madison has already begun to leave her mark on this community. For her Honors thesis, she's exploring at a local facility the discrepancy between the number of days that patients are actually staying in the hospital and the number of days that each diagnosis typically calls for. Because of the caps that insurance companies place on the number of days they will financially cover, the issue has had disastrous clinical, financial, and operational impacts. In her project, Madison identifies the obstacles that contribute to extended lengths-of-stay, its implications, and recommendations to resolve the issue.

Research is surely not new to Madison thanks in large part to the opportunities provided to her in her Honors classes and extracurricular activities. One of her favorite projects was for an Honors Learning Contract where she analyzed the unconscious biases women face in negotiation settings before proposing solutions for the injustice. Another JSHC opportunity she was grateful for was the Q&A session with the director of Recovery Boys. Madison says, "The documentary really opened my eyes and gave me a greater understanding of the opioid epidemic as well as the obstacles that those in the throes of addiction or even recovery face."

Advice to Honors Students: "I had the opportunity to join the Klar Leadership Academy a few years ago, and I highly recommend it to anyone who has the chance to pursue it! The personal growth I experienced throughout my time with the group is unmatched, and it is a huge part of who I am today."
---
Kevin Fruth

Kevin Fruth has had a college experience defined by a unique theme – cars! The Chemical Engineering senior set to earn his Honors medallion and graduate this semester is, after all, fresh off an incredible win at the 2021 American Institute of Chemical Engineers Annual Student Conference Chem-E Car Competition in Boston.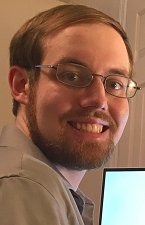 The goal of the competition was to devise and build a car the size of a shoe box that could travel a target distance and be propelled and stopped by chemical reactions. Kevin served as the team captain for multiple years, organizing his peers as they spent hundreds of hours in the laboratory preparing for the competitions. This year, against twenty other teams from around the world vying for the championship, the UToledo team utilized a homemade zinc and nickel oxyhydroxide alkaline battery to propel their car and a chemical "chameleon" reaction to stop their car. They named it "Zinc-asaurus Rex." "Our Chem-E Car Team's recent victory in the international competition was the perfect way to cap off my last semester serving as team captain," Kevin said, "and I am excited for our team to build upon this success with better and more ambitious cars in the future."

Before finding success with a miniature car, Kevin built fond Honors memories with an oversized Cadillac. He worked with The Voice of Honors for the 2017 UToledo Homecoming Parade to decorate the vintage convertible owned by JSHC faculty member Dr. Page Armstrong. But, when the car failed to start, he helped her push it into a parking lot instead of walking in the parade. Though sad to have missed out on the parade itself, he was elated to learn that The Voice of Honors won first place in the float car division!

Kevin will move into a position after graduation at BP's Toledo oil refinery as a Process Engineering Challenger. What his college years have shown him is that hard work really does pay off. After pouring exhaustive effort into each course and extracurricular activity, including the pancake-eating contest where he tied for first place after consuming twenty, his dedication has earned him enduring friendships and meaningful classroom experiences.

Interesting Academic Fact: "I had the honor of being selected as one of the College of Engineering's two Fall 2021 Senior Scholars for graduating with a perfect GPA!"
---
Amaka Njoku

With the ambitious goal of dental school in mind, Amaka Njoku is committed to taking advantage of every opportunity she has as a Rocket. Pairing her rigorous Bioengineering curriculum with the critical thinking skills emphasized in her Honors classes she expects will give her a decisive edge in her career. In fact, it's already paid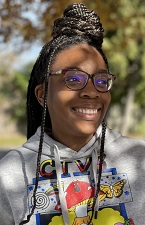 off! She heard about Regeneron Pharmaceuticals, where she is currently on co-op despite pandemic obstacles to getting hired, from a friend in the JSHC.

Amaka attributes her growth as an Honors student in particular to Professor Dan McInnis. "His HON 1010 class really made me more confident speaking in public and sharing my ideas," she said. Amaka also learned a lot listening to the other students' viewpoints in the course, getting a glimpse thereby of the world as they see it.

Her Honors section of BIOE 1000 presented Amaka with another unique chance to excel. During her freshman year, she worked as part of a group to design a novel device – a timed lamp. "The idea was to make the lamp useful for studying," Amaka said. "It blinks after a set amount of time so you don't have to use your phone to check the clock, which could lead to distractions." When her group finished it, they were invited to present the device at the Senior Design Expo!

Favorite Pastime: "I also discovered my love for art through my HON 1010 class. I eventually started producing beats and posting them on my YouTube page. You can find them under my username, 'Prod By Amaka!!'"
---
Phoebe Kahler

While her Nursing major has equipped her for success in her career, completing its curriculum as an Honors student has elevated Phoebe Kahler's preparation for the future to a whole other level. Because of her involvement in the JSHC, she now possesses sharpened clinical skills and even has a publication under her belt!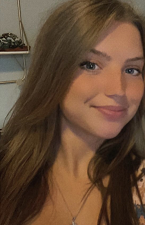 For her Honors capstone project, Phoebe studied ways to prevent surgical site infections in postoperative patients – work that will undoubtedly improve the health outcomes of those in her care. The research should also aid her eventual transition into graduate school, she says. After graduating in December, Phoebe will work in an intensive care unit at ProMedica Toledo Hospital before becoming a Certified Registered Nurse Anesthetist.

Phoebe's Honors coursework also led to her authoring a publication with ProMedica Toledo Hospital! With other JSHC students in her cohort, Phoebe researched the effects of social media on nursing education and concluded that it can be powerfully utilized to enhance learning. "In a society widely influenced by social media," she says, "it's beneficial for educators to find ways to incorporate its use to better reach students in a collaborative environment."

Value of Honors: "The Honors College has had a huge impact on my college experience and has really improved my critical thinking skills – essential for my career!"
---
Pawandeepsingh Dhingra

Engineers don't just design and build walls – they sometimes break right through them! Pawandeepsingh Dhingra, a junior in Electrical Engineering, has dedicated himself to tearing down the barriers at the edge of his comfort zone to achieve continuous growth. He advises incoming Rockets to try different things and to meet new people, including those who don't think the way you do – to not be afraid to fail. "Every opportunity is a chance to learn, so don't worry if you fail," he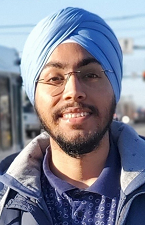 suggests. "Failing is far worse than not trying, and certainly you need a good story to speak about when celebrating your eventual success!"

Pawandeepsingh took his own advice recently, deciding to join a JSHC trip to Imagination Station though he knew little about the interactive science museum. There, he met a slew of new acquaintances, built and raced air-powered cars, rode on a cable-wire bike suspended high in the air, and defied gravity. "With the pandemic taking so much from students, I've really enjoyed using the Honors College as a way to explore campus and Toledo as well as have critical yet fun discussions with my peers," he said. "Embracing growth in this manner has been so freeing!"
The strategy has also been comforting and has offered a boost to Pawandeepsingh's mental health. "Before coming to America, I was very anxious about living in a country where I didn't know anyone," he shared. "To ease this pressure, I started to vlog about my experiences." Discussing everything from the UToledo campus to how to get a driver's license to what destinations to visit in the Toledo area, he found that these vlogs were also helpful for other international students planning on studying in the U.S.!

Favorite Activities: "I love cinematography and being outside enjoying nature. Visiting parks and hiking are my favorite things to do on weekends. I'm also passionate about CNC machining, robots, and autonomous driving – which I plan on taking with me into the automation and robotics industry after graduation. Eventually, I would like to have my own start-up and work towards the betterment and ease of human life as an entrepreneur."
---
Khoi Ho

When asked to identify his favorite academic and fun memories at UToledo, senior Khoi Ho said that the best of them intertwine. If you're having fun, hopefully you've learned something and, if you're learning something, hopefully you're having fun! Luckily for the Finance and Information Systems double-major, he is doing a lot of both in his Honors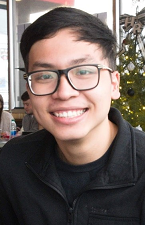 experience.

For example, Khoi explained how much he enjoyed exploring the Old West End with his peers in Dr. Emily Bedwell's HON 2010 "Multicultural Toledo" course. It wasn't just an entertaining field trip. It also made Toledo feel far more intimate to him – a place with history as well as a place of comfort. He also recalls the fun he had conversing with his classmates in Prof. Dan McInnis's HON 1010 "Ideas and Society" class. There, Khoi was exposed to both interesting and novel viewpoints while also strengthening his critical thinking skills.

At UToledo in general, he has also been able to grow through his professional fraternity, Pi Sigma Epsilon. Khoi said, "In this organization, I have held several positions, represented my chapter in college-wide and nationwide competitions, and have become a mentor to the other members by providing support and guidance whenever they need it."
Interesting Campus Job: "I work as a tour guide on campus. I have had an awesome time talking to prospective students and their families on the tours. There is one good thing and one bad thing about this job. The good thing is that the more I work, the more UToledo grows on me. The bad thing is I'm not ready to graduate in Spring and leave it all behind!"
---
Jacob Connolly

In a pool of applicants 5,000 deep, with only 68 awards ultimately grants to students in his field, Jacob Connolly nevertheless stood out and beat the odds. The senior Bioengineering major earlier this year became the second Honors student over the last three years to receive a Goldwater Scholarship – one of the country's oldest and most competitive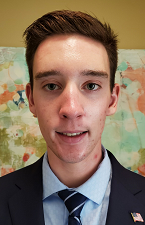 recognitions in the areas of science and mathematics.

Jacob earned the prestigious distinction for his research into the role of paraoxonase enzymes in the kidneys, where he studied connections between a variety factors on the speed of cognitive decline in the presence of chronic kidney disease. Jacob explains that his success came mostly from making connections in his field. "There are so many advisors, professors, and mentors at UToledo who are willing to help you achieve your goals," he said. "I always tell other students to reach out to them and use their knowledge and experience to your advantage. Success won't come automatically, but if you work hard, put your mind to it, and use the resources around you, you can achieve just about anything."

Jacob also credits the JSHC in no small part for the achievement, as Honors classes have allowed him to work more closely with professors and gain a deeper understanding of the course content. The JSHC also connected him with a group of students who are similarly driven and have interests close to his, providing Jacob with an academic support system as well as friends to engage with outside of school.

Advice to Honors Students: "What you get out of your college experience is based on what you put into it. If you are willing to invest the time and effort into your academic work, extracurricular activities, and social engagements, there is no limit to what you can achieve."

---
Diego Gamboa Pabon

Though moving from another continent has not been without its challenges, international student Diego Gamboa Pabon is grateful for the opportunity to grow amidst the transition. After all, the Colombian's life motto points out that anything uneasy in life can be morphed into something helpful so long as you remain passionate about what you do.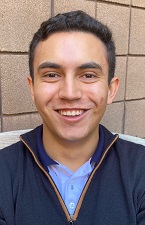 For example, Diego wasn't originally planning on conducting research in his Chemical Engineering major prior to his senior year. But, with his motto in mind, he decided to begin working early with Dr. Ana Alba-Rubio on issues related to catalysis. Diego discovered through the labor something even more interesting than his lab results. His newfound zeal for research has led him to a goal of earning a graduate degree in his field so that he can continue this work.

Understanding the importance of this philosophy on his own life prepared Diego well to engage with prominent themes in his HON 1010 class. Under Dr. Leslie Chambers, the class watched and interpreted famous movies through the lenses of different critical theories. Diego particularly found enjoyment in watching Monsters, Inc. and psychoanalyzing the characters. After doing so, he says he has been able to understand people more clearly though their needs and emotions rather than their actions.

Recommendation to Students: "I would encourage you in this kind weather to go outside and take naps on the grass or do your homework outside. You will regret not seeing the view – it's just you and yourself, nurturing your soul."
---
Clare Krzykala
While many students aspire to a career helping others, Clare Krzykala has grander ambitions. "My dream is to do more than 'help' – I want to lead, heal, mentor, inspire, encourage, and advocate for others who have experienced adversity and trauma in their lives," she said. The Law and Social Thought and Pre-Psychology double-major hopes to do this by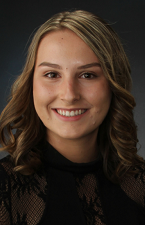 eventually earning a Ph.D. in Neuropsychology.

Fittingly, Clare's favorite Honors course centered on discussions of monsters and what defines the "monstrous." Alysha Cook's HON 1010 encouraged Clare and her peers to reflect on how best to treat others by conversely discussing works of fiction with sinister plots and characters, such as Grendel and Coraline, as well as the nature of evil.

Another JSHC course, HON 3010, has also been a formative experience on Clare's journey. By working in a multi-major student team with a non-profit organization in the Toledo area, Clare says she's learning much about creating solutions to real-world problems impacting our community. Her group is collaborating with Women of Toledo to support female Toledoans in enriching their social and professional networks. "I'm interested in starting a nonprofit organization in the future myself, and I feel that this class is preparing me well to implement the kind of change I want to see in the world."

Interesting Personal Fact: "I'm always busy being active: playing basketball, canoeing, camping, cooking, and even performing."
---
Mai Mang

The transition to college from high school can be a challenging time for any student, but especially so for those who experience the milestone thousands of miles away from home. Originally from Vietnam, Honors Pre-Business major Mai Mang wisely jump-started this process by finishing her last two years of high school in the United States. The initial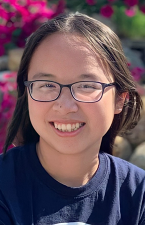 homesickness, language barriers, and culture shock were replaced by campus involvement, leadership, professional growth, and friendships by the time she became a Rocket!

Just a few weeks ago, Mai attended Rhiannon Giddens's performance at the Toledo Symphony Orchestra along with the Honors Learning Community. The event featuring the renowned musician who plays multiple instruments and can sing in multiple languages did not disappoint. "I had never been to a symphony performance before, so that was super awesome," Mai said. She also has been actively involved in the First Look series with Dean Heidi Appel where they have visually analyzed photos, discussed imposter syndrome, and even drew their own cartoons under the guidance of a published cartoonist.

Mai's self-growth has mirrored her professional development in her classes. Her entrepreneurship project in an Honors "Introduction to Business" course stands-out in this regard. "I get to become an entrepreneur, to come up with a product idea and work through the development process," Mai said. The product will fulfill current market needs, solve content-specific problems, and accompany a mini-business plan reflected in a narrated PowerPoint.

Fun Personal Fact: "I have been elected by my peers to serve as the Public Relations Chair for the MacKinnon Hall Council. It will be a great opportunity for me to enhance my leadership skills and get to know more people!"
---
Sarah Atallah

As a Biology student, Sarah Atallah's days are pretty consistent – listen to lectures, study for tests, and experiment on rats. Though she adores this routine (even the rats!), she finds her JSHC core classes indispensable for how they develop her public-speaking skills and self-growth as an individual. "In HON 1010, we read The Plague by Albert Camus," Sarah recalled. "The in-depth discussion that followed about how the book related to the COVID-19 pandemic was so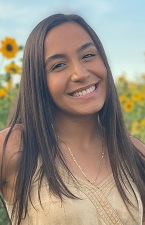 interesting!"

As an Honors Student Ambassador, Sarah has relished the opportunity to pay-it-forward with incoming Rockets. Her favorite event in the role thus far has been Jesup Jam, where she clued new Honors students into what they could expect in their academic future. "Doing so was incredibly fulfilling," she says, "and I really felt like I was helping some of them become a little less nervous about their classes."

This investment in her community is hardly unique, though. Sarah additionally serves as an Admissions Ambassador for the university and as the Visual Arts Chair for Campus Activities and Programming, a group which plans events to foster a fun and stress-free environment for all Rockets. She is also a member of Camp Kesem, which hosts a summer camp for children battling cancer, and is the Vice President of PERIOD-MEDLIFE. This group combats the stigma surrounding menstrual health and promotes global access to water, food, shelter, and healthcare that is free as well as adequate.

Interesting Personal Fact: "My sister, Marina, graduated from UToledo with her JSHC medallion earlier this year. She is actually one of the reasons I joined the Honors College!"
---
Sami Alchakaki

Sami Alchakaki is, as a future medical student, on a mission. After learning that college is all about doing your best to succeed in as many areas of life as possible, he's identified the Honors College as one of the most helpful tools to do so. "When you're in college, nothing is straightforward and simple," he says. "You have to think about how you're going to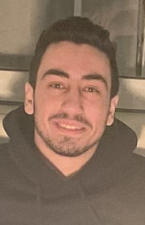 excel in your classes and your social life as well as how you're going to become a better person." He sees this issue a lot in his Biology major, where you must read between the lines of the lecture and see past the data into the real-life scenarios.

As it turns out, excelling in Honors classes isn't all that challenging. Since these courses tend to be smaller than normal, Sami finds his professors can devote more time to each student while they enjoy more freedom to bounce ideas off each other. "Taking Honors classes gives students different pathways and opportunities than a core subject may make available on its own," he notes. Sami was also surprised in HON 1010 "Ideas and Society" how manageable it was to juggle reading two books at once, and how doing so clarified parallel social and political tones in the texts. The course also made it easy, he says, to relate its content to the real world while allowing students to open-up about their personal pasts and opinions.

To boot, the JSHC's own Dr. Heidi Appel is the most welcoming dean Sami has ever met. He cites her as one of the main reasons is so passionate about Honors. He got to meet her over a Zoom meeting during the summer where she connected him more deeply to the JSHC to develop his future goals. What stood out most was when she told Sami, "If you need anything, I'm there for you."

Interesting Personal Fact: "I've been observing the night sky with my own telescope for the last few years! I want to further expand my interest in this hobby and possibly turn it into a side job, where I work somewhere part-time that involves observing the night sky or analyzing resultant data."
---
Andrew Gerts

Now a senior Biology student, Andrew Gerts walked into his freshman year on campus without knowing a soul. Fast forward, and Andrew is deeply involved in the campus community and beyond! Attempting to improve the lives of as many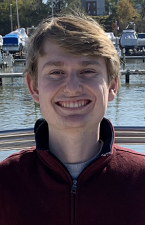 people as he can, his gratitude for others has morphed into a personal mission to support medical personnel around the globe.

"I have been volunteering at a free clinic for the last three years," Andrew said. "During my first year there, I noticed many doctors didn't know the medical abbreviations for some of the diagnoses. They would often ask Siri what the medical abbreviation was for a certain condition, but Siri wouldn't know." In response, Andrew co-developed an app that provides the medical abbreviation for any condition.

His zeal for helping others has also been demonstrated on the international stage. One of his favorite memories in college was traveling to Jamaica with the Honors College in April 2019. "We stayed there for about a week, and it didn't feel like enough time," Andrew says. On the trip, he met amazing people, handled supplies and held workshops with the citizens, and was even able to play soccer with the local children.
Fun Personal Fact: "In my free time, I love doing anything auto-related. I really enjoy working on cars and I built a replica Shelby Cobra from the ground-up."
---
Michelle Cherian

Success is the sum of small efforts, repeated day-in and day-out. This concept has optimized Michelle Cherian's discipline and success with online classes, molding friendships in student organizations, furthering her career aspirations, and strengthening her leadership skills. Few things can be considered "huge tasks" when you break them down into bite-sized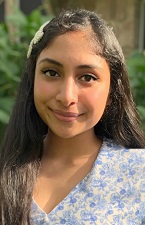 and low-stress pieces!

This may be why Michelle's favorite Honors class has been the eye-opening HON 2010 "Multicultural Toledo" taught by Dr. Emily Bedwell. Michelle learned there about the rich history of the Toledo community – not through lectures and textbook readings, but through encountering the city on her own. The class emphasized in-person engagement by assigning neighborhood walkabouts, asking students to journal about the experience and sharing their reflections with each other. Doing so educated Michelle and her peers about the socioeconomic development of Toledo as well as its intersections with religion, race, and community groups.

In January of 2020, Michelle was also able to travel to Honduras with Global Medical Brigades. Though traveling abroad is no "small effort," it was the little victories during the trip that made the world for the communities she served. There, she showed children how to wash their hands and brush their teeth as well as taught adults about their general health and gynecology. Last March, Michelle also traveled to the Galapagos Islands with JSHC Dean Heidi Appel and six other Honors students. There, through exploration and conversation, they learned first-hand the importance of biology and conservation within the region.

Favorite UToledo Experience: "My trip to Honduras taught me about the privileged position I occupy living in the United States. It forced me to re-evaluate my own life and remain appreciative of the things and experiences that I have the ability to enjoy."

---
Eryn Close

Eryn Close lives by a simple motto: it's important to remember that, when you put yourself out there and take professional risks, the worst thing that can happen is someone tells you "no!" Though simple, the Exercise Science major attributes her success with job opportunities (even those she might not feel qualified applying for), making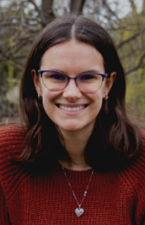 friends, and her work in the Motion Analysis & Integrative Neurophysiology Lab to that mindset.

Just starting her second year at UToledo, Eryn has already gained a leadership role in MAIN HUB, a new research club on campus, and even acquired a job assisting with lab work. She also volunteers with doctoral students in collecting and processing data on adolescent running biomechanics and was accepted to present her work at the American Society of Biomechanics conference! Her abstract focuses on the ways in which different shoe types affect the joint angles of adolescent runners.

That same motto also encouraged Eryn to join the First Look program when she started her first month of college. Though COVID-19 restrictions would keep the group from interacting in-person, she thought, "Why not give it a try?" Since then, she's been amazed by students and faculty participating in it from all different departments with unique specialties. "What really struck me was how involved the faculty were," Eryn said. "They were engaged in activities and spoke to the returning students with comfortable familiarity, which really showed me how close-knit the Honors College is."

Favorite Honors Course: "I loved the way HON 1010 'Ideas and Society' was designed around a semester-long theme and was a discussion-based class. My professor, Alysha Cook, really valued our ideas about the texts as much as the texts themselves!"
---
Priyanka Pulvender

Though the lab can form the boundaries of many scientists' worlds, days spent measuring or analyzing results and repeating experiments, Priyanka Pulvender's horizons extend more broadly. Beyond her classes and research, the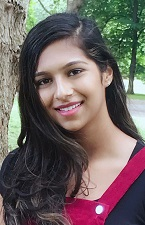 Bioengineering major is focused on creating a more vibrant campus-life as well as an equitable society.

After beginning her academic journey, Priyanka quickly noticed that all of her favorite moments of college included socializing and welcoming arms: game nights with The Voice of Honors; being introduced to the city through HON 2010 "Multicultural Toledo;" and joining Campus Activities and Programming – which helps plan the fun parts of almost any come-one-come-all event on campus. Priyanka relishes the amazing feeling of being surrounded by like-minded people. Whether it's through Honors classes or joining a club that engages your moral values or satisfies your expectations of a good time, a university that feels like home is the perfect place to stimulate important conversations and have the time of your life.

Considering that, Priyanka decided to found her own chapter of a club on campus. PERIOD-MEDLIFE focuses on ending period poverty, running educational workshops to challenge the stigma surrounding menstruation, and collaborating toward sustainability. The club has welcomed dedicated students from all over campus who are driven to service.

Interesting Personal Fact: "I'm excited to start as an Honors Student Ambassador and to work with prospective Rockets after my co-op this semester concludes! I would really like to express my appreciation for all UToledo has done for me."