Student of the Week Profiles
Andrew Gerts

Now a senior Biology student, Andrew Gerts walked into his freshman year on campus without knowing a soul. Fast forward, and Andrew is deeply involved in the campus community and beyond! Attempting to improve the lives of as many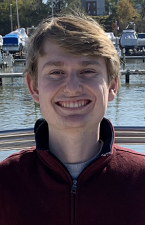 people as he can, his gratitude for others has morphed into a personal mission to support medical personnel around the globe.

"I have been volunteering at a free clinic for the last three years," Andrew said. "During my first year there, I noticed many doctors didn't know the medical abbreviations for some of the diagnoses. They would often ask Siri what the medical abbreviation was for a certain condition, but Siri wouldn't know." In response, Andrew co-developed an app that provides the medical abbreviation for any condition.

His zeal for helping others has also been demonstrated on the international stage. One of his favorite memories in college was traveling to Jamaica with the Honors College in April 2019. "We stayed there for about a week, and it didn't feel like enough time," Andrew says. On the trip, he met amazing people, handled supplies and held workshops with the citizens, and was even able to play soccer with the local children.
Fun Personal Fact: "In my free time, I love doing anything auto-related. I really enjoy working on cars and I built a replica Shelby Cobra from the ground-up."
---
Michelle Cherian

Success is the sum of small efforts, repeated day-in and day-out. This concept has optimized Michelle Cherian's discipline and success with online classes, molding friendships in student organizations, furthering her career aspirations, and strengthening her leadership skills. Few things can be considered "huge tasks" when you break them down into bite-sized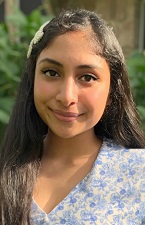 and low-stress pieces!

This may be why Michelle's favorite Honors class has been the eye-opening HON 2010 "Multicultural Toledo" taught by Dr. Emily Bedwell. Michelle learned there about the rich history of the Toledo community – not through lectures and textbook readings, but through encountering the city on her own. The class emphasized in-person engagement by assigning neighborhood walkabouts, asking students to journal about the experience and sharing their reflections with each other. Doing so educated Michelle and her peers about the socioeconomic development of Toledo as well as its intersections with religion, race, and community groups.

In January of 2020, Michelle was also able to travel to Honduras with Global Medical Brigades. Though traveling abroad is no "small effort," it was the little victories during the trip that made the world for the communities she served. There, she showed children how to wash their hands and brush their teeth as well as taught adults about their general health and gynecology. Last March, Michelle also traveled to the Galapagos Islands with JSHC Dean Heidi Appel and six other Honors students. There, through exploration and conversation, they learned first-hand the importance of biology and conservation within the region.

Favorite UToledo Experience: "My trip to Honduras taught me about the privileged position I occupy living in the United States. It forced me to re-evaluate my own life and remain appreciative of the things and experiences that I have the ability to enjoy."

---
Eryn Close

Eryn Close lives by a simple motto: it's important to remember that, when you put yourself out there and take professional risks, the worst thing that can happen is someone tells you "no!" Though simple, the Exercise Science major attributes her success with job opportunities (even those she might not feel qualified applying for), making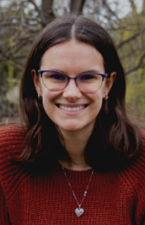 friends, and her work in the Motion Analysis & Integrative Neurophysiology Lab to that mindset.

Just starting her second year at UToledo, Eryn has already gained a leadership role in MAIN HUB, a new research club on campus, and even acquired a job assisting with lab work. She also volunteers with doctoral students in collecting and processing data on adolescent running biomechanics and was accepted to present her work at the American Society of Biomechanics conference! Her abstract focuses on the ways in which different shoe types affect the joint angles of adolescent runners.

That same motto also encouraged Eryn to join the First Look program when she started her first month of college. Though COVID-19 restrictions would keep the group from interacting in-person, she thought, "Why not give it a try?" Since then, she's been amazed by students and faculty participating in it from all different departments with unique specialties. "What really struck me was how involved the faculty were," Eryn said. "They were engaged in activities and spoke to the returning students with comfortable familiarity, which really showed me how close-knit the Honors College is."

Favorite Honors Course: "I loved the way HON 1010 'Ideas and Society' was designed around a semester-long theme and was a discussion-based class. My professor, Alysha Cook, really valued our ideas about the texts as much as the texts themselves!"
---
Priyanka Pulvender

Though the lab can form the boundaries of many scientists' worlds, days spent measuring or analyzing results and repeating experiments, Priyanka Pulvender's horizons extend more broadly. Beyond her classes and research, the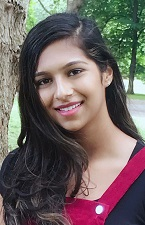 Bioengineering major is focused on creating a more vibrant campus-life as well as an equitable society.

After beginning her academic journey, Priyanka quickly noticed that all of her favorite moments of college included socializing and welcoming arms: game nights with The Voice of Honors; being introduced to the city through HON 2010 "Multicultural Toledo;" and joining Campus Activities and Programming – which helps plan the fun parts of almost any come-one-come-all event on campus. Priyanka relishes the amazing feeling of being surrounded by like-minded people. Whether it's through Honors classes or joining a club that engages your moral values or satisfies your expectations of a good time, a university that feels like home is the perfect place to stimulate important conversations and have the time of your life.

Considering that, Priyanka decided to found her own chapter of a club on campus. PERIOD-MEDLIFE focuses on ending period poverty, running educational workshops to challenge the stigma surrounding menstruation, and collaborating toward sustainability. The club has welcomed dedicated students from all over campus who are driven to service.

Interesting Personal Fact: "I'm excited to start as an Honors Student Ambassador and to work with prospective Rockets after my co-op this semester concludes! I would really like to express my appreciation for all UToledo has done for me."