2016-2017 Student of the Week Profiles

Olivia Sagan

"The Honors College has opened so many doors for me that I did not think were possible at a large university."
Only days away from receiving her Honors Medallion, senior Olivia Sagan has truly made the most of her four years at UT. A Biology student on the Pre-Med track, Olivia has a long list of academic achievements under her belt. These include the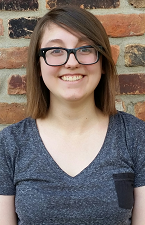 accelerated Baccalaureate to MD program, the Salford Exchange Program, extensive undergraduate research, and participation in the National Conference of Undergraduate Research. "I will always be thankful for the opportunities I've had here and incredibly proud of the work I have done," she said.
Olivia was attracted to UT for its size and opportunities in the BAC/MD program, which offers promising undergraduate students interested in a medical career streamlined admission to UT's College of Medicine and Life Sciences. Considering all of this, she said that "going Honors" seemed like the natural next step in her educational journey. "I was very involved in high school with honors and Advanced Placement classes," she explained. "The Honors College at UT was the best way for me to not only advance my learning, but also to be a part of a community that feels the same way about and supports the educational process."
As her time as an undergraduate comes to a close, Olivia identifies one of her biggest accomplishments as the current research that she is doing. "All of my academic work has been able to be used in a physical context, which is not only satisfying, but honestly really cool," she said. "I feel like a member of the greater scientific community and was able to present my research on a national level, which was a huge accomplishment."
Before she embarks on her next step, Olivia reflects on what the Honors College has meant to her in her undergraduate years. "I met so many people in the Honors Learning Community my freshman year that have become my closest friends and my support system. The Honors College has given me opportunities that have made me who I am today," she said.
---
Kebron Assefa

"I see the Honors College as so many opportunities for myself and a chance to widen my horizons."
A freshman studying Biology, Kebron Assefa has had a different adjustment period than most students here at UT. Kebron is an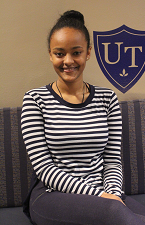 international student from Ethiopia, something she says has entailed the ultimate learning curve. "When I got here, I had to learn an entirely new teaching system and a new culture at the same time," she said. "My professors have been so helpful, which just makes me love UT even more."
Academically, Kebron says she is proud of the relationships she's been able to form with her professors. "Even in huge lecture halls, I've really gotten to know them and they've gotten to know me," she explained. "Not only is that good for recommendations, but it makes me proud to know I have gone the extra mile."
Kebron was drawn to the Honors College for the small class sizes and chances to learn beyond her major. She joined after her first semester at UT, adding to a long list of campus involvement. This includes the Ethiopian Student Association, the International Students Association, the African People's Association, and voluntary tutoring. "I wish I joined the Honors College earlier so that I could have gotten more involved in it this year – but I'm excited to do just that in the coming years," she said.
---
Francis Mok

"I joined the Honors College because I believe that it is incredibly important to challenge yourself intellectually every day."
In only two semesters, freshman Francis Mok has proven that he is determined to make a change and get involved here at UT. An Electrical Engineering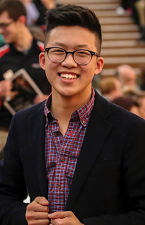 major, an active photographer, and a native of Toledo, Francis says that he chose UT in hopes of giving back to the area. "So many people want to leave their hometown when it is time to go to college, but I wanted to stay in Toledo to help it grow and develop," he said.
With a résumé including organizations such as Student Government, Chinese American Student Association, Filipino American Association, and his fraternity, Pi Kappa Alpha, it is clear that Francis has a passion for student leadership and interaction. "I would love to see different campus groups interact more," he said. "Diversity is something that everyone should be involved in." He has helped plan events through Student Government such as the recent Academic Gala and has been working with the Chinese American Student Association to bridge connections with other universities. "I am always asking myself: how can we further engage students with the university and community?" he added.
Within his personal and academic life, Mok says that he has already begun to appreciate and understand the Honors Experience. "Honors classes have expanded my mind and have made me want to engage more in my classes and on campus," he said. "I see the Honors College as an important way to distinguish yourself and to hold yourself to a higher standard every day."
---
Grisoranyel Barrios

"The Honors College is that ideal family; the one that makes you feel capable of accomplishing your goals and encourages you to be the absolute best version of yourself."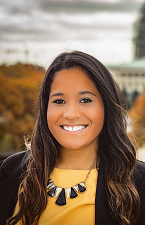 Grisoranyel Barrios, known as "Griso" to her peers and professors, has not taken any aspect of the Honors experience for granted. A senior studying Political Science and Social Work, Grisoranyel says she chose to join the Honors College because of the exceptional administration and opportunities to challenge herself. "I actually was not in the Honors College my freshman year; I joined it my sophomore year," she said. "Since I did all of my college applications on my own, I was focused on applying correctly and doing the absolute musts to attend UT. I was so determined to be in it my sophomore year, I actually emailed advisors and Success Coaches just to see what I needed to do."
With a résumé including Blue Key membership, Vice President of the Catholic Student Association, a study abroad trip to Germany, and internships within the City of Toledo and in Washington, D.C., Grisoranyel has forged the Honors College into a tool for her success. "There are so many things I've done here that I thought would only happen in my wildest dreams," she said. "With the support, encouragement, and help from the Honors College, I was able to make those dreams a reality."
Ultimately, the family atmosphere has been one of the key factors in creating her love for Honors and her drive to succeed. "It has allowed me to be around like-minded students and staff that inspire as well as push me to reach my full potential – to become fearless and resilient when it comes to my studies. I honestly feel that all things are possible."
---
Abel Castillo

"The Honors College has already encouraged me to take a step into unknown studies and has piqued my interest in many outside organizations."
Abel Castillo, a freshman studying Biology on the Pre-Med track, has a multitude of goals for his remaining time at UT – many that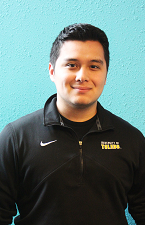 he has already put into action. Drawn to UT for its location and well-developed Pre-Med program, Abel said that going Honors was an easy decision. "I want to expose myself to every opportunity available to me," he said. "I see nothing but benefits in the Honors experience."
Abel is a 2016 Presidential Scholar, one of UT's chief distinctions. "It means a lot knowing that the University invested so much in me," he said. "The Presidential Scholarship is my prime motivation to pursue excellence as I move forward in my college career."
Looking ahead, Abel hopes to make a difference in Toledo both during his collegiate years and after graduation. He recently landed an undergraduate research position through the Honors College and said that Toledo is quickly becoming his community. "I received the Presidential Scholarship, but in turn I want to eventually pay that generosity back to the University and the community."
---
Samuel Duling

"I'm in the Honors College because I am not interested in minimum requirements. I am interested in working toward excellence and taking advantage of every opportunity. I understand that it is a privilege to have the education that I do and an honor to contribute to my field of study."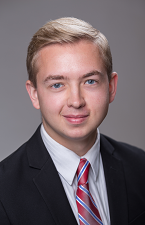 It is safe to say that in his time at UT, senior Samuel Duling has made his voice heard. Sam, a Political Science and Economics student, has been involved in a multitude of campus organizations and events, including Mortar Board, Blue Key, and The Voice of Honors. He has even had a part in selecting new leaders on campus, such as UT Presidents, Provosts, and the Dean of the Honors College. "I was at UT during a period of unparalleled transition and was able to be involved in every change," Sam said. "I got to help set the tone for the future – it happened to me, so it can happen to anyone."
Along with his involvement on campus, he has been able to make an impact around the country and the globe. Sam has taken part in study abroad and service trips to Cuba, Nicaragua, Guatemala, Haiti, Ecuador, and China, as well as internships with the Toledo Mayor's office and a Congressional Office in Washington, D.C. The biggest highlight of his college career, however, has been his involvement in UT traditions. "I made it my mission to represent minority students both of the LGBT and non-Greek communities," he said. "I have had an opportunity to show everyone that they have a voice and that they matter."
After graduation, Sam will be attending the University of Minnesota to attain a doctoral degree in Political Science – something that would not have been possible without the Honors College, he said. "It is difficult to express what the Honors College means to me. It has been the defining feature of my undergraduate experience; it has pushed me to delve deeper, aim higher, and attempt more in my education."
---
Danielle Saevig

"I enjoy the critical thinking process, the discussion of philosophies, and being challenged in my studies. I genuinely like to learn, and that's why I'm in the Honors College."
With a spirit for giving back and a love for learning, senior Danielle Saevig has seized every opportunity during her Honors College experience at UT. In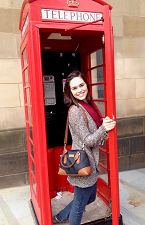 these four years, Saevig has been an active participant in The Voice of Honors, the Reynolds Elementary tutoring program, and was the head tutor for the International Boxing Club. Saevig has been equally involved in academics, working closely with Dr. Heather Conti of the Biology Department on her Honors thesis and research as a Pre-Med student in the Baccalaureate/MD Program.
An integral part of her college experience, Saevig said, has been her opportunities to study abroad. She participated in the Salford Exchange program, where she spent a year in England working on her degree, and in a Medical Missions Trip to Guatemala. "My trip to Guatemala gave me applicable experience for what I want to do in life," Saevig said. "It was an extremely different cultural experience and I learned so much."
Drawn to UT for its Baccalaureate/MD Program, Saevig has found a close-knit community within the Honors College during her college years. "In the Honors College, you have smaller classes which allows you to get to know the professors," she said. "I've always enjoyed our discussions and the ideas they spark; they truly give you a better education."
---
Batool Mehdi
"The Honors faculty members are truly amazing and have provided me with a positive and supportive learning environment during my four years at UT. I highly encourage other students to get to know these awesome people!"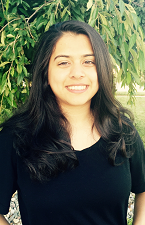 Batool Mehdi, a Biology student in the Honors College, has used her four years at UT to excel in research and academics. The Jesup Scott Honors College appealed to Batool because of its academically challenging classes and supportive faculty. She has also been able to shine in academic leadership, as president of Alpha Chi Sigma – a national chemistry fraternity, and as a Biology Lab Teaching Assistant.
A three-year participant in cancer cell research, Batool has used the resources of the Honors College to her advantage in conducting and funding her studies. "During my freshman year, I met with Dr. Connin of the Honors College, who told me about the First Year Summer Research Experience grant that I applied for to help fund my research," she said. Batool was also able to attend the National Conferences of Undergraduate Research and showcase her findings to people across the nation.
"By joining the JSHC, I have had the opportunity to do research under a couple of grants which was such an amazing experience," she explained. "In my four years, I have been able to connect with people who had similar interests and goals to mine, and have been able to excel academically."
---
Abby Turnwald

"The Honors College creates more than students; the Honors College creates well-rounded individuals who will be ready to take on the world once they graduate."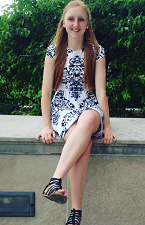 Abby Turnwald, a sophomore studying Biology, has shown a passion for and a dedication to the Jesup Scott Honors College in her two years at UT. Attracted to UT's strengths in STEMM and opportunities for undergraduate research, Abby wasted no time getting involved in the Honors College. As President of The Voice of Honors, she has been able to connect and work with Honors students and faculty of all kinds. "I work hard to create interesting meetings that attract students from all majors," Abby explained. "It's fun to meet people who you may not have classes with, but you may share other interests with them."
Along with her role in The Voice, Turnwald has been able to take numerous Honors classes outside of her major and explore other topics, including a passion for working with children with disabilities. Through the Honors College, she has been able to attend an Honors seminar on autism. "Whether it is taking an Honors course, having dinner with a well-known author, or attending the Mud Hens game with the Honors Learning Community, the Honors College is always helping me flourish," she said. "The opportunities here are endless."
---
Lucy Frank

"I think that no matter what school you go to, you can always find something to make your college experience special. The things that made my four years special wouldn't have been possible without hard work and the Honors College."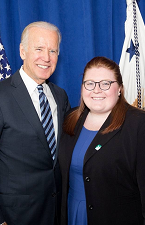 Lucy Frank, a senior in Political Science and an Honors student, has been involved on a local, state, and international scale in her four years at UT. Between working for the Ohio Democratic Party and Hillary Clinton's Ohio campaign during the 2016 election, completing undergraduate research, and studying abroad twice, Lucy has taken advantage of every opportunity presented to her. "The Honors service trip to Guatemala with Dr. Page Armstrong was my first plane ride and my first time out of the country," she said. "That trip changed my perception of UT and the world – it inspired me to study abroad in France the next year."
Lucy also served as a summer intern for the city of Toledo, which she described as her signature accomplishment. "Interning for Toledo Mayor D. Michael Collins solidified for me my desire to work in politics and be a public servant," she explained. Lucy worked closely with the late Mayor Collins doing research, writing proposals, and specifically working on local food truck legislation.
After graduating, she hopes the next steps of her life will be as impactful and exciting as her time at Toledo. "The Honors College has helped me do so many things here. Looking back on my four years, this is where I needed to be."
---
Corey Fink
"As a future teacher, I place a high value on education. The Honors College sets out to make education into a true experience, not just something to 'get through' to earn a degree. When I am teaching, that is precisely what I want to do as well."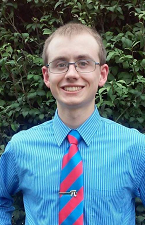 A senior in the Adolescent and Young Adult Education program, a two-time summer intern at Reynolds Elementary School, and a current student teacher at Bowsher High School, Honors student Corey Fink has seen both sides of the learning process during his four years at UT. As a life-long resident and lover of Toledo, choosing to attend UT was easy, Corey said. "Too, there are a number of reasons why I joined the Jesup Scott Honors College," he explained, "I had a very full, successful high school career and I wanted to uphold that standard in college."
Corey was awarded the prestigious Presidential Scholarship during his freshman year, which he describes as his crowning accomplishment at UT. "To get a distinction like that at a university that I love so much is the biggest honor that I could have received," he said. "Not only that, it has given me the resources and the motivation to excel in my college career." One of those resources has been the ability to live on campus for four years. Living in MacKinnon Hall has been one of his favorite collegiate experiences. "Being a part of the Honors College and living in MacKinnon has allowed me to interact with dozens upon dozens of Honors students," he said. "I am inspired by the great things my peers in Honors do!"
---
Christina Pinciotti
"I've truly had a wonderful time working alongside the Honors professors and being enrolled in their classes. They have taught me so much and have given me opportunities that I wouldn't have had anywhere else."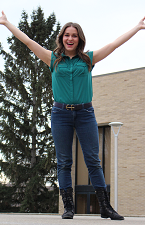 Christina Pinciotti, a senior in the Honors Theatre program, has been the face of major roles in UT Theatre productions since her freshman year.  A member of Alpha Psi Omega, Phi Kappa Phi, and a performer in a show every semester, Pinciotti has been able to excel in many areas around UT. In the summer of 2014, Christina participated in a TolInterns Program where she worked closely with Dr. Larry Connin of the Honors College and was able to present at the Summer Research Symposium. "It was a great experience and, without Dr. Connin, I would have never known about it," Pinciotti said.
Pinciotti said that in choosing her collegiate path, she was looking for a place to be challenged academically and to further the advanced work she had done in high school. "Being an Honors student majoring in Theatre is a somewhat unique case, but no matter what your major is, you can always make it work with Honors," Pinciotti explained. "The Honors College has allowed me to expand my educational horizons."
---
Quinton Babcock
"The Honors College has given me a liberal arts education within all of the opportunities of our large university."
Quinton Babcock, a junior studying Economics and Disability Studies in the Honors College, has made quite the impact on all that he has touched in his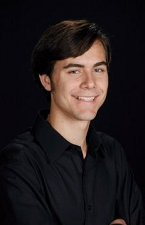 time at UT. In choosing a school, UT stuck out because of its opportunities for undergraduate research and individual attention offered by his department, Babcock said.
Beginning the summer after his freshman year, he took advantage of those opportunities and has been involved with various research initiatives. He described his first grant research project, an economic feasibility study where he worked closely with Dr. Barbara Mann of the Honors College, as his greatest accomplishment thus far. "We got to jump start a process that is continually benefiting other students," Babcock explained.
Currently, Babcock has been researching economic preferences regarding the Lake Erie Algal Blooms and was recently elected to his hometown of Oak Harbor's city council as Council President pro tempore.
---
Taylor Burchfield
"I knew that at UT, I had the chance to make a difference and stand out in my field of study. I chose Toledo because I knew that I would be more than just a number."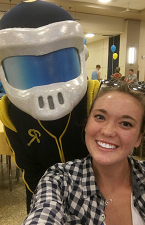 Taylor Burchfield, a freshman studying Communications and an Honors student, has used her short time here at UT to get involved on campus. Coming to Toledo from Waynesville, Ohio, Taylor is a lover of photography and a frequent traveler. After graduating from Toledo, she hopes to work in the publishing field. Between becoming a member of Chi Omega and tutoring children from Reynolds Elementary School, Taylor started working with the Honors College Communication Team during the Fall semester to develop social media impact and content for the JSHC.
"I have already grown so much within the Honors College and I cannot wait to see all that awaits me with this new opportunity," said Taylor.