Neurology Research Day
Save the Date
Join us for the 2nd Annual Neurology Research Day!
Friday, February 23, 2024
Education Center Auditorium
2109 Hughes Drive
More details to come
---
Inaugural Neurology Research Day
Friday, March 17, 2023
8 a.m. to 4 p.m.
ProMedica Neurosciences Center
2130 W. Central Ave, 2nd floor
Rooms 2011 & 2012
---
2023 Keynote Speaker: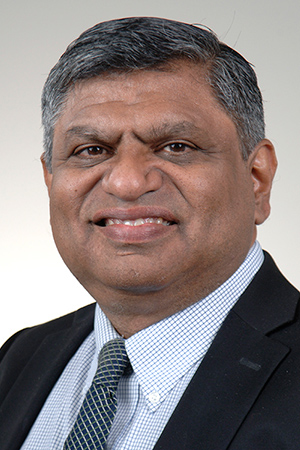 Thyagarajan Subramanian, M.D., M.B.A.
Changing face of Neurological Research in 2023
Objectives: 
Discuss changes in neurological opportunities
Discuss the pros and cons of these changes
Elucidate local opportunities for incorporating these changes to advance neurological care
Dr. Subramanian is the Senior Associate Dean for Research and Tenured Professor of Neurology at the University of Toledo College of Medicine and Life Sciences.  He is a Board-Certified Neurologist and Internationally Renowned Movement Disorders Physician Scientist. 

Dr. Subramanian received his medical degree from Calicut Medical College in Calicut, India.  He completed his internship in Internal Medicine at Shadyside Hospital in Pittsburgh Pennsylvania, and a Neurology residency at the University of Pittsburgh School of Medicine in Pittsburgh Pennsylvania.  Dr. Subramanian completed Neurology Postdoctoral Clinical and Research Fellowship at Emory University School of Medicine in Atlanta, Georgia.
Dr. Subramanian's clinical research interest is in experimental therapeutics for Parkinson's disease (PD) and related movement disorders. He is the Principal Investigator of several NIH and DoD funded research studies and clinical trials that have led to FDA approved therapies for PD. His seminal contribution is the demonstration that restorative experimental therapies for PD is able to correct abnormalities in brain physiology that remain uncorrected with pharmacological therapies. He has published peer reviewed articles and book chapters related to movement disorders and he serves as an expert on a variety of federal scientific peer review panels. Dr. Subramanian is an elected fellow of several peer societies and has received numerous awards in recognition of his research, clinical and educational excellence. 
---
2023 Platform Presentations
2023 PLATFORM PRESENTATION WINNER: Sidra Saleem, M.D.
Direct Transfer To Angio suite Versus Ct Scanner On Arrival To Endovascular Capable Centers; More Risks Or More Benefits?
Sidra Saleem, Khaled Gharaibeh, Zeinab Zoghi, Marion Oliver, Rahul Rao, Richard Burgess, Alicia Castonguay, Mouhammad A Jumaa, Syed F Zaidi
Validated Scales for Identifying Psychiatric Disorders in Persons with Epilepsy
Authors: Anum Riaz, Fahham Asghar, Mary Haines, Bashar Saour, Sidra Saleem, Hira Pervez, Nicholas Delcimmuto, Ajaz Sheikh, Imran Ali
Presented by: Anum Riaz, MD
Previously Uncharacterized Pathogenic Heterozygous DIAPH1 Variant Associated with Deafness and Infantile Spasms
Vahid Yazdi, Mohamad Nawras, Khaled Gharaibeh, Mariam Noor, Naeem Mahfooz
Presenter: Vahid Yazdi, BS
Meta-Analysis of EEG Findings in Patients with PRES
Sihyeong Park, Arsalan Anwar, Sidra Saleem, Imran Ali
Presenter: Sihyeong Park, MD
---
2023 Poster Presentations
2023 Poster presentation winner: Mustafa Al-Chalabi, D.O.
Isaac Syndrome with Intractable Neuropathic Pain
Epilepsy Characteristics in a Patient with a Pathogenic Heterozygous NAGLU Mutation
Presented by: Vahid Yazdi, BS
Neurologic and Psychiatric Comorbidities Associated with Drug Resistant Epilepsy (DRE)
Presented by: Sidra Saleem, MD
Hypersalivation—a rare but potential side-effect of Topiramate
Presented by: Jenna Gunn, BS
First Pass Effect and Location of Occlusion in Recanalized MCA M1 Occlusions
Presented by: Rahul Rao, MD
Safe Double Vaccine Administration in a Pediatric Patient with Recurrent Contralateral Bell's Palsy: A Case Presentation and Systematic Literature Review
Presented by: Mohamad Nawras, BS
Mutation in PIGG and KCNQ2 Genes in Patient with Infantile Onset Refractory Epilepsy
Presented by: Konrad Katterle, BS

Intractable Epilepsy - Treatment and Outcomes
Presented by: Naeem Mahfooz, MD

A Case of Methotrexate Induced Alternating Hemiplegia Managed with Dextromethorphan
Presented by: Naeem Mahfooz, MD
A Rare Presentation of ANNA-1 Paraneoplastic Syndrome in the Neuro ICU
Presented by: Sidra Saleem, MD

Eye Telestroke Exam Device for Improved Triage in Stroke (EYE-TEST) Pilot Study
Presented by: Sohaib Lateef, MD
Hyperintense Acute Reperfusion Marker (HARM) due to Status Epilepticus – A Potential Imaging Pitfall
Presented by: Mustafa Al-Chalabi, DO
Moral Responsibility and Justice in the Context of Free Will Disorders
Presented by: Rayan Magsi, MD
Fatal Tetrad of Myasthenia Gravis, Myocarditis, Myositis, and Delayed-Onset Aseptic Meningitis with Anti-Programmed Death – 1 (PD-1) Antibody (Nivolumab)
Presented by: Sumayya Naz, MD
Use of Perampanel in the Treatment of Refractory Generalized Epilepsy in Children
Presented by: Hira Pervez, MD

Large Vessel Occlusion in Short-gut Syndrome – An acquired Catastrophe of Hyperhomocystinemia
Presented by: Hira Pervez, MD
Post-traumatic Epilepsy (PTE): Clinical, Radiographic and Electroencephalographic Features and Outcomes
Presented by: Hira Pervez, MD
Headache with Neurologic Deficits and Cerebrospinal Fluid (CSF) Lymphocytosis (HaNDL): A Comprehensive Systematic Review of 93 Patients from 57 Studies
Presented by: Mustafa Al-Chalabi, DO
Posterior Reversible Encephalopathy Syndrome (PRES) from Immune Check Point Inhibitors
Presented by: Sumayya Naz, MD
Takotsubo Syndrome Associated with Herpes Simplex Encephalitis: Case Report and Literature
Presented by: Khaled Gharaibeh, MD
Glioblastoma as Herpes Simplex Encephalitis Mimic: A Potential Imaging Trap
Presented by: Khaled Gharaibeh, MD
Application of Machine Learning Algorithms for Prediction of Hematoma Expansion in Spontaneous Intracerebral Hemorrhage
Presented by: Paige Prologo-Richardson, MD
---
2023 Virtual Posters
Cognition in Persons with Epilepsy: Differences Based on Disease Type and Therapy
Fahham Asghar, MD
New Onset Refractory Status Epilepticus Secondary to HIV CNS Viral Escape Syndrome
Mustafa Al-Chalabi, DO
Acute Flaccid Paralysis as Initial Presentation of Spinal Cavernoma
Khaled Gharaibeh, MD
Oncotic Cerebral Aneurysms Complicated by Subarachnoid Hemorrhage in a Patient with Non-Small Cell Lung Carcinoma
Sumayya Naz, MD
Epilepsy with Developmental Delay and Intellectual Disabilities-Clinical, Radiographic, Electroencephalographic Features in Adults with Epilepsy
Hira Pervez, MD
Embolic Stroke of Undetermined Significance with Unusual Degree of CSF Neutrophilic Pleocytosis
Austin M Ezzone, BS, Rahul Rao, MD, MA
Comparison of Antiseizure Medication as Monotherapy in Focal vs Generalized Epilepsy
Sidra Saleem, MD
Chemogenetic unilateral nigrovagal inhibition protects the ipsilateral nigra from alpha synucleinopathy in the P+L rat model of parkinsonism
J. Arnold, C. C. Swain, K. LE, T. Subramanian, K. Venkiteswaran
Squalamine is protective against paraquat and lectin model of Parkinson's disease
V.V. Peshattiwar*, C. Swain*, K. Le, J. Arnold, K. Sauter, T. Subramanian, K. Venkiteswaran
*Equal contribution first authors
Visual evaluation of the effects of oral paraquat and lectin treatment on the ventral tegmental area in rat brain
H. Golchin, K. Le, M. Subramanian, K. Sauter, K. Venkiteswaran, T. Subramanian
Understanding the mechanisms of brain dysfunctions when performing the Mental Rotation Task (MRT) in stage 1 and stage 2 Early Onset Parkinson's Disease using fMRI
J. Razzaque*, B. Mullen*, A. Cotton, D. Wagner, S. Ravi, K. Le, K. Iyer, M.P. Subramanian, J. Wang, K. Venkiteswaran, T. Subramanian, and P. Eslinger. (*equal contribution first author)
---
2023 Poster and Platform presentation Judges
We would like to express our sincere appreciation to our poster and platform presentation judges for their valuable time, expertise, and support in evaluating the submissions and helping to ensure the success of our event.
Alastair Hoyt, M.D.
Associate Professor
University of Toledo
Jeremy Laukka, Ph.D.
Associate Professor, Senior Associate Dean for Undergraduate Medical Education
University of Toledo
Jatinder Patti, M.D.
Clinical Assistant Professor
University of Michigan
Thyagarajan Subramanian, M.D., M.B.A.
Professor, Senior Associate Dean for Research
University of Toledo
Ahmed Suparno Bahar Moni, M.D.
Assistant Professor
University of Toledo