Child Track
Learn more
If you are interested in pursuing a Child & Adolescent Psychiatry fellowship, the most common pathway entails matching into a general program, then matching into a fellowship.  Nearly all general psychiatry residency programs across the nation will allow this with a condenses 3 year curriculum.  This allows the resident to move on to Child & Adolescent Fellowship for 2 years wherever they match, for a total of 5 years of post-graduate education. 
What is a Child Track
A "child track" is a specific schedule designed for individuals that have a higher level of interest in treating children & adolescents, or are intending to pursue a fellowship.  This usually means that there is different programming during the general residency training (e.g. more child-related rotations substituted for adult).  This is often beneficial for applicants interested in treating this patient population, since there are only 2 months required by ACGME.  Another aspect of the child track is that there is a fast-track component, so that you don't have to go through the match again for fellowship and you instead spend the 5 years at the same institution.  There are approximately 20 programs across the nation that offer a child track.
At UToledo, we started the child track in 2020 because we believe that an integrated approach yields the best results for longitudinal and comprehensive education.
Longitudinal Experiences
Unlike other child track programs which are 3 years (general residency) plus 2 years (fellowship), UToledo's child track divides the post-graduate years differently.  
PGY1, PGY2, Fellowship 1, Fellowship 2, Longitudinal outpatient clinic like PGY3 year
This allows the resident the potential opportunity to work with a patient for 3-4 years in outpatient clinic.
Integrated Programming
Most institutions have clinical divisions (adult, child, geriatric, etc) which function entirely separately from the others.  At UToledo, wellness events, some clinics, and certain didactics are joint with general residency, leading to a truly integrated experience for education, mentoring, and cohesiveness through all 5 years.
Here you will find an example of the clinical rotation schedule for the child track.  Schedules will vary depending on site availability, number of residents and resident needs. All rotations are within a 10-mile radius of the Health Science Campus and UTMC. 
---
PGY 1:
General Psychiatry Orientation Month: (1 month)
All PGY 1 residents (including child track) start in July with an orientation month which gives the residents an overview of the various rotations they will be doing throughout their residency. This also gives them time to get acclimated with the duties and responsibilities of being on call by shadowing a senior resident for the first month. This is a unique mentoring experience that prepares interns for the transition to residency. 
Inpatient Psychiatry:
Northwest Ohio Psychiatric Hospital: (2-3 months)
Inpatient psychiatric rotation where the residents get to work with an acutely ill population at a state hospital setting.
Flower Hospital Inpatient Psychiatric Service: (2-3 months)
Inpatient psychiatric rotation in a private hospital setting where residents gain experience working with patients with dual diagnoses and in acute crisis.
Neurology:
Neurology: (2 months)
Residents get the opportunity to work in both an inpatient and outpatient settings during their two months in Neurology. While on inpatient they will rotate at The Toledo Hospital with their primary inpatient service, consult service and stroke services. The outpatient portion at UTMC Health Science Campus allows the residents to work with a variety of attending neurologists who specialize in various fields of neurology.
General Medicine:
Emergency Department: (1 month)
As part of the medicine requirement of PGY 1 year, residents work in the Emergency Department at ProMedica's Flower Hospital where they will learn to assess and treat patients who have emergent medical and psychiatric issues.
General Internal Medicine Inpatient Service: (1 month)
Residents work on an inpatient medicine service at the ProMedica's Toledo Hospital as part of a team consisting of other Internal Medicine Interns, Senior Internal Medicine Residents, and Internal Medicine Attending Physicians.
Veterans Administration Outpatient Family Medicine Clinic: (1 month)
Residents work in a primary care setting treating the Veteran population.
UTMC Rocket Pediatrics Outpatient Clinic: (1 month)
Residents work in Outpatient Pediatrics Clinic at Rocket Pediatrics in Waterville Ohio.  This practice is a comprehensive pediatric primary care site and this includes team-based care with nurses and social workers.
---
PGY 2:
Consultation-Liaison Psychiatry

: (2-3 months)
Residents will perform psychiatric consultations at UTMC on patients who are admitted to the hospital for medical conditions patients presenting to the Emergency Department for either medical or psychiatric complaints. 
Residents rotate through inpatient and outpatient child and adolescent psychiatry at the Kobacker Center on the UTMC Health Science Campus. This gives the residents experience working with social workers and families as well as board certified Child and Adolescent Psychiatrists.
Residents work in an emergency psychiatry setting at Flower Hospital, under the supervision of both Emergency Medicine and Psychiatry.   
Residents rotate at the Senior Behavioral Health Unit on the UTMC Health Science Campus working with a geriatric population consisting of mood disorder, psychotic disorders, and dementia related behavioral changes.
Addiction Psychiatry

: (1 month)
Residents get the opportunity to work at UTMC Recovery Services and Detox Unit with patients with substance use disorders in both inpatient and outpatient settings. Residents also get to work in a buprenorphine clinic as part of the rotation.
Residents work in an outpatient psychiatry setting treating the Veteran population.
ELECTIVE ROTATIONS

: (1-2 MONTHS)
Residents get the opportunity to do various child-related elective rotations. The residents can do these electives in many number of settings.  Residents also have the opportunity to create unique electives for individual interests. 
Residents complete new patient evaluations, medication management follow up appointments, and select psychotherapy patients, as part of a continuity clinic. Residents follow these patients through the remainder of residency. Residents are assigned to a supervising psychiatry attending with whom the residents staff and discuss these patients. Residents will be observed conducting new patient evaluations through a one way mirror by a psychiatry attending who will give real time feedback based on interview, assessment, and treatment plans.  With the child track, the resident can include children & adolescent into their clinic.  
---
Fellows primarily rotate through inpatient psychiatry for first year of fellowship, and outpatient clinic for the second year.  Second year also includes other rotations like neurology, community mental health, collaborative care, psychotherapy. Refer to the fellowship pages for more information.
---
 Longitudinal outpatient clinic / similar to PGY 3:
Child Track Residents will be observed completing new patient evaluations and medication management follow up appointments through various modalities (via WebEx, in person, or by a one way mirror).  The child track resident also has a child & adolescent clinic day.  Residents carry a patient load that includes medication management and psychotherapy patients.  These clinics are all based at UTMC or other local clinics (VA, community mental health), and there are opportunities for pediatric collaborative care.
Completion of the child track: (5 years)
Residents who complete the Integrated Child Track will come out of training with the knowledge base to truly treat disorders across the lifespan, and the foundation needed to succeed in any future professional goals.   
---
Training Facilities:
Clinical Sites on the Health Science Campus of the University of Toledo
Rotations include Consultation Liaison, Detox Unit
Inpatient geriatric rotations
Inpatient  Child and Adolescent Psychiatry rotation
Department of Psychiatry General Outpatient Clinic (adults, children, geriatrics)
Department of Psychiatry Behavioral Services (psychotherapy, autism diagnostic center)
Recovery Services for continuity of care and step down from detox unit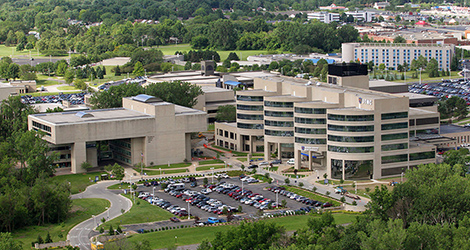 The University of Toledo Health Science Campus
Clinical Sites Located in the Toledo Community
Private hospital setting
Adult inpatient psychiatry
Emergency Medicine rotation
Emergency Psychiatry rotation
Largest acute care facility in the Toledo area
Neurology rotation
Internal Medicine inpatient services
State hospital setting
Adult inpatient psychiatry and Forensics experiences
Rotations include outpatient internal medicine rotations and outpatient psychiatry rotations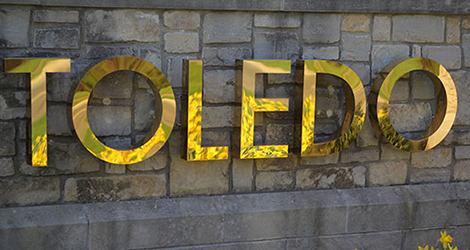 ---
Program Highlights Application Current Residents Graduated Residents Faculty Benefits FAQ Resident Rotations and Training Facilities Curriculum and Conferences Residents as Teachers and Mentors Subspecialty Experiences Pictures Toledo-Area Attractions Virtual Campus Tour Residency Brochure