Acceptances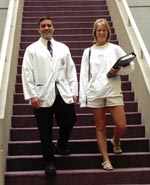 The University of Toledo College of Medicine has a rolling admission process. This means that candidates are accepted into the medical school beginning in October until the class is filled (by the time orientation begins).

Offers of acceptance will be sent to candidates starting October 15. The maximum time allowed for a response is two weeks from the date of receipt of the acceptance letter.

A number of individuals may be put on a waiting list. This does not automatically mean that you will not be accepted into medical school at UT. The waiting list will be prioritized by mid May. When the list has been prioritized, you will be notified as to your priority status.