Overview of Medical School
Years One and Two
Beginning with the incoming class of 2017, the University of Toledo College of Medicine and Life Sciences is embarking on a major curriculum change with emphasis on competency-based curriculum with early clinical experience and seamless integration of foundational and clinical sciences. 

2020-21 Medical Student Handbook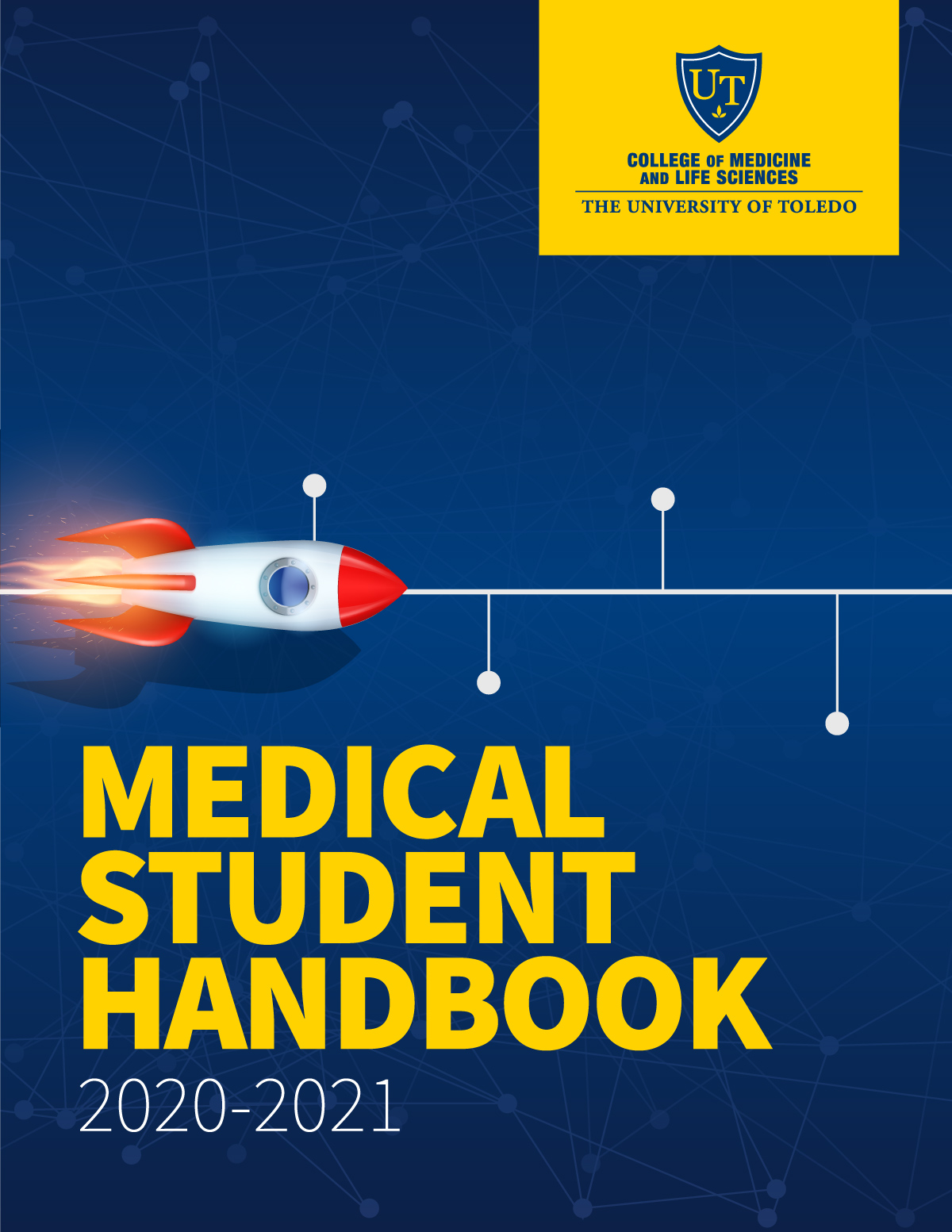 ---
Year Three
The goal of our third-year curriculum is to prepare students for graduate medical education, which a student enters immediately upon graduation from medical school. The clinical clerkships are completed at The University of Toledo Medical Center and other local teaching hospitals. Students may also do their required clerkships at specific sites in Columbus, Ohio, southern Michigan and Detroit.
Required Third Year Clinical Clerkships
Bridge Course (one week) helps students transition into clerkships. It includes about 20 hours of didactic sessions followed by small group breakout sessions.
Family Medicine (five weeks) allows students to develop the basic knowledge and skills essential to the practice of primary care and preventive medicine.
Internal Medicine Clerkship (10 weeks) gives students in-depth study of the health matters affecting adult patients in both inpatient and outpatient settings.
Neurology (five weeks) lets students develop the skills to acquire a complete and detailed neurological history and to complete a comprehensive neurological exam.
Obstetrics and Gynecology (five weeks) provides an environment for students to master knowledge of reproductive physiology, anatomy, management of pregnancy and the common gynecologic problems.
Pediatrics (five weeks) prepares students for the care of the unique problems that affect infants, children and adolescents.
Psychiatry (five weeks) features a curriculum to prepare students to understand and manage the common mental health problems affecting our society.
Surgery (10 weeks) is an opportunity to learn the fundamentals of surgical concepts. While students won't gain significant operative technical skills, they are welcomed into the operating room as active participants in the operative management of patients.
Third Year Electives (four weeks) - This unique feature allows students to rotate in varied disciplines such as ophthalmology, radiology, pathology, ENT, emergency medicine, orthopedics, anesthesia, dermatology and urology. Additional internal medicine and surgery sub-specialties are available once core clerkship experience has been completed.
---
Year Four
The fourth year of elective clerkships consists of 44 weeks, including a basic science elective requirement and a required Acting Internship. Students have an opportunity for a broad spectrum of elective clerkship choices, including opportunities for clinical research and public health electives.

A minimum of 12 weeks of elective clerkships must be taken at The University of Toledo College of Medicine and Life Sciences or its affiliated locations. Other fourth-year medical school electives can be completed at any medical school in the United States or Canada with the approval of a sponsoring department at UT. In addition, students can participate in global health electives at locations such as:
Locations for Global Health Electives
Addis Ababa, Ethiopia
Amman, Jordan
Beijing, China
Chengdu, China
Shanghai, China
Delhi, India
Kitwe, Zambia
Manila, Philippines
All students complete a minimum of eight weeks of clerkships in a rural Area Health Education Center (AHEC), which includes Bryan Area Health Education Center, Lima Area Health Education Center and Sandusky Area Health Education Center. The regional centers work with schools, health departments and organizations to address specific health care concerns of the communities.
Many of our students say this experience is so rewarding, as they spend a lot of one-on-one time with the preceptor and get a sense of day-to-day medical practice issues away from the academic medical center. Many hospitals provide free housing and reduced cost meals for AHEC students.
---
Residency and Fellowship
We offer a number of residency and fellowship opportunities, including: