Commencement Speaker
<< Back to Homepage | Speaker Archive: 2021 | 2020 | 2019 | 2018 | 2017 | 2016 | Full list
2022 Commencement Speaker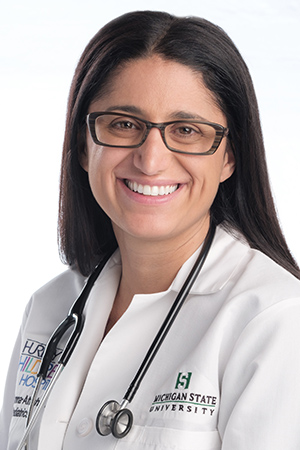 We are proud to announce that Mona Hanna-Attisha, M.D., M.P.H., FAAP, will serve as the commencement speaker for the College of Medicine and Life Sciences ceremony on May 20 and will also be awarded an honorary degree (honoris causa) of doctor of science.
Dr. Hanna-Attisha was selected by a committee of medical students and faculty from a national pool n recognition of her role in uncovering the Flint water crisis and leading recovery efforts. Dean Christopher J. Cooper, M.D., formally nominated Dr. Hanna-Attisha, and she was approved by Provost Karen Bjorkman, Ph.D., and the UToledo Board of Trustees.
Dr. Hanna-Attisha is a licensed physician in Pediatrics, scientist, activist and author. She is the founder and director of the Michigan State University and Hurley Children's Hospital Pediatric Public Health Initiative, an innovative and model public health program in Flint, Michigan. She also serves as the Director of the Pediatric Public Health Fellowship at Michigan State University. 
Dr. Hanna-Attisha received a Bachelor of Science degree in Resource Ecology and Management/Environmental Health and a Master of Public Health in Health Management and Policy degree both from the University of Michigan. She completed her medical degree from Michigan State University College of Human Medicine and her pediatric residency at Children's Hospital of Michigan in Detroit where she served as chief resident. She is currently a Charles Stewart Mott Endowed Professor of Public Health and an Associate Professor of Pediatrics and Human Development at Michigan State University College of Human Medicine.
Dr. Hanna-Attisha has testified four times before the United States Congress and was awarded the Freedom of Expression Courage Award by PEN America. She received the 2020 CDC Foundation's Fries Prize for Improving Health. She was named one of Time magazine's 100 Most Influential People in the World and recognized as one of USA Today's Women of the Century for her role in spearheading efforts to publicize and address the water crisis in Flint. 
She is a frequent contributor to national media outlets, including The New York Times and Washington Post.  Dr. Hanna-Attisha has appeared on CNN, MSNBC, BBC and numerous other outlets championing the cause of children in Flint and beyond.  She is the founding donor of the Flint Child Health and Development Fund. 
Dr. Hanna-Attisha is also an author. She wrote the widely acclaimed and bestselling book What the Eyes Don't See:  A Story of Crisis, Resistance, and Hope in an American City. She is also a highly funded researcher and has served as a guest speaker both nationally and internationally.
Dr. Hanna-Attisha serves as a member of numerous professional societies such as the International Women's Forum, American Medical Association, American Public Health Association, Accreditation Council for Graduate Medical Education, Academic Pediatric Association, American Academy of Pediatrics, Physicians for Social Responsibility and National Arab American Medical Association.  She also serves on several board and advisory panels which includes serving as Co-Chair of the Protect Michigan COVID Vaccine Committee, State of Michigan Department of Health and Human Services Environmental Health Research and Surveillance Guidance Panel, an inaugural advisory council member of the Physicians for Human Rights, a founding advisory board member of the Community Foundation of Greater Flint, Flint Child Health and Development fund, just to name a few.
Dr. Hanna-Attisha will address graduates at the commencement ceremony Friday, May 20, at 2 p.m. at John F. Savage Arena. It will be live streamed on our website.