Commencement Speaker 2019
Commencement Speaker Archive: 2018 | 2017 | 2016
Watch the Speech: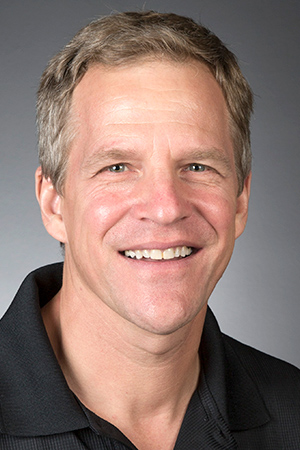 Scott Parazynski, M.D., served as the commencement speaker for the College of Medicine and Life Sciences ceremony on May 10 and was also be awarded an honorary degree (honoris causa) of doctor of science.
Dr. Parazynski was selected by a committee of medical students and faculty from a national pool in recognition of his extraordinary accomplishments both professionally and through personal explorations. Dean Christopher J. Cooper, M.D., formally nominated Dr. Parazynski, and he was approved by Provost Andrew Hsu, President Sharon Gaber, and the Board of Trustees.
A physician, astronaut and inventor, Dr. Parazynski spent 17 years as an astronaut during which time he flew five space shuttle missions and conducted seven spacewalks. In 2016, he was inducted into the U.S. Astronaut Hall of Fame at Kennedy Space Center. He is the first and so far the only astronaut to scale Mt. Everest.
Dr. Parazynski trained for a career in emergency medicine and trauma and has applied his expertise in the human adaptation to stressful environments. He is founder and CEO of Fluidity Technologies, a company focused on developing disruptive robotic control devices for everything from drones to surgical robots.
He has lived and traveled all over the world including places such as Dakar, Senegal; Beirut, Lebanon; Tehran, Iran; and Athens, Greece. He received a Bachelor of Science degree in Biology from Stanford University and his medical degree from Stanford Medical School. He went on to train at Harvard and in Denver in preparation for a career in emergency medicine and trauma. He has numerous publications in the field of space physiology with particular expertise in human adaptation to stressful environments.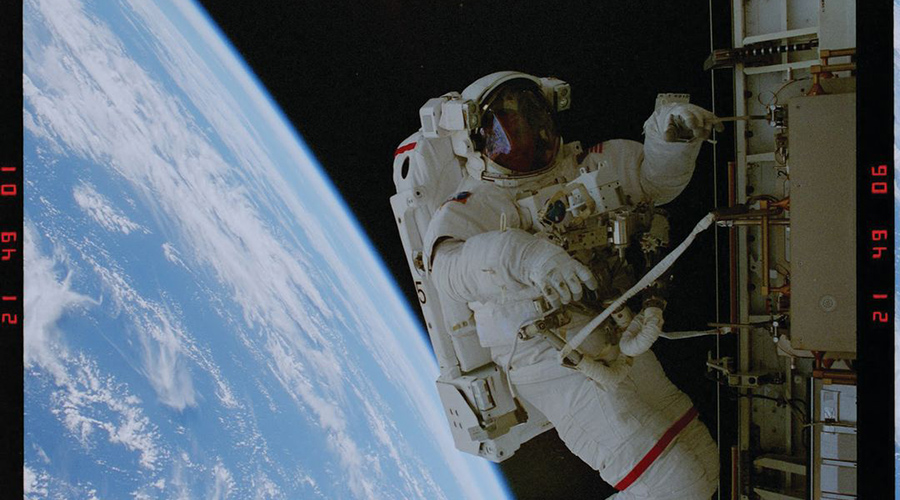 Scott Parazynski outside of the Shuttle Atlantis and Russian Space Station Mir in 1997. Photo: NASA
A former NASA Astronaut, Dr. Parazynski has flown five space shuttle missions and conducted seven spacewalks. In his 17 years as an Astronaut, he served in numerous senior leadership roles, including Extravehicular Activity (EVA) Branch Chief and Lead Astronaut for Space Shuttle Thermal Protection System Inspection & Repair in the aftermath of the Space Shuttle Columbia tragedy. One of his mission highlights includes serving as Senator John Glenn's crewmate and "personal physician" during STS-95. He is only the second astronaut to perform four EVAs on a single Space Shuttle mission. His final EVA is regarded by many as one of the most challenging and dangerous ever performed as he was positioned by a 90-foot robotic boom farther than any orbiting astronaut had ever ventured from the safety of their airlock. In total, Dr. Parazynski spent over eight weeks in space with more than 47 hours outside on spacewalks traveling over 23 million miles in orbit.
Dr. Parazynski is also a commercial, instrument, multiengine and seaplane-rate pilot with over 2,500 flight hours. He has climbed in the Alaska Range, the Cascades, the Rockies, the Alps, the Andes and the Himalayas. He is a lifelong scuba diver and conducted a scientific dive in the summit caldera lake of 19,700 foot Licancabur volcano, the world's highest lake, as part of a NASA-sponsored expedition to the high Andes. 
As Founding Director and Chief Medical Officer of The University of Texas Medical Branch's Center for Polar Medical Operations, Dr. Parazynski oversaw the medical screening and on-ice care of the National Science Foundation's U.S. Antarctic Program. In 2014, he was designated as University Explorer and Professor of Practice at Arizona State University. He is a prolific inventor and product developer and serves on the Boards of several organizations and companies. 
Dr. Parazynski has received numerous prestigious awards including five NASA Spaceflight Medals, two NASA Distinguished Service Medals, two NASA Exceptional Service Medals, two Vladimir Komarov Diplomas from the Fédération Aéronautique Internationale, two Flight Achievement Awards from the American Astronomical Association, the Aviation Week Laureate Award, the Antarctica Service Medal just to name a few.  He was a Top 10 competitor in the 1988 U.S. Olympic Luge Team trials and coach for the Philippines during the 1988 Calgary Olympic Winter Games.  He is a member of the Arkansas Aviation Hall of Fame and was inducted into the U.S. Astronaut Hall of Fame in 2016.
Dr. Parazynski addressed graduates at the commencement ceremony Friday, May 10, 2019, at 4 p.m. at John F. Savage Arena, 2025 Douglas Rd, on Main Campus.