Commencement Speaker
<< Back to Homepage | Commencement Speaker Archive: 2019 | 2018 | 2017 | 2016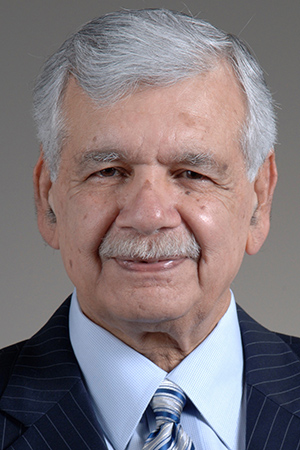 Dr. Sayed Amjad Hussain will serve as the 2020 commencement speaker for the College of Medicine and Life Sciences Virtual Commencement on May 15 and is also be awarded an honorary degree (honoris causa) of doctor of science.
Born and raised within the walled city of Peshawar, Pakistan, Dr. Sayed Amjad Hussain came to the United States in 1963 after graduating from Khyber Medical College in Peshawar. After receiving training in general surgery at the Medical College of Ohio (now University of Toledo College of Medicine and Life Sciences) and cardiovascular surgery at Wayne State University, Detroit, he returned to Pakistan in 1970 and served on the faculty of Khyber Medical College for three years.
Upon his return to the U.S., he joined the Department of Surgery at Medical College of Ohio as clinical faculty and established a private practice of thoracic and cardiovascular surgery in Toledo. He maintained an academic practice and published 50 papers in American and International medical literature, most of them in refereed journals. He retired from clinical practice in 2004. 
Dr. Hussain was instrumental in bringing the study of humanities to medical students at the UToledo College of Medicine and Life Sciences. He is faculty advisor to the Medical Humanities Club and oversees an elective in medical humanities for medical students.  
Currently, he holds an emeritus professorship in cardio-thoracic surgery in the College of Medicine and Life Sciences and an emeritus professorship in humanities in the College of Arts and Letters at The University of Toledo. He is the first person to have received a dual faculty appointment in science and humanities.
Dr. Hussain has taught in Pakistan, India, Libya and China as a visiting professor and as a scholar in residence. 
He is an award-winning photographer and an internationally recognized explorer. In four expeditions, starting in 1987, he has explored the entire 2,000 miles of Indus River in Pakistan and also at its source in Tibet. The accounts of Team Indus Expeditions were entered in U.S. Congressional Records and subject of a PBS documentary in 2005 and was featured as cover story in The Explorers Journal in 2000.
In May 2017, Dr. Hussain was part of an expedition to explore the ancient Silk Road in China. 
He is also an award-winning writer who has published 19 books on subjects as varied as history, culture, religion and the linguistic and cultural legacy of Peshawar City. Half of his published books are in Urdu language and two of his Urdu books have received Abasin Literary Award of Pakistan. His Urdu writings were the subject of Master of Philosophy (MPhil) theses at Qurtaba University and Hazara University in Pakistan. 
For over 30 years he has been an op-ed columnist for the daily Toledo Blade and a number of other English and Urdu publications in the U.S. and in Pakistan. In 2011 he was given the Touchstone Award of the Press Club of Toledo.  
Currently, a vascular laboratory (at St Charles Mercy Hospital, Toledo), a Clinical Skills Center (at Khyber Medical College, Peshawar), a distinguished lectureship in Medical Humanities (at the University of Toledo), an endowed professorship in cardio-thoracic surgery (at the University of Toledo) and a visiting professorship between Khyber Medical College, Peshawar and The University of Toledo bear his name.