UTISC Sponsor Information

Finding Top & Available Sales Talent - FIRST!
Smart companies are recognizing that younger college students have the skills, coachability, and confidence, and they want to find tomorrow's super stars FIRST. Cast your organization into the rich waters of the UTISC for a higher probability of offer acceptance. Avoid the frustration of trying to snag seniors who already have accepted jobs or have multiple offers on the table.  The UTISC is the first and only national sales competition to focus exclusively on the non-senior!
Think interns!
Identify top talent sooner
Interview top students
UTISC juniors are next year's seniors, and UTISC sophomores are next year's juniors. 
Receiving a sales talent pipeline that can deliver immediately and throughout 4 years gives sponsors the insight and ability to make offers in a variety of timelines. That kind of adaptability is valuable and allows sponsors to develop an impactful relationship with these top sales students via internship, micro-internship, mentorship, corporate preview day, and otherwise staying in touch.
Sponsors also play an active role in growing university sales program enrollments nationwide as UTISC serves as a recruiting tool for universities to attract new students. The students drawn to UTISC are exceptional, and a number go on to be semi finalists or finalists and/or peer coaches at future national sales competitions. Find them first at UTISC!
RETURNING SPONSORS AND DUAL UTISC/ESSPS SPONSORS
Priority within their sponsorship level when it comes to Development Block selections, Coaching/Interviewing Session pairings, and Career Fair table/page placement
Top of list for remaining openings on ESSPS class interactions, Corporate Coaching Sessions, and Sales Connection development blocks
Premier UTISC sponsors also enjoy special bundles that include ESSPS Corporate Partnerships to ensure that select companies have streamlined and easier access to the very best that UToledo offers in sales talent recruitment while playing a critical role in developing next generation sales talent. 
UTISC Rocket Includes ESSPS Platinum
Exclusive engagement once a year just for your company
First look at class interaction options
More seats at ISC, Sales Connections (fall and spring), and Corporate Coaching Sessions
UTISC Glass Includes ESSPS Gold
Internal Sales Competition (ISC)
Sales Connections (fall and spring)
Corporate Coaching Sessions – new juniors, 2x/year
Class interactions
---
Universities Participating
Universities receive either a Full Access or Development invitation:
Full Access - 36 universities who will bring competitors (role play and social media) and possibly alternates and/or peer coaches
Development - universities who will bring learners and competitors (social media)
A select group of high school students will be at UTISC to learn and observe.
UTISC is likely to have 120-170 students not including the 50+ students who are helping to run UTISC!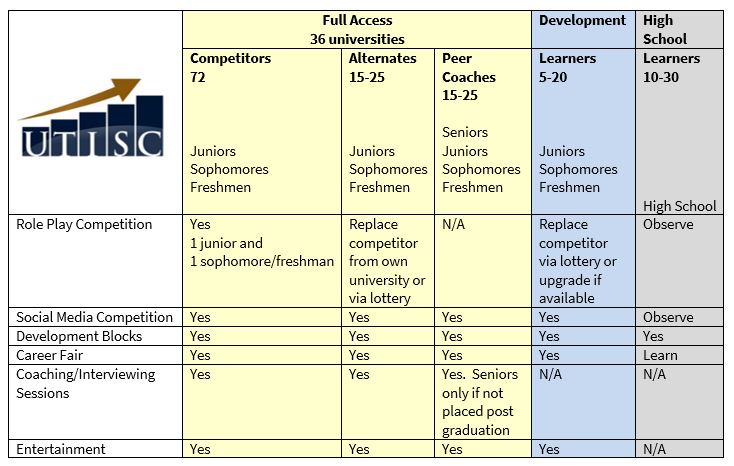 See the top universities that are competing 
---
Making Connections
Sponsors will be making connections throughout the entire UTISC with the Development Blocks, Career Fair, Coaching/Interviewing Sessions, Social Media Competition, and more (16 opportunities exist).
---
Sponsor Preparation
Sponsor Registration (deadline January 31, 2024)
Development Block Preference Survey (deadline January 31, 2024)
Event Logistics (important dates, agenda, workflow)
UTISC Showcase (preparation videos, role play examples, and recruiting videos.  Full competition role play videos are login protected and available for Glass and higher sponsors)
UTISC Connections(workflow, links, sponsor profiles, and student resumes)
Resumes for the competitors, alternates, learners, and helpers will be sent to the sponsors who get resumes as part of their sponsorship 2 weeks prior to the competition.  University contact list, development block topic assignments, and career fair layout also sent at that time to all sponsors.
Coordinating Your Team
Sponsors are recommended to bring a team of 6 or more people so that students and sponsors both get the best experience and value.  Sponsor attendees will serve as judges and also get to interact with top and available sales students during the development blocks (Blue sponsors and higher), coaching/interviewing sessions (Blue sponsors and higher), buying, Career Fair, and much more.  UTISC has 16 connection opportunities!  We recommend a blend of Sales and HR professionals with more on the sales side to better connect with these top sales students.
At least 3 people onsite is required because of the elements that happen in parallel and the predominant onsite modality of the event. 
*Limited online options as long as there are at least 3 people onsite total and 1 of them is in the development block.
Development blocks could be done effectively with 1-2 sponsor facilitators (number of students in a block range from 7-10); more are welcome to engage
UTISC Sponsors who are also ESSPS Corporate Partners should plan on having 2 additional people for Friday so they have coverage at the Sales Connection that is happening on the same day in the building next door.  ESSPS Corporate Partnerships are seperate from UTISC Sponsorships.
| | | | |
| --- | --- | --- | --- |
|   | Thursday | Friday | Saturday |
| Meet the Teams | 6 | N/A | N/A |
| Orientation | 6 | N/A | N/A |
| Development Blocks* | 2 - same from Meet the Teams | 2 | N/A |
| Coaching/Interviewing Sessions | N/A | 2 - same from dev block | 6 |
| Judging* | N/A | 1 | 6 |
| Buying | N/A | 1 | Only product/service sponsor |
| Career Fair | N/A | 2 | N/A |
| Entertainment | N/A | # varies by sponsor | N/A |
| Awards | N/A | N/A | # varies by sponsor |
| Total Headcount | 6 | 6 | 6 |
For information on the exclusive and extensive sponsor benefits for the UTISC, please contact ESSPS Director, Deirdre Jones, at 419-530-2978 or Deirdre.Jones@utoledo.edu.
Learn more about how the ESSPS aligns with businesses.