Contestant Information
Make your mark to get on the talent radar of top companies who are interested in more than just your graduation date. Smart companies are recognizing that younger college students have the skills, coachability, and confidence, and they want to find tomorrow's super stars today. Amazing internships and networking opportunities await!
Compete in the division that matches your experience - Sophomore/Freshman Division or Junior Division (based on higher education hours going in to the UTISC). No Seniors allowed!
Develop your skills and network
Interview with top companies
---
University Invitations
Universities receive either a Full Access or Development invitation:
Full Access - 36 universities who will bring competitors (role play and social media) and possibly alternates and/or peer coaches
Development - universities who will bring learners and competitors (social media).  Possible upgrade to full access if a full access university can no longer participate.
A select group of high school students will be at UTISC to learn and observe.
UTISC is likely to have 120-170 students not including the 50+ students who are helping to run UTISC!
See the top universities that are competing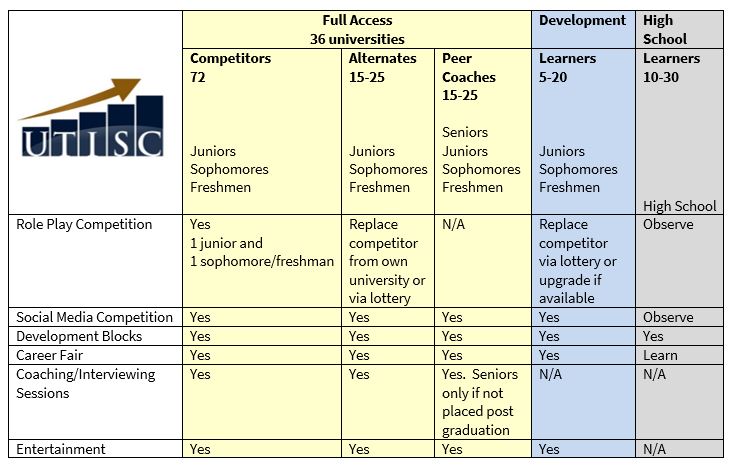 ---
Student Registration
Students can attend the UTISC as either a competitor, alternate, peer coach or learner.  Roles and travel reimbursements are based on the type of invitation their university receives.  Each Full Access university team will be comprised of 1 junior and 1 sophomore/freshman so they have representation in both the Junior Division and Sophomore/Freshman Division of the UTISC role plays.  Competitors in the role plays cannot be former UTISC finalists from the gold bracket.  Alternates and Learners must also be juniors, sophomores, or freshmen.  Learners can also be select high school students.  Peer coaches can be seniors through freshmen.  Status will be based on higher education hours going in to the UTISC.
UTISC is onsite.  Full access universities who can no longer participate onsite will have their competitor(s) replaced with full access university alternates or development universities who want to upgrade to full access.  The alternate lottery and upgrade of development universities will only take place if the full access university does not have any alternates of the needed division or if their entire team cannot be onsite.  Students who compete via the alternate lottery will have their points (role play and engagement) and travel reimbursements calculated separately.  A full access university who can no longer participate onsite can still have their students do the social media competition and access the development blocks online (on-demand after event). 
Student Registration and resumes - Full Access are due January 26, 2024.
Student Registration and Resumes - Development are due January 26, 2024.
For complete details on important dates, agenda, and travel, please visit our Logistics page.
For complete details on making connections, please visit our Making Connections page.
---
Selling Scenario and Advancing in the Role Play Competition
3M™ product for UTISC 2023-2025 is Secure Click™ HF-800.  3M™ Secure Click™ HF-800 is 3M Science, Applied to Life.  The Secure Click™ HF-800 is the latest safety innovation from 3M's personal protective equipment (PPE) division. 
Designed with smart and intuitive features, the 3M™ Secure Click™ Half Facepiece Reusable Respirator HF-800 Series is simple, comfortable and reliable. It comes with a speaking diaphragm which is designed to help provide easier communication while you work. The quick, easy, one-touch negative pressure push button seal check provides improved confidence in respirator fit. 
The 3M™ Secure Click™ Half Facepiece Reusable Respirator HF-800 Series helps protect against particulates and/or a wide variety of gases and vapors when used with approved 3M Secure Click filters and cartridges. This facepiece comes with many innovative features that make it the next generation in comfort, breathability and simplicity.
To help students develop a stronger understanding of how selling interactions vary based on buying role within an organization and channel involvement, rounds of the competition will focus on interactions with those various roles.  There is also a team element as the information that the Junior and the Sophomore/Freshman competitors each uncover with their respective Round 1 buyers will be used in Finals. 
Example below:
Round 1 Sophomore/Freshman with Purchasing Manager
Round 1 Junior with Safety Lead
Finals (both divisions) with Director of Operations
The profiles for Round 1 will be emailed to the university coaches in advance of the UTISC.  Profiles are typically sent in mid December.  
The profile for Finals will be passed out in waves immediately after coaching/interviewing session #2 to ensure that each Finalist has the same amount of time to prep before they role play.  The profile will contain some reset information to confirm and fill in information from the previous round.  The buyer for Finals could be any role or company related to the profile's situation.  
Half of the competitors will make it to Finals.  Advancement, bracket, and points earned is determined by the competitor's finish in Round 1.
1st place in Round 1 = Gold Bracket Finals
2nd place in Round 1 = Silver Bracket Finals
3rd place in Round 1 = Bronze Bracket Finals
Role plays will be 15 minutes.
Judges will use the following evaluation sheet.  Competitors will receive their evaluation sheets at the end of the competition.  Judges will be a combination of corporate and faculty, and faculty will not judge students who are from their own university.
---
Social Media Competition
Students will collect sponsor swag onsite at the UTISC Career Fair and will use it in their LinkedIn posts during the posting period. 
Most sponsors (Blue through Product) will have their OWN award to give for this connection element.  Sponsors will each choose the student who best captured their company's employer brand.  General awards will be given for best caption, most artistic picture and video, etc. 
See complete details on the Social Media Competition.
Posts related to sponsors also earn engagement points.
---
Student Preparation
Go to the UTISC Showcase and click on the Preparation channel to see the sample role play videos and special topic webinars.  There are also videos on the UTISC workflow and general university prep.
Special topic webinars cover coaching, selling in a channel, buyer roles, personal branding, and more to help you prepare for all your UTISC connections and your future sales career. 
All UTISC role plays are login protected (each year has its own channel, please check with your faculty coach for your university's login)
A more complete 3M eLearning  platform on 3M™  Secure Click™ HF-800 that will be critical to preparation is included in the Prospect Profile that will be emailed to the universities in December or early January. 

 The UTISC Connectionssite also has information on workflow, links, and sponsor profiles.
---
Making Connections
Students will be making connections throughout the entire UTISC with the Development Blocks, Career Fair, Coaching/Interviewing Sessions, Social Media Competition, and more. 
Engaging with sponsors impacts team awards and travel reimbursement.
Learn more on all the impactful ways to make connections.
---
Prizes
Role Play
Cash prizes in BOTH divisions and ALL brackets!  Trophies for all Finalists!  Certificates for all competitors! 
 

Gold

Bracket

Silver

Bracket

Bronze

Bracket

Champion
$750
$500
$250
Runner-Up
$500
$250
$100
3rd Place
$250
$100
$100
4th Place
$250
$100
$100
5th Place
$250
$100
$100
6th Place
$250
$100
$100
Engagement
Top Competitor - $100
Top Alternate - $100
Top Peer Coach - $100
Top Learner - $100
Based on engagement points and announced with social media competition winners and top 10 teams.  Any tie will be decided collectively by the sponsors.
Social Media
Product Sponsor Winner - $250
Rocket Sponsor Winners - $250
Glass Sponsor Winners - $200
Blue Sponsor Winners - $100
General Winners - $100
See details on Social Media Competition
Career Fair
Amazon gift cards ($25) - 10 winners, each QR code scan check-in is an entry into the raffle
Team Awards - Top 10
Announced 2 days after the social media competition ends and determined by a combination of competitors' points from the role play competition and engagement in the social media competition, career fair, development blocks, and coaching/interviewing sessions.  Top 10 teams all receive plaques.  Team points from engagement and faculty showing up to judge also impact travel reimbursements.  Point breakdown below.
---
Points at UTISC
UTISC is more than just a role play competition, and students will be participating in development blocks, career fair, coaching/interviewing sessions, and a social media competition. 
Universities' competitors earn points on their performance in the role play and in engaging the sponsors.
Role play placements determine the points and advancement for the role play competition.
1st place 10 points – advance to finals in Gold Bracket
2nd place 9 points – advance to finals in Silver Bracket
3rd place 8 points – advance to finals in Bronze Bracket
4th place 7 points – no advancement
5th place 6 points – no advancement
6th place 5 points – no advancement
Max role play points for a university would be 40 points (both competitors are 1st in their rooms for round 1 and finals).
Min role play points for a university would be 10 points (both competitors are 6th in their rooms for round 1 and don't advance).
Engagement points are earned before, during, and after UTISC and help universities by:
Engagement is the "recipe for success"!
Engagement Point Type

# Points per Interaction

# of Interactions Required per Competitor Student

Target Points (based on 2 competitor students)

Full Travel Reimbursement Baseline*

...sliding scale otherwise

Development Block
1
3
6
29%
Career Fair
1
5
10
48%
Coaching/Interviewing Session
1
2
4
19%
Social Media Competition
0.50
1
1
5%
Total
 
11
21
100%
Notes
*Each competitor student must meet their individual engagement requirement in order for their team to earn full travel reimbursement
Competitor students can earn more than the required engagement points.  All engagement points that a competitor student earns counts towards the team award.  Engagement points are capped when it comes to travel reimbursement.
Tracking for development blocks, career fair, and coaching/interviewing sessions done via QR code scans.  QR codes are unique to each sponsor and engagement element and can only be scanned once per student.  Students who experience issues with QR codes need to submit a QR code notice form during UTISC.  Issues with QR codes are rare.
Social media will be measured by using the # for the sponsor (and the #UnboxingUTISC) and having a post that talks about the sponsor (thanking them for being a sponsor, buyer, coach; attractive career opps; meaningful development block; etc). Cannot be a generic "so excited to be here" with a sponsor # thrown in.  Each sponsor # only counts once (see sponsor #'s and examples).
Engagement points, like role play points, will be visible in CARLOS.  There will be additional reports to see engagement points by student and total (role play + engagement) points for each university.  The reports will be totals and not publicly disclose which companies the students interacted with.
Engagement point details filtered by student will be sent to each university faculty coach shortly after UTISC ends.  Any questions/concerns with engagement points need to be submitted using the engagement point question/concern form.  UTISC is a competition, and it is the student's responsibility to scan QR codes.  Forgetting in the moment to scan a QR code is like forgetting an implication question in a role play.  Forgotten QR code scans will not be factored in for team and individual awards and rankings.  A forgotten QR code scan can be factored in once per competitor for travel reimbursement purposes assuming that when UTISC contacts the sponsor, the sponsor verifies that the competitor was engaged (the verification process could delay the timing for that university to receive travel reimbursement).    
---
Participating Universities 2024


*confirmed, f - full access, d - development, invitation types
Asbury University
Aurora University*f
Baylor University*f
Bowling Green State University
Central Michigan University
Clemson University*f
Duquesne University
Eastern Michigan University
Elon University
Florida State University
Hocking College
Kansas State University*f
Kent State University
Metropolitan State University of Denver*f
Morehouse College*f
North Carolina A&T State University
Purdue University
Saint Mary's College
Southern New Hampshire University
St. Catherine University
University of Cincinnati
University of Dayton*f
University of Iowa
University of Minnesota
University of Minnesota Duluth
University of North Alabama*f
University of North Carolina Wilmington
University of Texas at Dallas*f
University of Toledo*f
University of Wisconsin Eau Claire
University of Wisconsin Whitewater*f
Utah State University
Washington State University - Pullman
West Virginia University
Western Michigan University
Winona State University
For additional details, please contact ESSPS Director, Deirdre Jones, at 419-530-2978 or Deirdre.Jones@utoledo.edu.