Neurology Clinical and Academic Programs - Vestibular and Balance Program
Faculty:
Program Director:  Hongyan Li, MD, PhD
Faculty: Mehmood Rashid, MD
Academic Office:  (419) 291-0396
Clinical Appointments: (419) 291-3900
Aim:
Diagnosing and treating patients with dizziness and balance problems due to neurological diseases

Dizziness and Balance Clinic:
Outpatients are seen in office by subspecialty-trained and certified vestibular neurologists for comprehensive evaluations that include both general neurological and neuro-otological examinations. Depending upon the clinical diagnosis, a patient may be treated during the visit or be instructed on other therapeutics and further investigative studies. This neurology subspecialty clinic is available at the ProMedica-UT Neuroscience Center during regular working days. Patients with dizziness and imbalance may call in order to schedule appointments with our specialists.
Toledo, OH 43606
Clinic Appointments: (419) 291-3900
Comprehensive Clinical Vestibular Laboratory:
Vestibular and balance studies are conducted by our specially trained and certified technologists at our Comprehensive Clinical Vestibular Laboratory located on the second floor of the ProMedica-UT Neuroscience Center. The studies include recording and analyzing eye movements and gait in a variety of standardized static and dynamic conditions generated by the cutting-edge computerized equipment in our laboratory. These studies include Video Nystagmogram (VNG), Rotary Chair (RC), Vestibular Evoked Myogenic Potentials (VEMP), Brainstem Auditory Evoked Potentials (BAER), and Posturography. When necessary, additional investigations, such as neuroimaging (ultrasound, CT and MRI) and audiological testing, may be also arranged. Each of these clinical studies assesses specific aspects of the peripheral and central nervous systems that are involved in the vestibular sensory generation, perception, modulation and responses and therefore provides pivotal information for making correct diagnosis and directing clinical management. Other diagnostic tests, such as auditory and vestibular evoked potentials, are also useful. These tests can be scheduled and completed at or after an office visit. The laboratory is also open to other professionals who may request these tests for their own patients.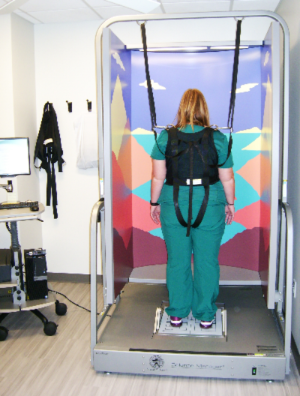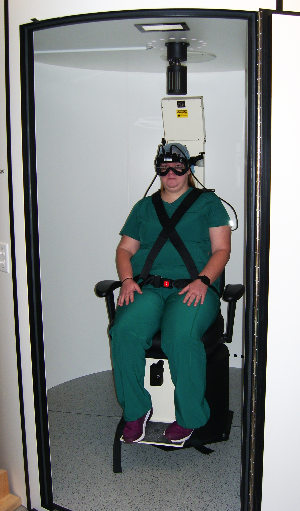 Vestibular and Balance Rehabilitation Service:
Our Program has close collaboration with the Vestibular and Balance Rehabilitation service of the Outpatient Physical Therapy Center at UTMC main campus. Patients are evaluated for balance and vestibular problems and specific individual treatments are designed and carried out. The service is provided by a group of therapists lead by

Mary Breymaier, PT

. They are certified and specially trained in helping patients with dizziness and imbalance due to a variety of neurologic and vestibular causes. After working with our therapists, many patients have improved or even recovered from their debilitating neurological conditions.

Vestibular and Balance Service
University of Toledo Medical Center
Dowling Hall
Outpatient Physical Therapy Center
3000 Arlington Avenue
Toledo, OH 43614
Appointment: 419-383-5040
Research and Teaching Activities:
The Vestibular and Dizziness program is academically oriented and we are actively involved in medical education and research. Those interested in either the clinical or research aspects of our program are encouraged to contact us for opportunities.